Michelle (carolelombard @t sky.com) write from Northants saying: I am an author and biographer, based in Northamptonshire. I am also a huge fan of family history and I'm researching my mother's side of the family, the Witkowski family who came from Poland, then London then Herts.

My 7X grandmother Mary Ann(e) Witkowski lived and worked as a servant at Bayfordbury in the mid 1800s and I have been able to find out quite a lot about her through Ancestry, but so far unable to locate any possible photographs. I have, though found pictures of Bayfordbury where she lived (including one on your website!) and wonder if there may be any old photos of the property that could include my ancestor, and if there may be archives for the family who lived there during the time of my 7X grandmother's employment.

I also wonder what the building is used for now, as I'd like to visit but have seen various websites, all claiming different things. Some say it has been broken up into different houses, but if you could throw any light onto this I'd be so grateful.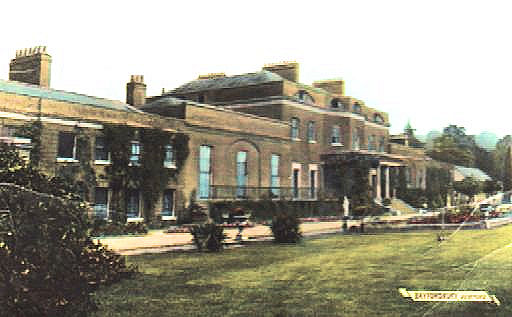 Bayfordbury, Bayford
from a Regal Art Publishing Co. postcard posted in 1911
Click on picture for larger view
Bayfordbury is a listed building and was built in 1759-62 for Sir William Baker a rich London merchant, and altered to present appearance 1809-12 for William Baker II MP to designs by Francis Aldhouse. It remained in the family until 1945.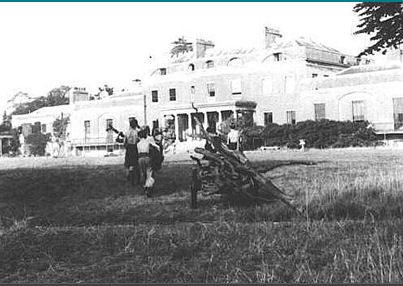 During the war it was it leased to Dr. Barnado's Homes when it became empty following the death of Admiral Sir Lewis Clinton-Baker in 194. It was finally sold to John Innes Horticultural Institute in 1945,

It was brought by Hertfordshire County Council in 1967 and used by Hatfield Polytechnic which later became the University of Hertfordshire, The University still have a field station and observatory in the park, but the main building has now been converted to 5 houses, and one house is currently (June 2011) for sale by Cavendish Brown - see above picture of the whole building.
You don't give the exact dates that Mary Ann Witkowski worked for the Baker family at Baysfordbury but I note that she was born in about 1800 and in Bayfordbury at the time of the 1851 and 1861 censuses. Because photography had only just been invented there are very few photographs of anywhere in Hertfordshire for this period and photographs only became commonplace towards the end of the century, so the chance of finding a photograph which includes and identifies Mary are pretty low. If any were taken which included staff during the period Mary was there they may well still be in the hands of descendants of William Baker and you would need to track them down. (As a matter of policy this site does not track down living people.) As far as I can see from their catalogue there has been no deposit of estate papers, etc., relating to Bayfordbury at HALS - but you should approach them as a matter of routine. As the house passed through the hands of the University of Hertfordshire it might be appropriate to ask them if they have (or know of) any relevant archives.
On a technical point you referred to the house as Bayfordbury Manor - but historically its correct name is simply Bayfordbury. If you want to refer to the manor it was called Bayford Manor. In 1759 there may well have been an existing Bayford manor house which would have been far too humble for the new Lord of the Manor - who built Bayfordbury instead. By the 18th century most surviving manor houses would have been ancient wooden framed buildings - and if you built a grand new mansion one thing you would not call it was a manor house. By late Victorian times it had become fashionable, at a slightly lower level of society, to modernise the old manor house and call it the Manor House, even if the Lord of the Manor no longer lived there. I have not looked into the matter in detail but the house shown as Bayford Manor House is a completely different building - and may be the pre-1759 manor house.