General Cornelius CUYLER, Danesbury, Welwyn, 1799-1819

August, 2011
Steve Cope (copey33 @t hotmail.co.uk) of Herne Hill, London, writes: At a recent auction I bought a large and striking oil painting portrait of a Military Leader from the Regency Period. After doing some research I found out that it is a portrait of Sir General Cornelius Cuyler 1741-1819. He was a 1st Baronet and lived in St John's Lodge in Welwyn, which I believed changed its name to Danesbury. I've also found out that he was the founder of the 86th regiment known as "Cuyler's Shropshire Volunteers". There is some information about him on an army website. What I am trying to find out is who painted the portrait and if there is any reference to it in the archives, and any other information about Cuyler.

I imagine that the portrait originally hung in St John's Lodge (now Danesbury) from around 1813 when we think it was painted. Cuyler died in 1819 and the estate was then sold on, so the portrait might have been handed down, how long it stayed in the family is anyone's guess. The quality of the painting is very good so I think that it was by an established artist of the time.

There is a fair bit of information about General Cuyler on the internet. He was very involved in the West Indies and his main military achievement was taking Tobago from the French in 1793 during the Revolutionary Wars. He was also a 1st Baronet, Governor of Kinsale and the founder of the 89th Regiment which later became the Royal Irish rifles.

I noticed on your website that you reference a book called "Welwyn By and Large", and that there is a chapter at the end of the book called "Schuyler and Cuyler". I've been trying to get hold of the book to find out more about Cornelius Cuyler, but there are no copies available to buy.
I have added the chapter Schuyler and Cuyler as a sample text to the review page for Welwyn By and Large.
I know very little about Art history, and therefore cannot comment directly on the date, style, or identity of either the sitter or the artist. However most houses of the size of St John's Lodge would have been expected to have a number of family portraits. For all I know there may well have been a number of peripatetic artists who travelled around the country offering their services. (A hundred years later one of my wife's relatives E. A. Phipson travelled round the country painting watercolours of houses.) For this reason I will concentrate on records related to Hertfordshire and where references to the picture might be found.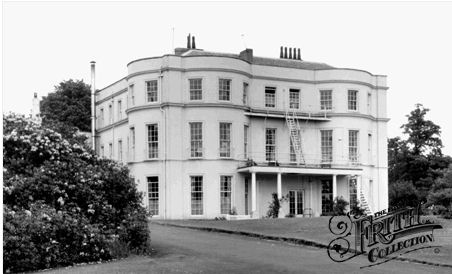 Danebury (formerly St John's Lodge) as a hospital in about 1960
If we take it that the man in the picture is in his sixties the painting would have been made after about 1800 which fits with your suggested date of 1813. The following information relation to the birth of his children suggest that he was already in residence at Welwyn by 1796 as Augustus Cuyler was baptised on 31 October, 1796 at Welwyn. In 1799 Harriot Fanny Cuyler was baptised at Welwyn on 1 July 1799 while the Gentleman's Magazine reported that on 20 December 1800 At St John's Lodge, Hertfordshire, the wife of Lieut-General Cuyler, a daughter. This was Eliza (baptised 13 May 1801). Georgiana Cuyler was baptised at Welwyn on 20 December 1805.
[In fact there is an Ancestral Family Tree on familysearch which suggests that Charles Cuyler was born in Hertfordshire on 29 January 1794 but the source of this information is uncertain and the tree fails to mention an older son William Fowler Cuyler who was born in London on 23 January 1787 and baptised at St Mary, Marylebone.]
Cornelius Cuyler insured property with the Sun insurance company. Their records in the Guildhall Library (London) show that on 21 April 1794 he took out contents insurance for property in the Strand (MS 11936/401/628057). On 17 January 1799 he took out contents insurance on St Johns Lodge, near Welwyn (MS 11936/413//684920). This insurance was renewed on 15 February 1806 (MS 11936/437/787047). I have no experience of circa 1800 insurance documents and don't know whether contents insurance involved an inventory - and if so whether a single "modern" portrait would be valuable enough to itemise, when a house the size of St John's Lodge would have contained many paintings of a similar or greater value. In any case, if the picture was painted after 1806 it would not have been included in any of these documents
Sacred to the memory of Ann Lady Cuyler. wife of General Sir Cornelius Cuyler, Baronet, of St Johns Lodge, in the County of Herts. who departed this life January 10th 1816, aged 51 years.

Friend, Parent, Wife , in thee were Closely Joined

All the Lov'd Charities of Human Kind

These for a Season lent, are now restored

To the Blest Mansions of Thy God and Lord

This Tablet is also Sacred to the Memory of General Sir Cornelius Cuyler, Baronet, Colonel of His Majesty's 69th Regiment of Foot, and Governor of Kinsale and Fort George, in Ireland. Beloved and Lamented by all who knew him, he died surrounded by his Sorrowing Children at St John Lodge, March the 8th, 1819, aged 77, having taught them by his example in what peace a Christian could die.

from Rook's St Mary's Church, Welwyn

from Cussan's History of Hertfordshire
I would have expected Cornelius Cuyler to have left a will but a preliminary search in the most likely places shows there is nothing listed for the Prerogative Court of Canterbury at the National Archives or in the recently published index of Wills at Hertford, 1415-1858.
I checked out Clutterbuck's The History of the County of Hertford but it proved unhelpful for the current query. Volume 1 (published 1815) includes Cornelius as one of the knights of Hertfordshire. While Volume II (published 1821 and including Welwyn) records the memorial to Ann Cuyler (but not her husband) it does not mention the house.
There are papers relating to the sale of St Johns Lodge by Cornelius's son Sir Charles Cuyler in 1824-1826 as part of the Blake family extensive archives at HALS (DE/X69) These documents will include the previous history of the property - almost certainly giving the date that Cornelius acquired the property. It is possible that Sir Charles Cuyler sold the house with contents (including the painting). If the documents relating to the sale included an inventory I would expect the archives index to mention it. However if there was an detailed inventory HALS would almost certainly have recorded the fact in their index.
If the picture passed down the main line, the Baronetcy became extinct in 1947 with the death of Sir George Hallifax Cuyler. I would expect that the current baronet would consider it a point of honour to have a portrait of the First Baronet Cuyler - and would think it most likely that either this portrait only left the family in 1947 (or later if his wife was still living) or there were several different portraits.
If this portrait was kept by another member of the family it is interesting to note that Harriet Fanny Cuyler never married and was living in Welwyn at the time of the 1841 census. She was in the Rectory with the Rector, Samuel Johnes Knight, and his wife, Anna Maria Knight, and if that was all this would not be remarkable, as she could have just been on a short visit. However, in Cussan's History of Hertfordshire there is a record of the more important tombstones in Welwyn Churchyard. The Rev. Samuel Knight died in 1852 aged 96 and his wife died in 1844 aged 54. The couple's memorial also carries the words "Also Sacred to the memory of Harriet Fanny Cuyler, Daughter of General Sir Cornelius Cuyler, Bart., Born May 22nd, 1799, died March 25th, 1869." This suggests an exceptionally close relationship between Harriet and the Rector. It was not uncommon for such young ladies to work for the church as a Sunday School teacher and tt is possible that when the Cuyler household was sold up she moved to the Rectory, to continue her voluntary work. Over the years she may ended up acting as a companion to the elderly couple, in effect being treated as an "adopted" daughter. While there may well be wills which clarify the situation they are unlikely to record whether the picture went to Harriet.
June 2012
Leslie (missz @t aol.com) writes from Washington, D.C.: This is a follow-up to a piece you published in August 2011 regarding a query from a gentleman who had purchased a portrait of Sir Cornelius Cuyler. In your response you had expressed some interest in Harriet Fanny Cuyler, the general's daughter.

You were undoubtedly on the right track in your conjecture that Miss Cuyler -- as an unmarried lady -- had probably taken up the role of companion to Rev. and Mrs. Knight. because in fact she is mentioned in Cecil Woodham-Smith's biography of Queen Victoria as the head nurse for Lord Melbourne in his last years at Brocket Hall. She read to him when he could no longer read (due to a series of strokes) and was present at his deathbed in 1848. She seems to have been employed as a companion and nurse for other members of Lady Palmerston's family afterward, but it appears that the Melbournes had long known her family as there is a reference to Sir Cornelius in a recent collection of the first Lady Melbourne's letters.

Miss Cuyler was quite the character. An article in Cornhill Magazine written by Sir Algernon West mentions that whenever she entered a hackney coach she would ask the driver three questions: "Are you a Puseyite?," "Have you taken into your carriage anybody with an infectious disease?" and "Are you a Whig or a Tory?" She was undoubtedly a fervent Whig.
This message caused me to re-examine the earlier evidence and as a result I found a far better reason for Harriet being remembered on the Knight memorial at Welwyn. According to Sir Cornelius Cuyler's entry in Burkes Peerage Samuel Johnes Knight married Anna Maria Cuyler (Harriet's sister) on the 6 June 1808.