ASHBY/SHERMAN, Aldbury, 1840-1851

October, 2011
Carolyn Ashby Filter (filterc-r @t aztec-net.com) of Ontario Canada, writes: I'm researching my paternal great grandfather Joseph Ashby b.1854 Aldbury and d. 1899 Manchester Lancs. and his parents James Ashby 1797-1862 b. Aldbury and Ann Unknown b. 1813 Frithsden.

I have found James and his family in the 1851 census in Aldbury (no street address given). He's a farm labourer with 4 children with wife Ann: Elizabeth 10, William 4, Thomas 2 and John 10 months.

In 1861 the family lives at High St. in Northchurch, and James in a general labourer with straw plaiter wife Ann and 5 children: Thomas 13, John 11, Joseph (my GG) 8, James 6, and Sarah 5. Daughter Elizabeth has moved out and married George Scott 1838-1900 and produce 5 children, living in Aldbury all their lives. William can be found in the 1851 and 1871 census records only and works as a farm labourer - I can't find any trace of a marriage for him.

If I could find marriage records for James and Ann, it would help me through this wall! I have used Ancestry and also UK BMD to try to find marriage certificate information, but have come up with nothing.
I can understand your frustration at the apparent lack of a marriage in about 1839 in the online records, but you should have been able find Joseph's mother's maiden name by buying his birth certificate. Without buying any certificates I think I have been able to resolve your problem - although you will need to buy certificates (cheapest if you buy directly from the GRO) to confirm what has happened.
If you look at the 1851 census entry (I used findmypast) you will see that James was nearly 20 years older than Ann and there was a gap between the birth of Elizabeth and William. Census returns often simplify the relationships and I wondered if some of the children were step-children.
| | | | | | | |
| --- | --- | --- | --- | --- | --- | --- |
| ASHBY, James | Head | Married | M | 54 | Agr Labr | Aldbury |
| ASHBY, Ann | Wife | Married | F | 35 | | Frithsden |
| ASHBY, Elizabeth | Daughter | | F | 10 | Straw Plaiter | Aldbury |
| ASHBY, William | Son | | M | 4 | | Aldbury |
| ASHBY, Thomas | Son | | M | 2 | | Aldbury |
| ASHBY, John | Son | | M | 0 (10 MOS) | | Aldbury |
I first checked to see if the births of any of the children had been registered as Ashby and found the answer was no. So I then checked all possible Joseph Ashby marriages to an Ann in the area before the 1851 census, and came up with three candidate names Ann Shearman, Ann Chappin and Ann Bowden. Using this information I quickly found the following registration entries on FreeBMD:
Elizabeth Sherman - birth registered Berkhamsted June 1840 [6 483]
Mary Sherman - birth registered Berkhamsted June 1842 [6 483]
James Sherman - birth registered Berkhamsted June 1844 [6 457]
James Sherman - death registered Berkhamsted June 1844 [6 324]
George Ashby Sherman - birth registered Berkhamsted September 1845 [6 457]
George Sherman - death registered Berkhamsted December 1846 [6 391]
Ashby William Sherman - birth registered Berkhamsted March 1847 [6 521]
Thomas Sherman - birth registered Berkhamsted March 1849 [6 535]
John Sherman - birth registered Berkhamsted June 1850 [6 507]
James Ashby married Ann Shearman - marriage registered Berkhamsted December 1850 [6 919 ]
Joseph Ashby - birth registered Berkhamsted Jun 1852 [3a 304]
James Ashby - birth registered Berkhamsted Dec 1854 [3a 295]
While one cannot be certain about the parents for the earlier names this show a common pattern of one child every two years except that George came quickly after James because James died soon after birth and breast feeding usually delays the next pregnancy. The overall picture is consistent with James Ashby and the younger Ann Sherman living together from 1840 but not marrying until 1850. In days when divorce was not available to the poor it is possible that Thomas was married and separated and only married Ann after his first wife died. (More research would be needed to establish this.) Before the couple married the correct procedure would be to register the birth under the unmarried mother's name and the father's name would normally be left blank. To get round this the fathers first name and/or surname was often used as a given name. However as soon as the couple married the children would normally take the surname Ashby - assuming they had not already be using it.
April 2012
Carolyn reports on the marriage certificate that shows that James Ashby, a bachelor of full age from Aldbury, married Ann Shearman, a spinster of full age from Aldbury according the the rites of the General Baptists at the Baptist Chapel in Berkhamsted [this would be the Baptist Chapel in Water Lane] on the twentyfifth of December 1850. He could sign his own name and his father was Thomas Ashby (occupation unreadable). She made her mark and her father was Thomas Shearman, labourer. One of the witnesses was a Mary Ann Shearman, the other a William Clarke.

Carolyn also reports that Joseph Ashby's birth certificate confirms his mother's maiden name as Sherman and that "there are records on Ancestry.com that suggest that the 4 youngest children were all baptised on the same day: 17 Feb 1861 in Great Berkhamstead, with father James Ashby and mother Anne. Ancestry's source is [a small percantage of] England and Wales Christening Records 1530 - 1906. John was aged 12, Joseph was 9, James was 6, and Sarah 5. I can't find any such record for the older children."
So we know from the marriage certificate that neither James or Ann had been married before. The names of the Sherman children born before the marriage suggests that James was the father of several of them, - young James after the father, then George Ashby Sherman and Ashby William Sherman (taking their father's surname), while young Thomas Sherman could have been named after either of the possible grandfathers.
So we can be sure that the couple had been living together unmarried, with a steadily increasing number of children and were then married on a rather special day - Christmas Day. Someone (the Baptist Minister) was concerned for the souls of these "sinners" and persuaded them to tie the knot in a special service - which may well have been a joint one involving other couples. This was possibly an attempt to get them to join his congregation and should not be taken as evidence that they were born and bred Baptists. I think we can assume that if they had been regular attendees at the Baptist Chapel since the children had started appearing something would have been done to get them married before.
I don't currently have a subscription to Ancestry (I can't afford to buy subscriptions to every site when the real purpose of the site is to raise money for charity) so I am not sure if your reference to baptism records relates to a ceremony in the Baptist Chapel - or more likely the parish church at Northchurch (where the Ashby family was living) or St Peter's (sometimes recorded as Great Berkhampstead) in the centre of Berkhamsted. Whichever it was it is important to know that the Baptists do not believe in infant baptism - and the child should be old enough to make the vows themselves. If the children John, Joseph, James and Sarah were baptised in the Church of England it could be that the family had broken with the Baptists and there was a "catch-up" baptism ceremony. It is possible that the older children had been baptised shortly after they were born (perhaps at Aldbury?) and the relevant register entries have not yet appeared online.
An important question is whether the couple were living together when Elizabeth Sherman was born in 1840 - and if you have not already done so have a look at the 1841 census. You should be able to find James Ashby living on his own at Aldbury while if you search for 1 year old Elizabeth (possibly indexed as Sharman), you will find her, her mother and grandparents living a few miles away in Edlesborough, Buckinghamshire.
From the information you already have you should have no difficulty in finding the baptisms of Ann Sherman and James Ashby on familysearch - and I will allow you to have the thrill of the search yourself - rather than telling you what you will find.
November 2012
Carolyn writes again: I thought I would update you with my findings regarding the Ashbys of Aldbury. After your kind help of October 2011 and April of this year, I've thoroughly enjoyed using the new tools I've learned to use, and have visited your website and blog almost daily. I received an early Christmas gift this year of a little money to spend on my ancestry research, and will happily forward a portion to the Herts. Mind Network charity in thanks.

A look at the online Family Search index has revealed possible parents of James Ashby (1798-1861 born Aldbury, Baptism Aldbury 18 Mar 1798). I believe they are Thomas Ashby and Maria. The 1850 marriage certificate for James and his wife Ann Shearman (mentioned in my previous correspondence) lists James' father as Thomas Ashby, occupation unreadable (possibly Hatter). James and Ann were married in the Baptist Chapel at Berkhamstead, and you had offered the opinion that this was likely the Water Street Chapel.

A search of other baptisms at Aldbury for children of Thomas and Maria reveals:

Mary Ashby 1788-1789 baptized Sep 1788
William Ashby 1790-1790 baptized 3 May 1790
William Ashby 1791-1880 baptized 18 Oct 1791
George Ashby 1793 - ? baptized 6 Dec 1793
Sarah Ashby 1795-1795 baptized 17 May 1795
James Ashby 1798-1861 baptized 18 Mar 1798

Please note that the year of death for all except James are unproven pending further research. I did purchase the booklet of Monumental Inscriptions for Saint John the Baptist in Aldbury put out by the Herts. Family History Society (M.I. Series No. 94) but was disappointed to find only one Ashby, and it was that of a Mary Ashby nee Dolt, wife of a William Ashby. She died 1854 aged 73. No sign of William her husband or any children, so probably a dead end.

So this leaves me with a couple of queries. Where do I look to find Thomas and Maria's marriage? Nothing shows up on ancestry.ca, Find My Past, or Family Search. I did a search on the Herts Direct online index, but nothing jumps out. Maybe they were nonconformists, (Baptists?) and so the records are not available to me.

Then I tried to plot out the lives of the surviving siblings of James: William and George. There is a William Ashby who married Anne Bradsel in 18 Sep 1820. I eagerly ordered a scan of the document from Herts Direct, hoping to discover his father's name and maybe occupation. But sadly I was disappointed as no father was listed. I can email you the scan if you'd like.

A page by page search of the 1841 and 1851 Census for Aldbury shows a William Ashby as a fairly prosperous farmer at Town Farm, High Street, Aldbury with wife Anne and several children, employing men and boys. Close by is a George Ashby and family born 1806 Bedfordshire, obviously not the George Ashby I'm looking for.

I have thought of visiting the nearest LDS Church to my area to see if I can view the actual microfilms of the Ashby baptisms I've found on line, as your advice seems to suggest that more details might be forthcoming. Is this a good idea, do you think?

Many thanks for your very entertaining, enlightening and helpful website.
A point to remember is the county boundaries, particularly around Hertfordshire are pretty arbitrary lines drawn across the countryside which in many cases relate to land ownership in Saxon times. While the boundary usually follows the line of a hedgerow or an old path, track or road, it is impossible to know where Hertfordshire ends and Buckinghamshire begins without referring to a map. One of the consequences is that boundary would have had little effect on who married who! The map below shows the county boundaries near Aldbury (Green - Bucks, Yellow - Beds) as they were 200 years ago.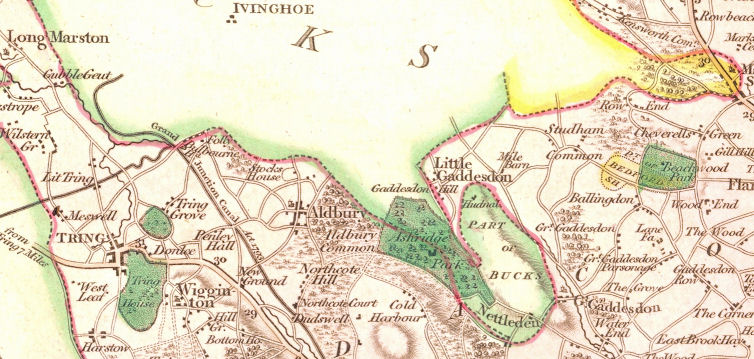 Cary's 1811 Map of Hertforshire
As you can see Aldbury is right on the border - and if you look in Buckinghamshire you will find a Thomas Ashby marrying a Maria at Ivinghoe on December 21, 1785, which fits in pretty well with the Aldbury baptisms from 1788, with Ivinghoe village being little further from Aldbury village than Aldbury village is from Tring. (Pitstone is not marked on that map but the village is south west of Ivinghoe and the parish stretches south east as far as Nettleden.)
Thomas could have been the Thomas Ashby who was buried at Aldbury on April 17, 1837, aged 82 - suggesting he was born in about 1755. The Maria Ashby who was buried in the village on August 18, 1840. aged 80, could have been his wife, with a date of birth of about 1760. A Mary Plummer, daughter of John Plummer & Susanna, was christened at "Great Gaddesden & Nettleden" on March 2, 1760. (See map - Nettleden was part of the Buckinghamshire parish of Pitstone, but was so much closer to Great Gaddesden church that parents living in Nettleden had their children baptised in Hertfordshire!). However one can't be certain that this Mary Plummer is "your" Maria as ages of the elderly were not always recorded accurately at a time when few could read and write. For this reason one cannot automatically rule out the Maria Plummer, daughter of William and Ann Plummer, who was baptised at Ivinghoe on April 20, 1764.
As to further research it is clear that the parishes of Pitstone, Ivinghoe and Great Gaddesden are possible hunting grounds. In looking at LDS microfilms of registers the microfilms may well contain baptisms, marriages and burials, and you should make the most of the opportunity to note details of possible relatives. For instance when someone married they may have had a brother or sister to act as witnesses - and sometimes such information can prove invaluable - especially if the witnesses (and bride/groom) could write their own names - making it possible to compare signatures.
Finally there is always the non-conformist problem, where children are not recorded in the Church of England baptism register. Prior to 1837 all marriages had to be Church of England (but this meant some non-conformists who did not want to enter the local parish church, where they would be known, got married miles away). While some non-conformists had burial grounds, many did not - as so were buried in the churchyard, which acted as a cemetery for all. As you have noted there are other Ashby families in the area, who may be related, and you may need to keep track of them, to some degree, to avoid linking up with the wrong family.