PHILBEY, Tring, 1840-1864

December, 2011
Colin Meager (colin @t colinmeager.co.uk) of Birmingham wrote: Jane Philbey was born Jane Meager, in 1805 and married Joseph Tomkins in December 1829. Joseph dies and she is stated to be the landlady of the Green Man in Tring in the 1839 Pigot's Directory. She marries in 1840 John Philbey ( a plumber also of Market Street ) and is the landlady at the Green Man probably up until just before her death in 1864. She is the landlady in the 1861 census.

In the William Brown archives there seems to be a folio 81 "Mrs Jane Philbey" and that may well relate to her ownership of the Green Man and I would love to know more. I also found the "Gaslight comes to Tring" article [Bucks Advertiser 7th September 1850 - see This is Tring] which says "reflects great credit on Mrs. Philby, the worthy landlady". I would also be really interested if there are any archives or obituaries as she was a local landlady for almost 30 years.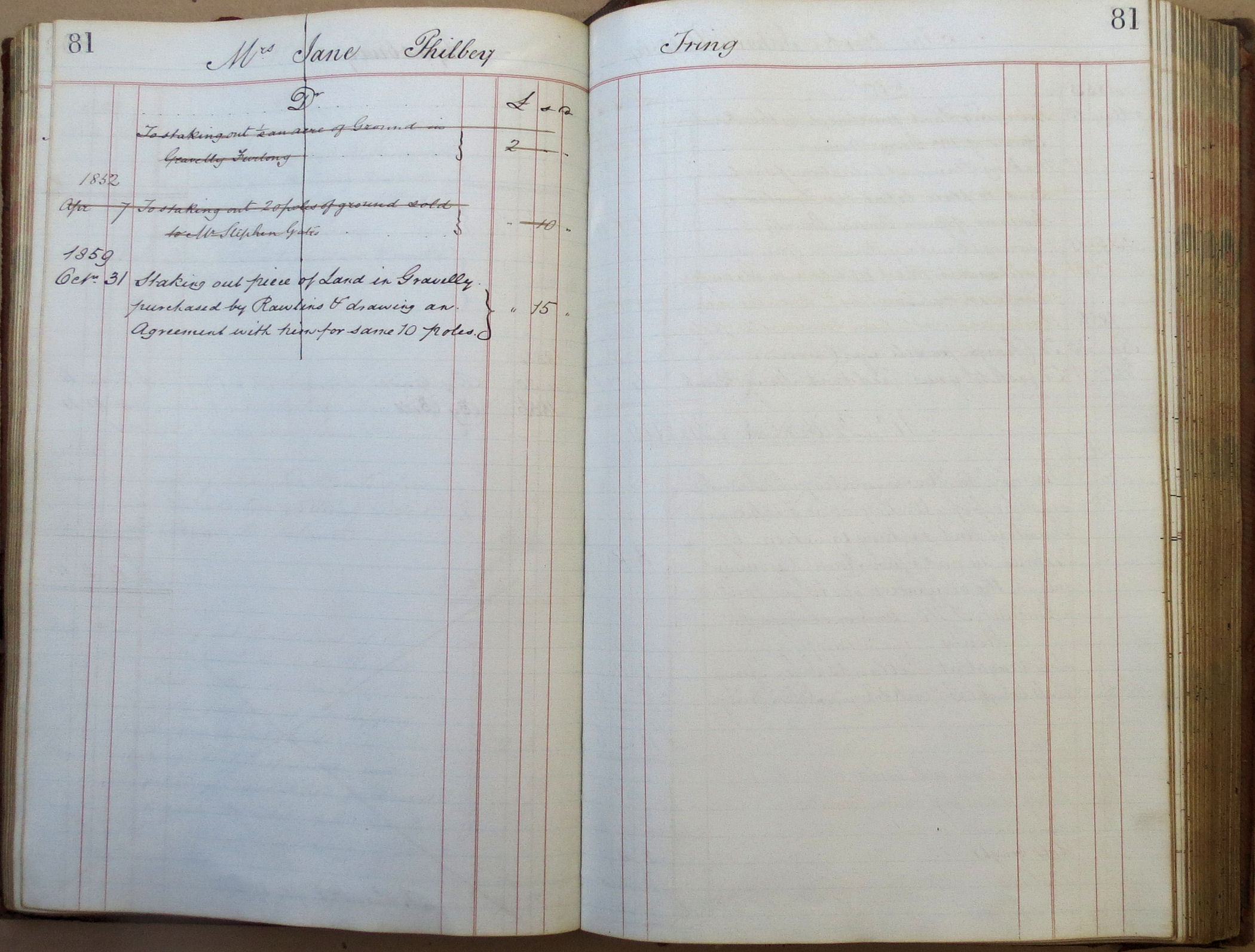 The entry in William Brown's Account book is short and not typical of the entries in the book. There are three entries, two of which are clearly for work done in connection with property at Gravelly, which was in the area of Tring between what is now Park Road and Western Road, which was being developed for housing at the time to form what was often referred to as Tring's "West End" and which is now referred to as the Tring Triangle.
The first entry "To staking out ½ acre of ground at Gravelly Furlong £2" is undated and struck through. It is not clear whether the land was sold but the fact that the area needed to be staked out suggests it was part of a larger plot.
The second entry "1852 Apr 7: To staking out 20 poles of ground sold to Mr Stephen Gates 10/-" is also struck through. Stephen Gates is listed in the 1851 census as a timber carter living in Frogmore Street, Tring. This probably relates to the land owned at Gravelly.
The third entry "1859 Oct 31: Staking out piece of Land in Gravelly purchased by Rawlins & drawing an Agreement with him for same 10 poles 15/-" is in effect struck through with a vertical line across all entries. The 1861 census lists John Rawlins as a tinman living at Gravelly Furlong, possibly the son of William Rawlins, who was a brazier living in nearby Akeman Street in 1851. It could well be that the 1861 house was built on the plot and the houses described as being in "Gravelly Furlong" were in what is now known as King Street.
The opposite page is blank showing that William Brown was never paid for the work!
In fact there is probably a very simple explanation. If you look at the Bucks Herald online (British Newspaper Archive) you will find the William Brown held a number of auctions at the Green Man and the payments were presumably waived in return for the use of the Green Man's facilities.
A quick search of the British Newspaper Archive (for the Bucks Herald) found a number of entries referring to Jane Philbey at the Green Man, Tring, including a couple referring to her estate after her death, but I didn't see any obvious obituary, and I suspect that if there was anything it would only have been a short paragraph mixed in with some other Tring news. Another paper which might carry relevant news items but which is not [yet] indexed is the Bucks Advertiser.
I have found another reference to Philbey in Brewers in Hertfordshire which reads "The Green Man in the lower High Street also had its own brewhouse where John Philby was brewing in the 1840s and John Woodman from c1878 to 1895. The brewery was also demolished [with the Green Man] by the Rothschilds to form part of [what is now] the memorial gardens."
See TOMPKINS, Tring, late 18th/early 19th Century for more about the Tompkins family and the Green Man public house

January 2012

Colin replies: Thank you so much for this – I find it really fascinating and a very absorbing ( and time consuming ) activity ! The British Newspaper archive is a great new tool and through that I found the notice of marriage of Jane's niece in Chicago which was something that I had been searching for proof of for many years. Jane's brother Thomas Meager and then his widow, also Jane, kept The Harrow on Akeman Street also for many years – so it obviously runs in the blood !
It is interesting to note the family connection between the Green Man and The Harrow, which is long gone - although the name Harrow Yard still remains.
Marriage 13 December 1832

All Souls, St Marylebone, London

Charles Philbey

Children baptised - no date/place given

Philippa Jane Philbey

Male

Elizabeth Philbey

Thirza Tomkins

1838/9 Pigots Directory, Tring

Charles Philbey
Plumbers, Painters & Glaziers
Akeman Street

John Philbey

(Auctioneers & Appraisers) Appraiser

Market Street

Plumbers, Painters & Glaziers

Agent for Norwich Union

1841 Census - Market Street, Tring

1841 Census - Akeman Street, Tring

Charles Philbey

30

Painter, etc

Hertfordshire

Thirza Philbey

25

Hertfordshire

Ann Philbey

7

Hertfordshire

John Philbey

4

Hertfordshire

Elizabeth Philbey

1

Hertfordshire

1841 Census - Akeman Street, Tring

Thomas Springwell
35
Baker
Hertfordshire
Anna Springwell
35
Hertfordshire
Joseph Cheshire
20
Baker
No

1841 Census - Akeman Street, Tring

John Glenister
20
Land Surveyor
Hertfordshire
Harriett Glenister
20
No
Eliza Glenister
50
No
Helen Glenister
15
Hertfordshire
Alexander Parkes
20
Land Surveyor
No
Rebecca Parkes
20
Hertfordshire

Birth [Ancestry Family Tree]

Philippa Jane Philbey
0
12 February 1842
Tring

Death Registration - April-June 1843

Charles Philbey
Berkhamsted

Marriage at St Mary Church, Marylebone, London 12 August 1844

Joseph Cheshire
Bachelor, Baker, son of William Cheshire, Baker
Thirza Philby
Spinster [sic], daughter of Joseph Philbey, Publican [sic]

1851 Census - Green Man Inn, High Street, Tring

Jane Philbey
47
Widow, Inn Keeper
Berkhamsted
Ann Philbey
17
Visitor, Dressmaker
Tring
George Meager
16
Nephew, Painter's Apprentice
Leighton Buzzard, Beds
John Meager
12
Nephew, Scholar
Aylesbury, Bucks
Ann Roberts
22
House Servant
Bicester, Bucks [Oxon]

1851 Census - High Street, Tring. (2 doors from Green Man)

Ebenezer C Bird [?] C Bird
24
Widower. Bookseller & Printer employing 2 men
Henley on Thames, Oxon
Eliza Glenister
59
Widow, Annuitant
Stanstead Mont..., Essex
Eliza M Glenister
9
Scholar
Tring
Alfred Mason
28
Journeyman printer (Compositor & pressman)
St Albans
Elizabeth Burch
21
House servant
Tring

1851 Census - High Street, Tring. (4 doors from Green Man)

Alexander T Parkes
31
Widower. Land Agent
London
Rebecca Parkes
9
Scholar
Tring
Maria Parkes
6
Scholar
Luton, Beds
Robert W H Parkes
26
Brother
London
Maria Griffin
24
House Servant
Lugershall, Bucks

1851 Census - Aylesbury Road, Tring

Joseph Cheshire
30
Baker
Aylesbury, Bucks
Thiriza Cheshire
36
Tring
Golder Philbey
14
[Step son], Scholar
Tring
Elizabeth Philbey
12
[Step-daughter], Scholar
Tring
Jane Philbey
10
[Step-daughter], Scholar
Tring
Henry Cheshire
6
Scholar
Tring
Clara Cheshire
3
Tring
Charles Cheshire
2
Tring

1861 Census - Green Man Inn, Market Street, Tring

Jane Philbey
57
Widow, Innkeeper
Berkhamsted
Annie Philbey
27
Granddaughter
Tring
Elizabeth Meagle
18
Niece
Aylesbury, Bucks
Ann Grover
30
General Servant
Northchurch
1861 Census - Aylesbury Road, Tring
Joseph Cheshire
42
Baker
Aylesbury, Bucks
Thirza Cheshire
45
Tring
Philippa Philbey
19
Stepdaughter
Tring
Henry Cheshire
16
Tring
Clara Cheshire
14
Tring
Charles Cheshire
12
Tring
Caroline Cheshire
9
Tring
William Cheshire
3
Tring

1861 Census - High Street, Tring

Alexander T Parkes
41
Widower. Land Agent & Surveyor
Southwark, Surrey
Rebikah Parkes
19
Tring
Maria Parkes
16
Luton, Beds
Samuel Parkes
30
Brother. Surveyor's Assistant
Cheam, Surrey
Eleanor Orange
67
Visitor
London
Sarah Harding
36
Domestic Servant
Bierton, Bucks
Elizabeth Glenister
30
Domestic Servant
Hawridge, Bucks

1871 Census - High Street, Tring

Alexander T Parkes
51
Land Agent & Surveyor
Annie Parkes
37
Tring
Maria Parkes
26
Luton, Beds
Louise Alexandra Parkes
5
Tring
Frank William Parkes
3
Tring
Fanny Elizth Parkes
1
Tring
Elizth Peyton
25
Servant
Monks Risborough, Bucks

1881 Census - 9 High Street, Tring

Alexr Thos Parkes

61

Land Agent

Southwark, Surrey

Annie Parkes

47

Wife of Land Agent

Tring

Louisa A Parkes

15

Scholar

Tring

Frank W Parkes

13

Scholar

Tring

Fanny E Parkes

11

Scholar

Tring

Arthur Polley

24

Clerk

Bishops Stortford, Herts

Edith Paxton
21
Servant
Buckingham, Bucks