David Tompkins (davetompkins @t tinyworld.co.uk) of Old Basing, Hants asks: I wonder if you could possibly provide any advice re the birth and parents of my gt/gt/gt grandfather William Tompkins who was buried in Tring on 14 July 1850.

Over the past few years I have produced a full history of the family going back to William's marriage to Jane Hedges in June 1803 in Pitstone. But I have hit a block at that point. At some stage between 1809 and April 1812 the family moved from Cheddington to Tring where Jane was buried on Christmas Day 1816. William subsequently re-married in Cheddington in 1818 and died there on 8 July 1850. For some reason however his second wife brought him the short distance to Tring for burial. The 1841 Cheddington census shows him as having been born outside the County of Bucks and he died before the 1851 Census which would have provided a precise location.

There is a deal of circumstantial evidence (but no more than that) that my William may have been the son of John Tomkins and Frances (nee Nash) who married in Tring in 1775 and baptised a William there in 1784 which is within the range of birthdates for my William since the 1841 Census and his death record provide different ages (and his burial record in Tring has a one year difference in his age to that shown on his Cheddington death record!). In brief William was a publican/wheelwright as was John Tomkins' brother Thomas (born Tring 1754) as evidenced by the militia ballot lists for Tring. My William's move to Tring may well have coincided with the death of Thomas who was buried in Tring on 5 January 1812 according to the Parish record or 1 January 1812 according to the Bishop's Transcripts. Thomas was shown on his Tring death record as being "of the Green Man" which was demolished around the turn of the 20th century. William would presumably only have moved if there was a wheelwright opportunity in Tring and it is possible that he moved to replace Thomas (or possibly to assist him if the move was earlier than 1812) at the Green Man. My William baptised a daughter Mary in Tring in April 1812 which could possibly have been a mark of respect to Thomas' widow Mary who may of course still have been residing at the Green Man.

By 1818 he was re-married and living once more in Cheddington where his descendants remained (as wheelwright/publicans) for the next century or so. I have however been unable to find any surviving records which would link William to a particular wheelwright shop in Tring or records of licences of the Green Man in the relevant period. Visits to the record office in Hertford have so far drawn a blank.

The John mentioned above as his possible father was a farmer in Tring and Tring Grove according to the militia lists but disappears from the lists after 1775 (the year of his marriage), although his children were subsequently baptised in Tring. He apparently died in 1812 when he was a farmer in Waterside, Chesham.

Any help that you may be able to provide would be very gratefully received as I have been stuck for some time despite great help from Matt Tompkins who is an acknowledged expert on the Tompkins genealogy.
You clearly have done a lot of careful work and I understand you have a lot of information you have not supplied. Despite a considerable effort your still have a have a problem. What I will do is use the information you have given me as examples of general points and techniques - and forgive me if you have already "solved" a particular point, but there are some useful lessons here which may help other visitors to this web site.
I am not going to wave a magic wand and come up with a solution. Basically there are too many people called Tom(p)kins in the area. For instance, if you look at the Tring parish registers you find the following William Tompkins baptisms:
| | | |
| --- | --- | --- |
| Name | Baptised | Parents |
| William Tompkins | 19 Mar 1780 | Humphrey & Elizabeth |
| William Tompkins | 21 Apr 1782 | John & Mary |
| William Thompkins | 13 Apr 1783 | Joseph & Ann |
| William Tompkins | 6 Jun 1784 | John & Frances |
| William Tompkins | 26 Dec 1793 | Benjamin & Frances |
In addition there were other William Tompkins baptised in nearby parishes in Buckinghamshire and Bedfordshire, and there may have been others whose parents were non-conformists and did not get their children baptised in a parish church. Names such as John and Thomas Tompkins would also appear to be inconveniently common and the situation on the IGI at familysearch is complicated because of multiple Tompkins submissions, some of which appear to be no more than guesses - see The Limitations of the IGI. In such situations there is considerable scope for misinterpretation of the surviving records - see Right Name, Wrong Body? for examples of the traps that can catch the unwary.
The danger in such cases is to cherry pick the most promising bits of evidence without considering how this interpretation fits in with the other people who were living in the area at the time. It is well known that genealogies tend to be upwardly mobile. This is because the records of the well-to-do property owners are more likely to survive - so if someone cannot find their real farm labourer ancestor (perhaps because no records survive) there may be a gent with the same or similar name in the records which gets erroneously added to their family tree. This can result in several different and incompatible family trees claiming the same person as an ancestor. Such errors may well be compounded by being published online in a family tree - see The Dangers of Internet Genealogy.
So how can you avoid such traps, when there are multiple candidates with the same name for your ancestor?
Collect as much information as possible about the people with the relevant surname in the area, from a variety of sources - without jumping to a conclusion about which is your ancestor at this stage. Make sure that you record the information is such a way that it can be linked back to its source. A big mistake I made when I started doing my family history was to record information on the assumption that it applied to my ancestor - and when found I was wrong it was almost impossible to untangle proved facts from likely (but in retrospect wrong) guesses.
Try to reconstruct each family and not just "yours" with the most reliable information. For example you should try and find out enough about each of the William Tompkins baptised in Tring (and nearby) to find out what happened to them - at least in enough detail to eliminate them. Remember that many of them may be cousins and have similar occupations and give their children similar names - see The Inheritance of Single Christian Names. As cousin marriages were quite common it may turn out that the information you collect could be relevant to another branch of your family tree. (See Who is Related to Who? to see how complex cousin marriage networks can become.)
There will be a number of records which initially cannot be allocated, but once you know, for example, which births ended in an infant death, and which led to a marriage, you may be able to make a provisional or even final determination of relationship.
Despite working hard to collect information it may sometimes turn out that you will never get proof as to which of several candidates is you ancestor. However, if there is good circumstantial evidence, as in Is this the right birth/baptism, it may be possible to claim that an individual is almost certainly an ancestor.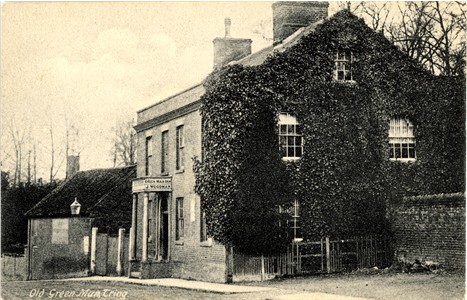 The Green Man in about 1900
In 1823 (Pigot's directory) Mary Tomkins was landlord of the Green Man and Thomas Tomkins was landlord of the Robin Hood. Other Tomkins were listed as bakers (John, William), corn dealers (Henry & William), grocers (William), iron mongers (William) and wheelwrights (Thomas). In the 1839 directory we had bakers (Martha & William Tompkins), grocers (William), inns (Jane at the Green Man), ironmongers (William), shopkeepers (Mary). taverns (Ann at the Robin Hood), and turners (John).

By 1851 (Post Office Directory) Mrs Jane Philbey was landlord of the Green Man but the Tompkins were still in the town in strength: Mrs Mary & sons (braziers & furnishing ironmongers), Mrs Ann ("Old Robin Hood"), Henry (beer retailer), John (wheelwright), Joseph (boot & shoe maker) and Thomas (tailor)
In addition to the above general points there are specific areas where you may need to do more work.
Have you looked at the land tax for Tring at HALS. It can be hard work as the returns were produced annually and in some cases the only way to find out what happened is to compare one year with the next to find out which properties changed owner and/or tenant during the year. It might be useful for identifying names and dates for the Green Man, Tring. There should be similar records for Cheddington in the Centre for Buckinghamshire Studies.
HALS has a large scale Estate Map of Tring from 1799 which I understand has names of occupiers and may be useful.
Have you looked at the index on the National Archives site. In a quick glance I noticed Tomkin wills for publicans in 1835 and 1857. Was this the Green Man or the Robin Hood? There may be other relevant entries.
Have you looked at any manorial rolls? I don't know where the Tring Rolls are but you might find something for Cheddington. These can record changes in copyhold ownership and sometimes have other gems of information.
I note with amusement that Matthew Tomkins, a weaver of Tring, was indicted for disobeying a maintenance order and to remain in the bridewell until he finds sureties. Herts County Records: Calendar to the Session Books: Volume VIII.
David responded: I couldn't agree with you more about guesswork. Entries in both the Church of LDS and Ancestry web sites from other tree researchers show parents for my William but on checking sources with the authors both are clearly based on a mixture of guesswork and inadequate research. I have also found errors in these at other points on my tree. It is far too easy to jump to conclusions, but in my view unforgiveable to then publish these as 'facts' and potentially mislead others.

December 2011