PANGBORN, TRING, 1868-1906

January, 2012
Elizabeth Paulette-Coughlin (ecopoeticisms @t gmail.com) of Montreal, Canada, wrote: Lucy May Pangborn (my paternal grandmother) and William Pangborn (my maternal grandfather) were siblings, children of George and Rose Pangborn. George was the Tring butcher. the family lived on Akeman Street. after Rose died of t.b. They were paid steerage by Walter Rothechild to Canada and settled in foster homes in the eastern townships of Quebec along with their brothers and sisters. I believe they left from Liverpool. Could you give me information around the circumstances of their departure? Around George's butcher shop? around Rose's death?

She later provided the following information

Frederick George Pangborn married Rosa Taylor in 1891.They were married by the Baptist minister, Charles Pearce.

My grandmother, Lucy May Pangborn was born on January 23, 1892.

My grandfather Frederick William Pangborn was born on November 28th 1893.

Other children were George, Elsie, Frederick, Rosalind.

My great grandfather was the butcher in Tring. I am interested in knowing about his shop. Also, what life would have been like when they lived there

I am not sure about the date of their departure for Canada. I think around 1904.

When the children reached Georgeville in the Eastern Townships, they were put in foster care or work placements on farms.

Rosalind, who was the youngest, lived in a convent until she was 18, even though the family was
not Catholic.

My auntie Elsie was adopted by the Mckenna family.
Frederick George Pangborn (English records all seem to call him Frederick) was born in Tring in 1868, and appears (on the limited information I have) to be one of a number of children of George and Julia(na) Pangborn. In 1871 he was living with his grandparents in Akeman Street although George and Juliana and other children were in nearby Langdon Street. In 1881 he was with George and Julia and siblings at 3 Albert Street, which is a turning off Akeman Street.
As you say, he married Rosa Taylor in 1891 by the Rev. Charles Pearce. There were four Baptist chapels in Tring at the time, but Charles was the minister at the one in Western Road (now renamed as part of the High Street). In the census later that year Frederick was described as a slaughterman and was living with Rosa in 1, Albert Street. At the time there were probably half a dozen butchers in Tring,
The Kelly's Directory for 1895 shows that he was trading as a butcher in Western Road and this was most likely the shop at the junction with Henry Street. He was probably still living at 1 Albert Street. He was not there long as the 1899 and 1902 directories list him as being a butcher with a shop at New Mill, Tring while the 1901 census lists him as living nearby at 68 Wingrave Road, New Mill. Fredrick and Rosa are listed as having the following children:
May (10), William (9), Elsie (8), George (7), Arthur (6), Rosa (3) and Frederick (4 months).
The next information I have [from Findmypast] that on the 5th May 1906 the Sardinian left Liverpool for Montreal with the following family listed in the manifest: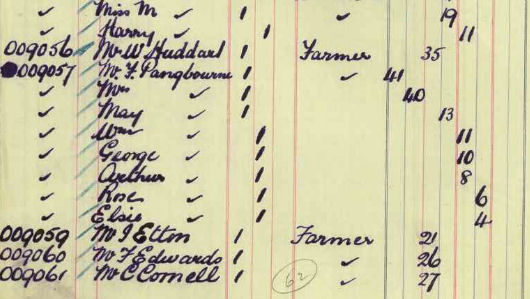 So Frederick and "his wife" travelled together to Canada with six children, May, William, George, Arthur, Rose and Elsie. [Has the list missed out a name and then confused Elsie with Frederick? The ages also seem out of step.]
Before I look at this in detail the reason for the trip is easy to explain and it is likely that there were other people from Tring on the same boat for the same purpose. Herbert Grange of Grove Farm, Tring, was a tenant of Walter Rothschild, and in 1903 he travelled around Canada to examine "its agricultural possibilities from the Atlantic to the Pacific Ocean." On his return to England he wrote the book An English Farmer in Canada. The introduction of the book includes the words:
At the same time he has tried to make it clear that Canada is no country for the sluggard and trifler. Grit, by which is meant the capacity of working steadily, doggedly, and perseveringly till success is attained, is as necessary in Canada as in any other part of the world for those who would succeed. But as he has said in these pages: "For those with good health, who are fond of outdoor employment, capable, and mean business, the opportunities presented in Canada are greater than in England."
Undoubtedly because of this book Walter Rothschild arranged for a number of people from Tring to emigrate to Canada and it would appear that the Pangborns were one of these families. I haven't checked but some of the others on the ship may also have come from Tring.
But who was Mrs Pangborn? And what happened when they got to Canada? Presumably some land was allocated for Frederick Pangborn to farm and there will be associated records. I must leave the problem of searching the Canadian records to you but there is a very relevant, and unconventional entry in the 1911 UK census.

The correct way to fill in the census form is to list the family first and then the servants - but Miss Walmsley is listed in the position one might expect for the wife - and you would expect a given name and not "Miss". I would suggest that the Mrs Pangborn of the manifest and the Miss Walmsley of the census are likely to be the same person - and that Frederick decided to return to England (are there any Canadian land sale records?) but left the older children in Canada.
Of course by the time the family arrived in Canada three of the children would have been 13 years old and would have left school for work, and all but Rosa and young Frederick would have been over 13 by 1911. In addition there may have been contacts with friends from Tring who also went to Canada under the Rothschild scheme. In such situations the children may have decided to stay in Canada when their father returned - particularly if they were not very enthusiastic with their father's companion/housekeeper.
I have found nothing to say what happened to Arthur. Perhaps he died in Canada?
Elizabeth replied: I am so grateful for the information that you sent to me. It was just amazing to see the names of my grandparents listed in the Sardinian's manifest. Yes, you are right about the woman who travelled with my great-grandfather as his wife....we do not know too much about her, but we do know that a child came of their liaison.

I have heard stories of my grandparents going to the wrought iron gates of Tring Park and looking through to see exotic animals on the lawn .. My grandmother remembered a man in a khaki suite who came down and gave them pennies through the fence.

The pictures you sent were wonderful...two years ago I was in Tring with my mother, husband and youngest son. We were in England because my son, was graduating with his masters in literature from Cambridge ... and here we were in the place where our family had started. It was quite moving. my husband and I were in that lovely little furniture shop, although, at the time, I had no idea that it had been my great grandfather's butcher shop.

I am interested in Rosa Taylor. she, I believe was from Scotland, and I thought her father was a minister of some kind ... Quaker maybe? Would the institution that you mentioned have been taking tuberculosis patients at the time she died around 1904? From the reading I did yesterday I understood it ministered to smallpox patients in those years. Rosa must have been quite a creative and loving woman....because all the children were artistic, musical, loved nature and were gentle-spirited. I know they did not get this from their father, who from accounts from my parents, was said to have been quite cruel and unloving.
If you can add to the information given above tell me.