KING, Watford, Mid 19th Century

July, 2012

Jackie Bobich (jackieandmark17 @t bigpond.com) of Perth, Western Australia, writes: I have recently found that my 5th gt grandfather was a man named Jonathon King married to Susannah Johnston. I was sent a copy of his son's will, (another Jonathan King) made in 1881, and was amazed at the extent of this mans wealth, it seems to me that he owned a fair proportion of land in Watford. (Not that I know anything about Watford.) I would like to find out what his occupation was that lead to his substantial assets. He seemingly owned and lived in a house called "Wiggenhall House" and from the small amount of info I have found about him, King Street in Watford is named after the family?...Hopefully he made an honest living and turned out to be a really nice guy..:)

Jonathan King junior's sister Elizabeth married Rev. Dr. Francis Augustus Cox and the couple were early pioneers of Victoria, Australia.
On getting your letter the obvious starting place to look was Street and Place Names in Watford and this produced the following entry:
KING STREET

Jonathan King was the owner of Watford Place from 1826 until 1851 when he sold it so that part of the grounds could be used for building. A prospectus for development was drawn up by George Alexander Smith, an auctioneer, dated Monday, September 15th 1851. This said that there would be 'Leading out of the High Street an intended new line of Road to Rickmansworth by Colney Butts and the Union, (now part of Shrodells Hospital) forming valuable Business Stations.' The accompanying map showed King, George and Smith Streets, the first having been up to that date the carriage drive to Watford Place. It was not until the middle of the 1850's that building took place to any extent and the original intention of pushing the road towards Rickmansworth never materialised. The Lodge that stood at the junction of King Street and the High Street was converted to a public house and as a kind of pun was called the King's Arms. Queen's Road was not started until 1860 and so it is clear that King Street, the King's Arms, George and Smith Streets had no royal connection, but sprang from a piece of Victorian land development.
So Jonathan King lived in a major property called Watford Place and a check of the 1841 census show him living there with his wife Frances and seven resident staff, plus more in the stables and a gardener in the lodge. In 1851 he sold Watford Place for building land at a time when Watford was just starting to grow rapidly because of the coming of the railway and easy access to London. By the time of the 1851 census he had moved to Wiggenhall as a 58 year old widower and landed proprietor, born at Watford, with a niece (Mary J L Smith) a visitor and butler, cook and housemaid. Ten years later, in 1861, he had acquired a second wife and now had a butler, groom, cook, kitchen maid and house maid.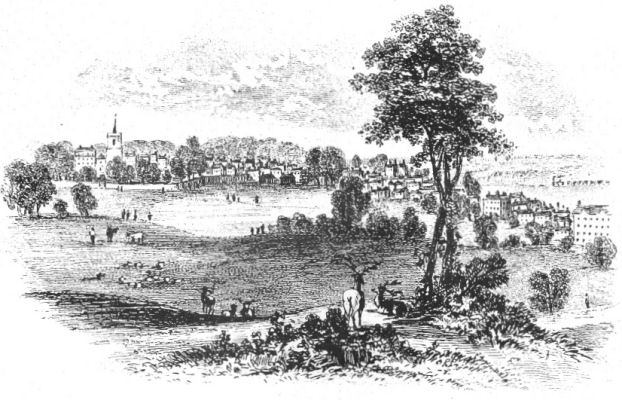 Wiggenhall Park circa 1850, with Watford in the distance
from an article on Wiggenhall in Hertfordshire Countryside, May 1978
According to the 1884 History of Watford - Trade Directory Jonathan King made changes to improve the fishing in the River Colne and in 1856 he caught 56 pounds of trout in one day.
The 1871 census shows that he and his wife Jane L King were living in Wiggenhall House, Watford. His wife was younger at 57, and she was born in nearby Rickmansworth. Their resident staff were a butler, groom, cook, two housemaids, a kitchen maid and a needlewoman, and in adjoining buildings associated with the hall there was a farm bailiff and a coachman.
His second wife died shortly afterwards as according to Cussans there is a window in Rickmansworth Church "To the Memory of Jane Letitia, wife of Jonathan King of Wiggenhall Esq who dies May 20 1871".
In 1875 Jonathan King donated £1000 to the parish of St Andrews, which had been created near Watford Railway station in 1858, to support the incumbent, the organ and the choir fund (Victoria County History). Cussans also reports that he gave the East window of the church - which shows the birth, baptism and ascension of Our Lord. This might have been done at the time the church was built.
In 1879 the new ecclesiastical parish of Oxhey was created and Cussans records the Jonathan King of Wiggenhall, Esquire, gave the freehold site for the church and residence, comprising a little over an acre and a half.
88 year old Jonathan King death was recorded in January-March 1881 and you have a copy of the will from later that year. The 1881 census shows Wiggenhall occupied by Mary J L Smith, who was Jonathan's niece who was staying at the house in the 1851 census. I haven't checked the details but Jonathan's sister Sophia married a J. Smith of nearby Hamper Mill, whose sons inherited the property when Jonathan died.
Working from the information given in Hertfordshire Countryside of May 1978 it would seem that as a young man Jonathan King had lived with George Whittingstall, who owned the Watford Brewery. When George died it would seem that he had no children and when he died the brewery when to his nephew Edmund Fernley (who changed his name to Edmund Fernley Whittingstall) with a substantial sum of money going to Jonathan, who married George's niece, Frances Elizabeth Bean at Hertford on 23 April, 1825. Frances (who was presumably the Frances Elizabeth, daughter of John Whittingstall and Sarah Bean baptised at Bushey in 1799) died in 1850 and in 1851 Jonathan married Miss Letitia Jane Thompson, of Chorleywood, the daughter of George and Latitia Thompson.
September 2015
Julia Warriner (julia @t thewarriners.demon.co.uk) writes: Back in July 2012 you answered a question from Jackie Bobich in Australia about Jonathon King of Watford (1792-1881). He was married first to Frances Elizabeth Bean (1799-1850) and you state it likely she was the daughter of John Bean & Sarah Whittingstall.

Frances was actually John & Sarah's granddaughter through their son John (1773-1801) and Fanny Field and had a brother John Whittingstall Bean (1801-1858), my 3x great grandfather.

I have a will for John senior, written in October 1801 (he died about a month later) - the rough year of John junior's birth - and strangely only Frances is mentioned (wife Sarah is already deceased). Frances goes on to marry Jonathan King and has great wealth but John (a carpenter ) married Hanah Ford (a laundress) and clearly is not wealthy. Frances' will leaves all her estate to various nieces with the surname Smith, John & Hanah's children receive nothing. Siblings of John senior also all seemed to be well off - it's just John junior and Hanah who are clearly not which seems odd to me.

I have a feeling that Hanah Ford (1797-1854) was illegitimate - she was baptised in Long Compton in Warwickshire but the parish records do not record her parents names and there is a 'B' on the record, which I assume means baseborn? I wonder if it likely he was cut off because he married her? Although that would not explain why he was not mentioned in his father's will.

You also mentioned Jonathan King lived with George Whittingstall of Watford Brewery and that George left the business to his nephew Edmund Fearnley in his will. It was actually Edmund's wife Sarah Tharpe who was George's relative - I haven't managed to prove it yet but I think George's mother Mary Eversall was the sister of Sarah's grandmother, Sarah Eversall

I have also not been able to find any information on Fanny Field if you can help. I know other Beans married Fields and Fields married Battells, who were descendents of the Tharpes so there is a link somewhere but I seem to be going around in circles!