Thomas Oakley was born in St Albans in 1843 and was probably the son of George Oakley, who in 1851 was a "Baker" in Holywell Hill. If so he was one of a large family - and George had changed his occupation to "Turnkey at the Goal" in 1861 and "Naturalist" in 1881. If this was the right family Thomas was a "Musician" in 1861.
What is certain is that in 1871 Thomas was a grocer in Holywell Hill (next door to the Two Brewers public house) with a wife, Ann, and 4 year old daughter Blanche. It was obviously not a small business as there was a resident shopman, a shopman's apprentice, and a porter.
By 1881 he was a widower, with a sister as housekeeper and three grocers assistants and a grocers clerk. Blanche was at a boarding school in Bedford run by a widow called Phoebe Gilbert, whose daughters acted as teachers. The following year Thomas married one of the daughters, Maria Gilbert and by the 1891 census they has had son, Thomas Gilbert Oakley. He was still living at the shop in 15 Holywell Hill, with his sister as housekeeper, two grocers assistants and an apprentice.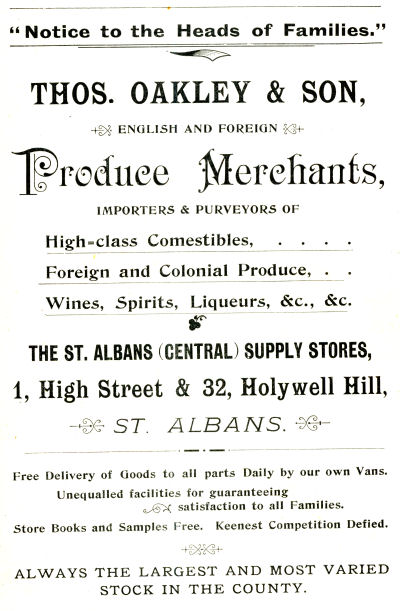 The City of St Albans (1902 Guidebook)
In 1894 Thomas Oakley was elected onto the St Albans City Council (see list) for three years. and the following year the trade directory recorded "Thomas Oakley (established nearly a century) family grocer, wine, spirit & provisions merchant, St Albans supply stores, 15-16 Holywell Hill." He stood again in November 1897, and became Mayor for one year (the normal arrangement) so would have been Mayor of St Albans at the time the Stanville Football photograph was taken. He was re-elected for another three years as councillor in 1900 but did not serve on the council after 1903. By 1901 he was living over the shop at 1 High Street, where he was described as a grocer and wine & spirit merchant. There were changes in the address and by 1911 had moved to a house in London Road, dying in 1921.The firm was still in existence, trading as Oakleys (Thomas Oakley & Co. Ltd.) at 8 St Peter's Street, St Albans, as late as 1960 and possibly later.