WILLSON, Gamels Hall, Rush Green, Little Amwell, circa 1850

November, 2012
Mike (pmailkeey @t gmail.com) wrote asking for information on "Gemmells Hall Farm" as we believe the parents of Walter Willson were tenant farmers. His father was governor of Hertford Jail for a time.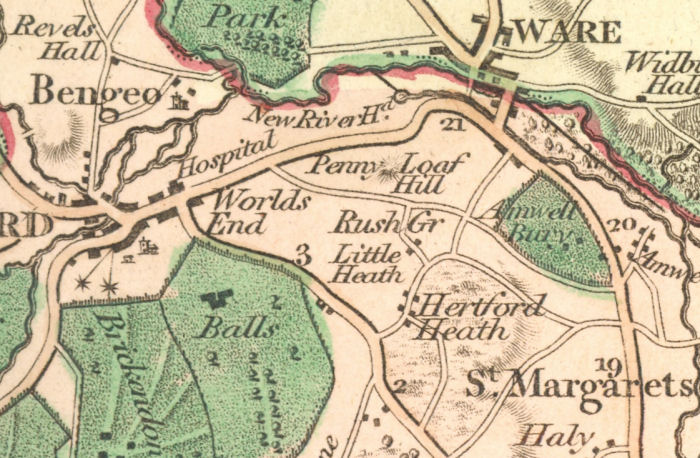 from John Cary's large scale map of Hertfordshire, 1811
Amwellbury was another name for Gamels Hall. Hertford Heath is another name for Little Amwell
I assume your Walter Willson is the Walter de Lansey Willson, born at Little Amwell in 1846, who married first in Berkshire in 1865; then married Pollie Priestman in County Durham in 1876, and died in Cumberland in 1907. He was the son of William and Emma Willson. His father William was described as a farmer living at Gammels Hall, Rush Green, Little Amwell in 1841, and was "Governor" of Bishops Stortford Workhouse in 1851.
It is interesting that the above map shows a well defined estate for Amwelbury (= Gamels Hall) and the 1841 census shows William and Emma with four domestic servants living in, while the adjacent Rush Green Farm had a bailiff, Edward Hawkes who had a live-in cowman and four agricultural labourers. This strongly suggests that William Willson was living as a landed gentleman, with domestic servants and no agricultural workers living in the house. (Live-in agricultural would have been normal for a reasonable sized farm at this date). It seems likely that Edward Hawkes worked for him - and actually ran the farm. By 1851 William would have appeared to have come down in the world, as "Governor" (= Master) of a workhouse would have carried a lot less social prestige compared with living in a large house on an country estate, and a workhouse was a far from pleasant pleasant environment to bring up young children.
So why the move? Perhaps it was just because agriculture was not doing well (my own great great grandfather went bankrupt in 1843). I can't provide an immediate answer but there is a bundle of 130 documents held at HALS relating to the Gamels Hall Estate between 1617 and 1898 which may well provide clues [Reference].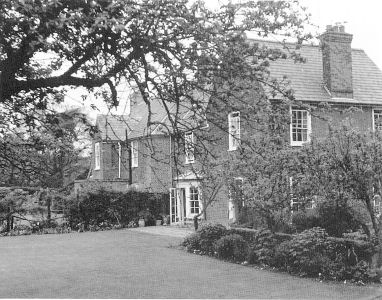 The book Amwell & Stanstead's Past in Pictures includes three pictures of Gamels Hall, and I show a small version of one of them. (You could try writing a letter to the current occupier to see if they can give you a modern photograph.)
Gamels Hall is now divided into two large private houses - one called Gamels Hall, the other Gamels Keep. and they are a Grade II listed building:
House, now 2 houses. C17, altered and brick cased in C18, extensions to E and W in C19 and C20. Timber frame cased in red brick in Flemish-bond. Steep pitched roof now covered in slates. A 2-storeys and attics house facing N, gabled short 2-storeys projection on S side, and 2-storeys extensions at each end. N front has 2 box dormers on roofslope, large end-chimneys, flush-box sash window with 6/6 panes over central entrance, 2 similar windows to RH and one window to LH. Ground floor has corresponding windows altered in C19 to recessed 2/2 panes sashes with rendered reveals and flat arch. 6-panels fielded door in C18 Doric wooden doorcase, semi-circular fanlight, and triangular open pediment. S front has flush-box sashes, one in central projection with tall narrow recesses on returns. Extensions set back from S front with canted roof between. Interior has C18 staircase, 6- and 4-panelled doors with cyma mouldings. H-hinges to cupboard doors. SE room has C18 wooden chimneypiece and dentilled cornice. Part moated site. (RCHM (1911)142: VCH (1912)409: Pevsner (1977)235).
It should be noted that George Smith Thornton, Esq., J.P., succeeded William Willson at "Amwellbury" at least as as early as 1850, and it is clear that the house was then being run as a gentleman's residence. I carried out a quick check on the British Newspaper Archive and found the following items relating to William Willson in the Herts Mercury & Reformer:
On the 12th March 1844 Mr. William Willson was elected a member of the Hertford Literary and Scientific Society.

At the meeting of the Hertford Board of Guardians on 28 March, 1846 Mr William Willson was elected to be the Guardian for Little Amwell

On 19 February 1849 he was a member of the Grand Jury at the Hertfordshire Epiphany Sessions

On the 22nd November 1853 Edward, the fourth son of Mr William Willson, aged 20 years, died at Bishops Stortford after a long illness.

On the 16th August 1856, at Amwellbury, a son and heir was born to George Smith Thornton, Esq., of Amwellbury

In 1859 a William Willson gave evidence in a court case in Bishops Stortford.
Unfortunately none of these indicate the date William Willson left Gamels Hall, or why.
Mike commented: Walter had several shops spread across the north of England - if you can imaging a 'horse and cart' version of Asda - but based in the Newcastle area. A google search of images finds a few including one in Durham. It could well be that Walter was one of the more notable sons of the Amwell area and worthy of the attention of the local history society.

I note the roads have altered just a little in the 200 years from your old map and Google. I have identified the location of Amwellbury and the hall/farm/dovecote! The image of the property is also much appreciated.
The modern A10 road has altered the area - and I gather that the site of the earlier manor house was affected.
December 2012
For a large number of newspaper articles see Amwellbury, 1800-1850.
May 2013
See also WILLSON, Governors of Hertford Goal, 1756-1835?
If you can add to the information given above tell me.