COSTIN, St Stephens, St Albans, 1754-1827

May, 2013
Glen James Costin (gjc69 @t live.com.au) of Gympie, Queensland, Australia, writes: I am trying to learn more about my family history in Hertfordshire. My great uncle has left me a family history dating from 1754 (William Costin) in St Albans. I believe I have some distant family still there. He had help from DeBretts of London. My question, How do I find out more prior to 1754 and are there records available that can help me? I have always wanted to visit the UK for this reason.
Since DeBretts researched your ancestors for your great uncle the whole world of family history research has changed. Fifty or more years ago someone would have to visit the parish church and look through page after page of unindexed registers and possibly other records. This process would need to be repeated for every likely parish. When I started seriously researching my own family over 35 years ago most of the older parish records had been transferred to county records offices for safekeeping and some other original documents were available in London. It still meant going through page after page looking for references to the family you were searching for but at least records for many parishes were accessible in one location. It was a very time consuming exercise - but at least you needed to understand how the records worked, and their limitations. However, because collecting the information was so difficult, it was quite easy to make errors if you were not careful - see Right Name, Wrong Body for some of the pitfalls.
With the coming of computer indexes the whole scene has changed. Most of the "key" records are now indexed online - and increasingly one can download digital images. Most registers have been microfilmed and public access has been withdrawn to prevent the originals falling apart from overuse! If, for example, the parish register you want to look at is not yet online you can almost certainly make arrangements to see a copy of the microfilm at the Gympie Family History Centre!
To demonstrate how much is online I was able, within minutes, to discover more information on the William Costin who was buried in St Stephen's Churchyard on 23rd of December 1827, giving an approximate birth date of 1754. [Indexed as Coster on FindMyPast.]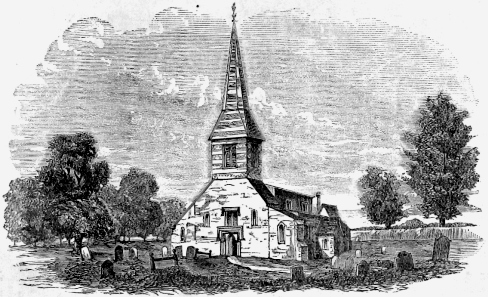 St Stephen's Church, St Albans
from Illustrated Handbook to St Alban's 1866
It only took a few more minutes to download details of his marriage to Mary Cook from the FindMyPast web site.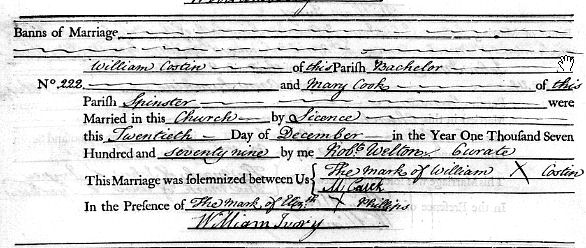 This shows that the couple were married at St Stephens by licence (most couples were married by banns) and that William was unable to write his own name. His wife Mary's scrawled signature suggests that she may well have had difficulty in reading and writing. Elizabeth Phillips may have been a friend or relative - and a check on the complete page of the register showed that William Ivory witnessed a number of marriages and may have been someone associated with the church, perhaps a church warden.
Within a hour (again on FindMyPast) I had located the baptisms of a whole series of children of the marriage and even more. For instance Mary was still alive at the time of the 1851 census, at the exceptional age of 96, living in an almshouse in Frogmore, St Stephens. This tells us Mary Costen was born in Colney, near St Albans, and a look at the burial register showed she died less than a year later, when her age was given as 99 - which just emphasises that at a time when most people could not read or write their age was not always accurately known.

So extensive information, including digital images of the original documents, of the family is now available to you online in minutes, and a very low cost compared with what your great uncle would have paid, allowing for inflation.
One source DeBrett probably did not check were the Militia Lists, which record William (spelt Causten, Corsten, Coster, Costin, Costing and Coston) as eligible for military service in Park Ward, St Stephens between 1779 and 1786. - sometimes giving the more precise address of either Colney Street or Bricket Wood. In 1779 he was described as a servant and in later years as a labourer. As the militia list gives the names of eligible men over the age of 18 who had not served in the militia one might have expected William to appear in the lists before 1779 if he was in fact born in 1754. However the first entry records him as being a servant and he may have come from ???? to St Stephens as a servant in 1778 or 1779.
So what about the period before the marriage in 1779. Presumably the family history has nothing documented before that date because DeBrett (or who looked at the register) could not find his baptism in the St Stephens registers.
With the help of modern computer indexes the only possible earlier reference in St Stephens registers to a similar surname to Costin before the marriage is to the burial of a John Coster at St Stephens in 1777. He might have been William's father or brother - or he might be no relative at all.
A search on familysearch (the most comprehensive site for baptisms before 1837) shows two different possible William Costin baptised in nearby Bedfordshire in 1754. If you widen the date range, and allow for variant spellings there could be more. In addition there could be others for which there are no baptism records. In cases like this it is important to properly research the "foundations" by extracting every bit of information from sites such as FindMyPast (which has many of the Hertfordshire parish registers online), familysearch (which is free and which has even more parishes indexed before about 1837), HALS (the Hertfordshire Records Office) and FreeBMD (for birth, marriage and death certificates after 1837, if relevant).
The search also revealed (after I drafted the above) a family tree on Ancestry, which appears to be based on guesses (some clearly wrong) with respect to the section dealing with William Costin. I can't believe that this information came from a firm of respectable genealogists such as DeBretts and I suggest you read The Dangers of Internet Genealogy - which I posted in April 2001 - and which describes a problem that is far worse today. There are now millions of people who never do any proper research and merely add distant cousins' family trees to their own - errors and all - without any checking. And within weeks the errors are echoing round the internet for ever and a day.