Jeff Titmus (jeff.titmus @t btinternet.com) of Oxhey asks : Do you have any info on the Georgian townhouse type properties (four semi detached) known as Roughdown Villa. I am trying to find out when and if pos who could have constructed these rather out of (rural) context buildings.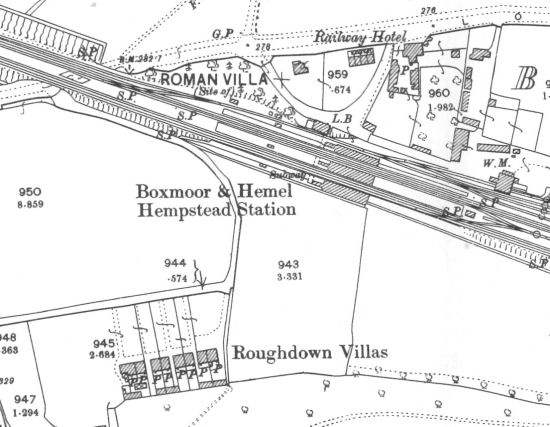 The above map from 1897 shows the Roughdown Villas and while they may appear to be in a strange rural situation they can be seen to be in a most convenient position for easy access to the railway station. According to The Book of Boxmoor "The engineers of the Railway Company themselves helped to start the trend towards urbanisation by building the imposing row of houses called Roughdown Villas Road for key personnel." The book Royalty to Commoners: Four Hundred Years of the Box Moor Trust makes it clear that they were built for the engineers and managers that needed to be on site during construction, while the navvies camped in the vicinity. This would suggest they were built in about 1835 and were probably sold or let sometime after 1837.
I searched the 1851 census (original not very clear) and found residents of Roughdown Villas:
Sarah Christopher (45, unmarried, find holder), Ann Christopher (37, sister, unmarried, fund holder), Thomas Christopher (40, brother, unmarried, proprietor of houses), visitor & domestic servant.

Frank Wilkins? (46, retired farmer), Mary (27, wife), Francis (son, 3)

John Pearce (42, solicitor), wife and children, visitor and two domestic servants

Unoccupied

George ??? (35, retired farmer), wife, 5 children, nephew, 4 servants

Unoccupied

Thomas Timms (50, gardener) and wife.

Joseph Christopher (50, annuitant), wife, 2 children and 2 domestic servants
A check of the 1841 census suggests that none of these people were living there in 1841 - but the 1841 census original is hard to read and the online index I normal use is not working properly at present.
The East London Observer of 31 October 1857 included the following advert:
BOXMOOR, HERTS. - One of those beautiful semi-detached villa residences, known as Rowdown Villas, within two minutes walk of the station of the North Western Railway, containing six bed rooms, three sitting rooms, two kitchens, and abundantly supplied with water, with a two stall stable and coach-house for £32 per annum. These residences command a view of the surrounding country for twelve miles around, from the parlour windows. Inquire on the premises.
A look at the 1866 Trade directory lists the following private residents in Rowdon Villas, Boxmoor:
Mr Thomas Christopher

Mrs Lucy Mary Warr

Miss Elizabeth Akerman

Mr David Saunders

?

Miss Mary Ann Reynolds

Miss Jane Winstanley

Mr Joseph Christopher
A key document to the early ownership is the 1843 Tithe Award, which has a large scale map, and a list of both owners and occupiers. There are photocopies of the award and map in the Hemel Hempstead Library, and originals at the County Records Office (HALS) at Hertford. I don't have a copy - so you will need to check these records to see (1) if the houses had been built by 1843, (2) who owned them, and (3) who lived in them. Once you have got this information I may be able to comment further.
There may well be relevant information in books on the building of the London to Birmingham Railway, and specialist railway archives, but I don't have ready access to such specialist sources.
Margaret write to say that Mr Gervase Stanley Brentnall lived at Roughdown House Boxmoor. Mr Brentnall died in 1937 in his 74th year and was a well-known figure on the London Coal Exchange. Originally from Eastwood, Notts, Mr Brentnall left a widow, son and 2 daughters.
The following table records the people living in the villas (which are still there) from some old trade directories. In a couple of cases no number is given.
1890

1912

1922

Roughdown House
Stanley Brentnall
Stanley Brentnall
1
Roughdown Villas
Rev Charles E. Thomas
2
Roughdown Villas
John Robert Gill
3
Roughdown Villas
William Owen
Stephen Sims
Stephen Sims
4
Roughdown Villas
Mrs Wrightman
Miss Grace
Miss Martin
5
Roughdown Villas
Mrs Heath
Mrs Heath
6
Roughdown Villas
Mrs Freeman
Miss Freeman
Miss Freeman

?

Roughdown Villas

Thomas Christopher

Thomas Christopher jnr.

Henry Chauncy Masterman
In 1883, Gervase Stanley Brentnall moved from Eastwood, Nottinghamshire to London. Together with his cousin John Henry Cleland, they bought the business of A Howard and Company at Kew Bridge, thus founding the company Brentnall and Cleland's.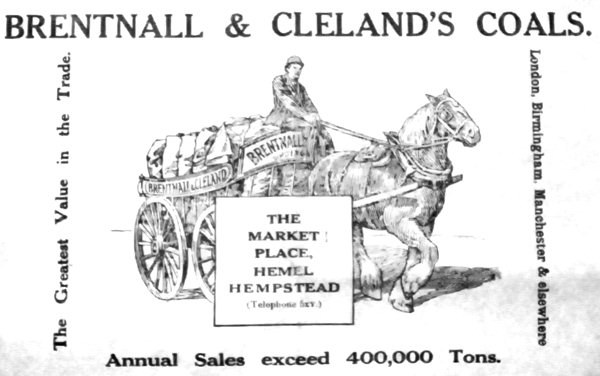 One of the company's offices faced onto the Market Place, Hemel Hempstead, and the above is a copy of thee advert which that ran in the Hemel Hempstead Gazette in 1913, and presumably elsewhere, with a different box inserted. I used the picture in 1995 as an illustration of locacl tradesmen in my book The London Gunners come to Town.