Gladys WILSON, St Albans, early 20th Century.

May, 2014
Maggie Mattingley (maggiemattingley @t btinternet.com) of Surrey asks: I want to know if it is possible to trace employees of Ryders Seeds during the 1920's. My aunt Gladys Wilson (my father's sister) died in the 1920's aged 22 and on her death certificate her employment was packer of seeds and I thought it could be Ryders.
The death of Gladys Winifred Nellie Wilson, at 22, in 1928 is outside the time period normally covered by this site, which is concerned with family history prior to the end of the First World War. However I can provide some information, although there are gaps in what I have for the later years.
Gladys and her parents were living at 5 Queen Street (just off Spicer Street), St Albans, in 1911, and I note that a Mrs Wilson was still at the address in 1949, so I assume Gladys was living there at the time she died. There were four seed merchants listed in the 1926 and 1929 Hertfordshire directories within easy walking distance of Spicer Street, who need to be considered as possible employers. They were:
A. J. Dixon & Co, George Street

Rowntree Bros., Verulam Road

Ryder & Son (1920) Ltd. 27 Holywell Hill

Whitworth Brothers, Kingsbury Mill, St Michael's.
By far the nearest possible employer was Dixon & Co. just round the corner from Spicer Street, in George Street, and only 2 or 3 hundred yards from the Wilson's house. They are described as "seed merchants" but in 1911 I found a reference to Ernest Dixon, in George Street being a "Miller and Corn Merchant" so they may only have been dealing in agricultural seeds in bulk.
Whitworth Brothers, of Kingsbury Mill (still standing, but now a preserved water mill, museum and restaurant) are described in 1926 as "millers, corn, cake and seed merchants" were no more than 10 minutes walk away down Fishpool Street, but were unlikely to be Gladys's employer.
The Rowntree Brothers (John Henry and William Thomas Rowntree) were also less than 10 minutes walk along Verulam Road and are only described as seed merchants in the lists I have. They came to St Albans sometime after 1901 census. In 1911 John was in Verulam Road, St Albans, while William was living a few miles away in a house called "Flora Villa" at London Colney. In 1905 The Garden (an illustrated weekly journal of horticulture) contained a reference to sweet peas produced by the Rowntree brothers in a nursery in Essex. It seems very likely that they were in the business of selling small quantities of flower seeds to gardeners - and might have been Gladys's employer.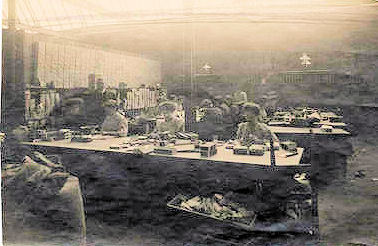 Packing seeds at Ryders (St Albans Museum Collection)
Of course Ryder & Son (1920) Ltd are the most likely employer with their head offices in Holywell Hill, and the factory further east. They were further from Queen Street than the others but still within easy walking distance. They pioneered the one penny packet of seeds for gardeners, sold nationally on a large scale and had a large workforce. It is likely that their staff records have not survived but I suggest you try the St Albans Museum - which has a particular interest in Samuel Ryder and the Ryder Cup. While they almost certainly don't have the records they may well be able to give you some useful contacts.
You don't mention how Gladys died. The Herts Advertiser newspaper may well have included a very brief notice (little more than name and date of death) which you will already know from the death certificate. However if there was an inquest the paper would probably give some details. (Microfilm of the newspaper is held in the St Albans Central Library at The Maltings shopping centre.)
Another point. The Abbey National School was in Spicer Street, only a couple of minutes walk from the Wilson's house - and it is likely that Gladys, and her brother John, went to the school. In 1912 the master was William George Alderton, the mistress was Miss Mary Sherrell Pratt, and the infant mistress Miss F. E. Terry. The average attendance was 160 boys, 170 girls, and 140 infants.
By a complete coincidence your request arrived in my email box as I was preparing to go to St Albans for a meeting in a building only a few hundred yards from Queen Street so I took my camera with me! In case you haven't yet visited St Albans to see where your forebears lived here are a couple of photographs of No 5. It is the uphill half of the brick building and I guess that when it was built it was a typical workman's cottage - the front door opens into a small living room with the kitchen behind with a door opening onto a small back yard. There would be two bedrooms upstairs, with a bucket in a shed in the back yard! The white houses on either side almost certainly had a similar plan. (The first house we purchased some 50 years ago had been built to a similar plan, except that we were lucky enough to extra space over an archway that provided rear access to several other houses in the terrace.)
| | | |
| --- | --- | --- |
| | | |
| No 5 | | Queen Street, St Albans |