Lian Lock (Lian-73 @t hotmail.co.uk) from Hampshire writes: I have in my possession a medal type piece that was issues by Ryder and Son (1920) seeds. Could you give me any more information about it please.

Ryder's were pioneers in the horticultural market - being the first to sell penny packets of seeds - which everyone could afford. Samuel Ryder (1858-1936) came to St Albans in 1895 because of its location and good railway and postal services. The business was extremely successful and he became Mayor of St Albans in 1906. In 1911 he erected offices and a floral hall on Holywell Hill for his seed company, and he also founded the Herbal remedy firm "Heath and Heather". For health reasons he took up golf, and he became very enthusiastic about it. He presented the internationally known golf trophy, the Ryder Cup. There is a comprehensive entry about Samuel on Wikipedia.
RYDER & SON (1920) LTD., Seedsman, St. Albans.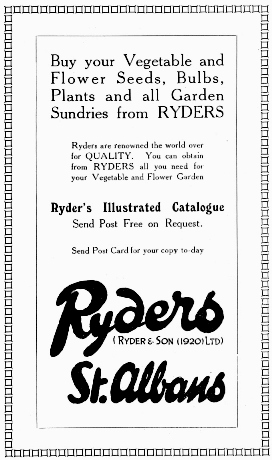 One of our most enterprising and prominent seed firms is undoubtedly that of Messrs. Ryder & Son (1920) Ltd., of St. Albans. Starting in quite a small way, they are today one of the largest seedsmen in the country. Throughout their business career they have made it their policy to supply only seeds of the very best quality. That this policy has been adequately appreciated is shown by the steady and enormous growth of the firm.
Ryders' Seeds are known and distributed in practically every part of the world. They arc purchased by those who carry on horticulture as a means of livelihood equally with the man who is an enthusiastic tender of his small back-garden plot, not forgetting many of the most successful amateur and professional gardeners, who must have the best seeds. In all parts of the world Ryders Seeds are also supplied to Institutions, Government Departments, etc. etc.
Mr. Samuel Ryder, J.P. was among the pioneers who realised that there was a demand for guaranteed seeds by people who only required a very small quantity of anyone variety, so he made a special feature of small packets at a popular price.
Ryders' Seeds are supplied direct from St. Albans only, and the business has been quite fairly described as the most remarkable seed business in the world.
St Albans - The Official Guide circa 1923
You don't describe the medal you have in any detail, and I haven't found a picture, but a Ryder & Son medal was sold on eBay in December 2006 which was described as follows:
RYDER & SON (1920 ) LTD
SEED SPECIALISTS - ST ALBANS
STERLING SILVER CASED MEDAL
a GILT silver medal ... the rear is plain apart from the hallmark
made by VAUGHTONS in its original green leather case with their name on the underside of the lid on the cream satin material. the medal sits in a green velvet inset.
38mm dia x 3mm plain edge and weighs.... 25.1grams
I have found two other references to the same or similar medals, one of which was inscribed, with hallmarks of 1912 and 1939 - and it would appear that the medals were awarded over a long time period to prize winners at major horticultural shows - possibly for the best exhibits grown from Ryder's seeds.
May, 2007
Kevan Keeler (kevankeeler @t aol.com) of Sittingbourne has provided a photograph of what appears to be an identical medal, still in its presentation case, and without an inscription on the back.
The wording is "Presented by Ryder and Son 1920 Ltd., Seed specialists St Albans" and the case carries the words "Medallists Badgemakers, Vaughtons Ltd, Birmingham, Bradford & London." There is also a typed receipt which says, "With Compliments from Ryder and Son 1920 Ltd. Seed and Bulb Specialists, St Albans,, Please Acknowledge receipt of medal."
Information wanted on when these medals were awarded? Were there more than one type of medal? Are other medals engraved on the back? Can You help?
Web article: Sam Ryder At Verulam Golf Club

See Abe MITCHEL (Golfer), St Albans, 1925-1947

July 2007
Chris Symington (haccombe @t btinternet.com) of Membury, Devon, provides some more information: My Father, Stanley Clifford Symington worked as a clerk for Ryders' seeds for many years and was responsible for opening the letters sent from all over the world requesting packets of seeds, probably the first "mail order" business?? He always collected the stamps from the envelopes which I now have. They are from all over the world! Some on envelopes, some first day covers etc. His Brother-in-Law, Rayrond B Keene was a Director of Ryders and used to publish in daily press on a regular basis "gardening questions" and advice
June 2014
During the First World War there was an emphasis on growing food - on the farms, in the gardens, and on allotments. Seeds were needed and this meant that Ryder and Son had a specially important job to do.

This advert is reproduced from one of the information boards on display in the Keeping the Home Fires Burning exhibition at the Museum of St Albans between 13th June - 16th November 2014.
See also SYMINGTON, Markyate area & St Albans, 19th century

See Gladys WILSON, St Albans, early 20th Century. (a possible employee)
If you can add to the information given above tell me.