Mrs Emily Brocklehurst ran Oakley Lodge School, and later Coombrook House School. Each year a school photograph was taken and earlier pictures have been published in Hemel Hempstead in Camera (undated but probably 1900s, with some pupils named) and in London Gunners come to Town (circa 1916, about half the pupils identified)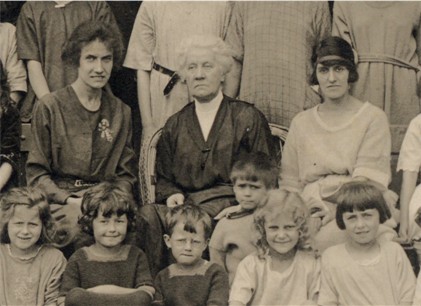 From the London Gunners picture it is possible to identify Mrs Emily Brocklehurst and the other two adults may be her daughters, who helped run the school.
But who are the children?
Most are likely to be the sons and daughters of local tradesmen.

While the photographer's stamp is not clear, it is Robinson Harris, who had the photographer's shop at 15 Alexandra Road, Hemel Hempstead in 1922 (Kelly's Directory 1922).
"Backing onto our house there was a photographic shop (No 15, later renumbered 17) which kept changing hands. Mrs Dunn had a son called Jack. She was succeeded by Henry Bray, a photographer who took a number of the early family photographs. About the end of the war he sold the business to Mr Harris and a few years later it was brought by one of my distant cousins, Frank Barrett Gardiner, whose children were much younger than me."

Bertha Reynolds' memories as recorded in The London Gunner come to Town.

See Photographers, 15 Alexandra Road, Hemel Hempstead, early 20th century
If you can identify the group, and the names of any individuals please tell me.