David Almasi-Tucknott (Arpadmodels @t hotmail.com) of Seaford, East Sussex writes: I am trying to research my grandfather Henry James William Bray, Whilst looking at your site for the Marlowes, Hemel Hempstead I saw one of his photographs (of invalid soldiers in 1915). He had a photographic studio in Hemel Hempstead, although I don't know the relevant years, and was married twice and had two families before meeting my grandmother, Emily Harriss, also of Hemel Hempstead. My mother knows virtually nothing of his time there as she wasn't born until 1925 and he died in 1936. One of his children, Henry Victor Bray emigrated to Perth in Australia and died there only a few years ago. I believe he had two other sons and two other daughters by his previous marriages. I would like to know if there are any records of him in the Hemel Hempstead area, other photographs available and if there are any details of his families.
On a general point, you should have no great difficulty in finding Henry Bray in the 1871, 1881, 1891 and 1901 censuses, and using the various techniques demonstrated in the tutorial you may well be able to trace back several generations before he came to Hemel Hempstead.
Having said that Henry Bray's comparatively short stay in Hemel Hempstead is of particular interest to me, as the following postcard - and extracts from my Mother's memories taken from the book The London Gunners come to Town - shows.
Backing onto our house [on the right in the picture] there was a photographic shop (No. 15 [later renumbered 17]) which kept changing hands. Mrs Dunn had a son called Jack. She was succeeded by Henry Bray, a photographer who took a number of the early family photographs. At about the end of the war he sold the business to a Mr Harris and a few years later it was bought by one of my distant cousins, Frank Barrett Gardiner, whose children were much younger than me. The Town's main Post Office came next. It was run by James Scott, the Postmaster. He lived in a large house called Yewlands, opposite the Congregational Church. His wife used to give me informal embroidery lessons, and helped me to make presents for my mother.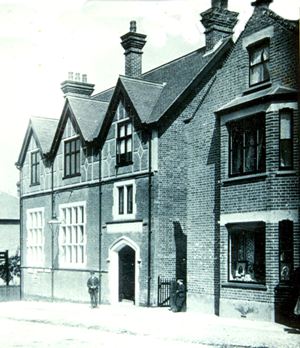 The Photographer's shop and the Post Office
Below the Post Office there was a very ordinary restaurant and further down the hill there were the offices of the local paper, the Hemel Hempstead Gazette which was owned by Edgar Needham. At the bottom of the hill on the right there was Charles Hilderley, the gas fitter (No. 3[5]), followed by Guthrie's coffee room and shop (No. 1[3]), whose door opened onto the Broadway. They had lovely cakes. Oddments of chocolates and sweets left in the boxes or jars were sold cheaply in cone-shaped paper bags. I was very friendly with Eric and Frances, who lived there.
Mrs Julianna Dunn occupied the shop between about 1886 and 1916 (see German? Lady, Hemel Hempstead, circa 1890 and Young Girls at a Party?, Hemel Hempstead). In 1915 Edwin Keen, a butcher living in Marlowes, held a party for invalid soldiers. Henry Bray took some postcards (q.v.) giving his address as 161 Station Road, Forest Gate, London. This suggests that he had not yet taken the shop in Alexandra Road. [See Bray, photographer, Hemel Hempstead]
One of my mother's favourite photographs of herself as a child shows her with Eric and Frances Guthrie. It was taken by Henry Bray in his studio next door to my mother's house and must have been taken before the Guthrie family moved to Lincoln sometime before April 1917. In the context of this enquiry it is interesting that the Guthrie family employed a Sarah Harriss (note the spelling) who later went to work as housekeeper for Thomas Denny, the father of my mother's best friend Muriel. Sarah later married Thomas Denny. It would be interesting to know if Sarah was related to the Emily Harriss who married Henry Bray.
Shortly after the end of the war, and definitely by 1922 the shop was being run by Robinson Harris (I have only seen the name with one "s"). He took the group photograph at my mother's school - see Coombrook House School, Hemel Hempstead, 1922.
By 1926 Frank Barrett Gardiner had taken over the shop, where the Kelly's directory describes him as a photographer. In 1929 he was described as a photographer and high class ladies hairdresser, and by 1933 simply a ladies hairdresser. Frank was a distant cousin of my mother, and related to the Aylesbury photographer Samuel Glendenning Payne. He may have worked in the shop for Robinson Harris, and perhaps even Henry Bray. Definitely all his children were born in Hemel Hempstead between 1919 and 1923, and if they lived at No 15 at the time this may be why my mother remembered his children.
It could be worth contacting the Dacorum Heritage Trust and HALS to see if they have any photographs published by Henry Bray.
I would be most interested to hear if your research shows that Emily Harriss and Sarah Harriss were related. As Emily was much younger than Henry I wonder if she was also first employed as his housekeeper?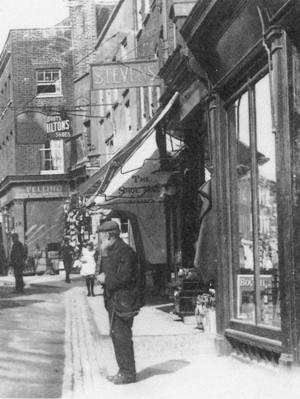 Home & Colonial Stores, High Street
David responded: Emily Harriss wasn't his housekeeper although there was indeed an age difference between them. She was the "butterman" at the Home and Colonial Stores, nicknamed "Harry the Butterman". Sarah Harriss was her sister and married Tom Starkey Denny, before eventually also moving to Seaford (known to my mother as Aunty Cis) She was one of the nine children of William John Harriss and Mary Ann Herring. I am also currently compiling this part of the family tree mostly from my mother's memory.
The picture is a detail from a picture of Hemel Hempstead High Street taken in about 1905-1910. [Full picture printed in Hemel Hempstead in Old Picture Postcards and Hemel Hempstead: The story of New Town development, 1947-1997] The first shop is No 35, Home & Colonial Stores - with an advertisement for Bovril visible in the window. It is listed in Kelly's Directories between 1908 and 1937 while Stevens, the shoe shop next door is last listed in 1912. Just beyond is the King's Arms - but the sign is not readable in this picture.
My mother's recollections of this part of the High Street, as recorded in The London Gunners come to Town are particularly relevant to your "Harry the Butterman":
There was another grocer's shop run by Mr Chennells at No. 31, and we were great friends of Misses Ellen and Kate Hill, the saddlers next door. Their shop smelt strongly of leather. I remember the excitement of being invited into their house, over the shop, on Hospital Sunday, to watch the decorated floats go by. The thing I remember about the Home and Colonial Stores next door was the butter. It was served up using ridged wooden butter pats to the quantity required. They could also make butter balls and they used carved wooden moulds to impress pictures onto the butter they sold.
Buddie Oatway was one of my school friends from Oakley Lodge School, and her father, Alfred, was the watchmaker whose shop adjoined the archway that opened onto the King's Arms yard. All the way along this side of the High Street there were archways to the courts behind. This one opened onto George Street, giving access to St Mary's Hall, the George Street School, the house where I was born, and Miss Turney's school at The Laurels.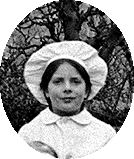 Muriel Denny
Muriel Denny, daughter of Thomas Denny, was bridesmaid at my mother's wedding, and the picture shows her in 1918 (from a school group photo taken at Miss Turney's school at The Laurels).
---
August 2010
Jacquie Sansom (jacquie9 @t tadaust.org.au) from Australia writes: I lived at 17A Alexandra Rd during the last years of the 2nd world war above the Photography Shop. My mother worked in the Hairdressers below with the Photographs inside the same shop. It is interesting to read all of this. I remember Mr Gardiner he took lots of photos of me. I loved the little flat above and the little garden with my swing and the gooseberries. Next door was the fire station and they had the air raid siren there, it wqs so loud as I slept in the little attic rooms upstairs.
---
| | | |
| --- | --- | --- |
| | | This postcard , of some kind of missionary related exhibition was taken by Robinson Harris. |
---
If you can add to the information given above tell me.
| | | |
| --- | --- | --- |
| October 2007 | | Page created |
| August 2010 | | Message from Jacquie |
| December 2010 | | Link to Dunn "Young Girls" photo |
| February 2012 | | Exhibition Photograph |
| May 2013 | | Link to Bray Page |