An interesting picture of an event, with a man carrying a banner, and three people in gowns, with a crowd behind. There is no description and no obvious clue as to the location on the picture side of the card.

The clothing suggests an early 20th century date, but at this date women entitled to wear academic robes were unusual.
The back of the card suggests a date later than 1905, as there is no warning about posting overseas.

The postmark is for Walthamstow on

Jul 19 190?

(Probably 1909)
It has been posted to Dr Brickwell, Mendlesham, Stowmarket, Suffolk.
Frank Brickwell, M.B., M.R.C.S.Eng., L.R.C.F.Lond., physician & surgeon, Mendlesham, Suffolk, [Kelly's Directory for Suffolk 1912]
In the 1901 census Frank Brickwell (registered medical practitioner, 27, born Slough, Bucks) was living in Slough with his father, John Brickwell (registered medical practitioner, 65, born Sawbridgeworth, Herts)

The "Publisher" was Ebenezer Housden, The City Studio, Letchworth Garden City.
One cannot be certain that he took the photograph.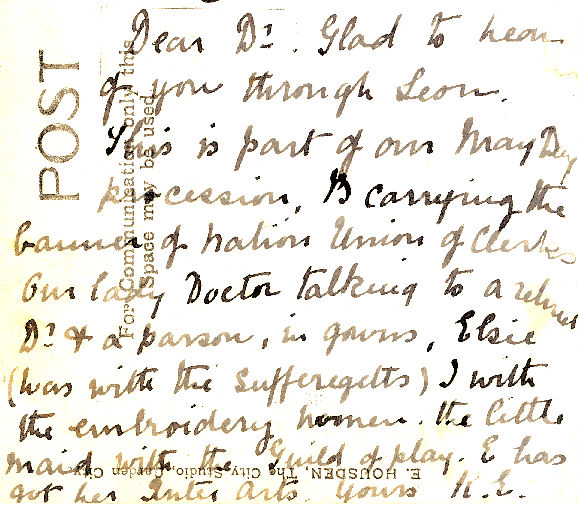 Dear Dr.
Glad to hear of your through Leon.
This is part of our May Day Procession.
B carrying the banner of the National Union of Clerks.
Our Lady Doctor talking to a retired Dr & a parson, in gowns, Elsie (was with the suffragettes)
I with the embroidery women.
The little maid with the Guild of Play.
E has has got her Inter Arts.
Yours K. E.
This message provides some useful information, It was a May Day procession (almost certainly in 1909), and the suffragettes were taking part including a lady Doctor called Elsie. But there were very few lady doctors in 1909 - so was one of them called Elsie - and was she associated with the Suffragettes. A Google search is called for and the following summary provides links to relevant Wikipedia pages, which includes further useful links.

Dr. Elsie Maud Inglis (1864-1917), was a British suffragette and pioneer of medicine, who qualified in Scotland (as did many of the early British women Doctors of Medicine). After qualifying she worked for a time at the London School of Medicine for Women. It was mainly due to Dr. Inglis's exertions that The Hospice was opened in the High Street of Edinburgh as a nursing home and maternity centre staffed by medical women. She became a consultant for the Bruntsfield Hospital, Edinburgh. She joined the National Union of Women's Suffrage Societies in 1906 and founded the Scottish Women's Suffrage Federation in part to help advance the improvement of women's medical care. As part of her suffrage activities, she organized meetings throughout Scotland, gave lectures all over the United Kingdom, and essentially made herself available wherever help for the cause was needed. She established a hospital fully staffed by women for use by the French government during the First World War (the British government having earlier turned down an offer of her services).

A Biography "Elsie Inglis, The Woman with the Torch," by Eva Shaw McLaren was published in 1920 and is available on Project Gutenberg.

It is very likely that the female doctor is Dr Elsie Inglis, but I found nothing to link her to a specific May Day parade. However the search showed that while she was born in India, her father was born in Walthamstow - suggesting she might still have contacts with the area. In addition the Women's Library, London Metropolitan University holds a collection with many references to Elsie Inglis, which also contains a postcard (dated 31 October 1910). of the "Women's Social & Political Union procession in Walthamstow" - showing protests opposing the candidature of Sir John Simon in a by-election. While interesting this information is not sufficient to show the above photograph was taken in Walthamstow, and it is possible that there was another early female doctor called Elsie associated with the suffragettes - as any woman who had struggled to get a degree in a male dominated field such as medicine is likely to have sympathies with the suffragette movement.
Clearly there are more questions to be answered. Was the procession at Walthamstow - and if not where was it? What is Ebenezer Housden's connection? For instance did he support the Suffrage Movement? Can anyone else in the picture be identified.?
DAVISON, Gaston House, near Sawbridgeworth, c1880

June, 2011
Maureen Howes (maureen.howes @t sky.com) writes: Since 2002 I have been closely involved with recording the life and times of Emily Wilding Davison the Suffragette who died as a result of her injuries at the Epsom Derby of 1913. She spent part of her childhood in Gaston House, Sawbridgeworth Hertfordshire and I have reason to believe that the Suffragette May Day postcard written to Dr Brickwell and signed K.E. is from a close friend of Emily's from her schooldays days in Hertfordshire. However identifying her friend is difficult as she always signs her correspondence to her fellow Suffragettes as K.E. In a post card written in 1929 to a fellow suffragette Mary Leigh that has a picture of Morpeth's St Mary's Parish churchyard where Emily is buried she mentions placing palms from the Budapest Congress on Emily' grave as a tribute to her accompanied by A.E. and then signs herself as heartbrokenly K.E

My question is is their a list of local Walthamstow Suffragettes and is there a Dr K E amongst them.
Because this is a dedicated Hertfordshire site (the original card was only posted because there was a Hertfordshire connection with a Letchworth Garden City photographer) I cannot help directly on any Walthamstow information but the Sawbridgeworth connection is very interesting.
Dr John Brickwell senior was already practicing in Sawbridgeworth in 1841. He was still practicing in 1881 and died in 1888. His son, John Smith Brickwell, was born in Sawbridgeworth in 1835, became a doctor in Slough, where Frank Brickwell was born.. The practice was continued in Sawbridgeworth in 1891 by Eustace Brickwell (Frank's uncle), who unfortunately died later that year, and the family association with the town appears to have been severed.
You state that Emily Wilding Davison spent part of her childhood at Gaston House, Sawbridgeworth. I suspect this was Gaston House, Little Hallingbury, just over the Essex boundary from Sawbridgeworth, and that K. E. could have been a childhood friend from this period. K. E. clearly knew both Frank Brickwell and Emily Davison - so there could well be a Sawbridgeworth connection.
If you are certain K. E. was a doctor, medical directories might help as there would have been very few K. E. female doctors at the time. What would help is if there is any information that K. E. was unmarried - as if she was married we don't know even the first letter of her maiden name. It could also help to know the earliest dates (and places where post cards, etc., were posted) for K. E. especially if they were around 1911 or earlier. Any information (names, dates, addresses, etc. linking Emily to the Sawbridgeworth district would also help.
In reply Maureen adds: Thank you so much for your valuable help with the Sawbridgeworth connections which is much appreciated. Simply because we may have stumbled across another mystery by trying to identify the mysterious suffragette known only as K.E. who was known to the Brickwell family we may now be able to solve a vital missing piece of the Davison family relating to their time in Gaston House, which ended in tragedy because of an outbreak of diphtheria which all the children went down with and the youngest child little Ethel Henrietta then aged 6 died from in the summer of 1880 and maybe one of your Dr Brickwell's attended the family.

I read in a now long forgotten newspaper report that Charles Edward Davison sued the owner of the house because of the bad sewage drainage which he believed was the cause of his children's illness, maybe it was reported in the local newspapers where you are and if Dr Brickwell was still practising in 1881 he may have been the family's doctor given evidence in the case. I am coming to the final stages of my work on this project and intend to publish the results of my long quest to record Emily's life as it really was from the viewpoint of her previously unpublished family archive material of her northern family members and not as history has chosen to depict her. What happened to her family at Sawbridgeworth deeply touched the family and the family accompanied Ethel Herietta's coffin to Morpeth by train just like her father in 1893 and her sister in 1913 to buried along side their ancestors in our parish churchyard.

Wherever the family lived they became involved in the local church and polite society so maybe there is a wealth of unknown local material in Sawbridgeworth about them, you have to forget everything you have ever read or seen on the TV about her and her family it is a dreadful travesty of their lives because they became caught up in the lurid headlines and sensationalism of the 1913 Derby protest and the northern family here closed ranks and remained silent for almost a century until I was asked by a local County Council Officer in nearby County Hall to volunteer to record the local stories about them before they were lost and gone for ever.

Being completely ignorant of the epic suffrage story in 2002 it was a very daunting task and has been a roller coaster ride of discovery as I eventually located and brought the present day family members together from all over the world and gave them a platform of their own in the County's 90th tribute celebrations we have since begun to change peoples attitude towards a very miss understood woman, who was deeply respected and admired by her family and friends the fact that K.E. in 1929 placed tributes on her grave and signed herself as being broken hearted is the oft repeated story from anyone who actually knew the real Emily and that what happened in June 1913.

I would welcome any facts regarding Gaston House in the late 1870s to when children became so ill in 1880 was it a widespread epidemic or just confined to Gaston House as her father believed was the source of the outbreak.
Gaston House is a listed building in Sawbridgeworth Road, Little Hallingbury, Essex, (post code CM22 7QS) and is presumably still standing as there was a flower show there in July - so it could be worth writing to the address for a modern (and possibly an old) picture. The Little Hallingbury Local History Society can presumably be contacted through the Anvil web site (which is currently being set up). As far as a I can gather there is not a currently active Local History Society in Sawbridgeworth.