Discovering Hertford
by
Hertford Civic Society
1973
Paperback, 48 pages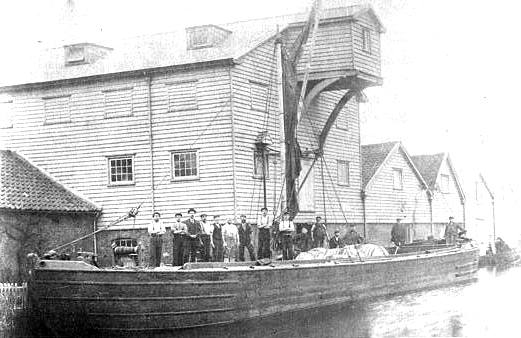 Dicker Mill, on an island on the River Lea
This is one of those wonderful "historical walks" booklets which provide an invaluable guide for the visitor to a town - or the inhabitant who has, up till now, has taken the old buildings for granted. The book includes good walking maps, and many photographs although the printing method has not always done these justice.
Hertford Castle Walk: The Castle (back to 12th century)
A Quick Look: Highlights for the visitor with only a short time to spare
St Andrews Street - West Street Walk: Includes site of a mill mentioned in the Domesday Book, the former verger's house (from about 1450) and many 18th century buildings.
Old Cross - Fore Street Walk: Many 16th, 17th and 18th century buildings identified. The Friends Meeting House, built in 1669, is said to be the oldest surviving example in the world.
The River Walk: Includes the 16th/17th century Lombard House where Chauncy lived, and Dicker Mill.
There is a web page for Hertford
Locating Books
At the time this page was last updated second hand copies could be ordered online
Page updated December 2005