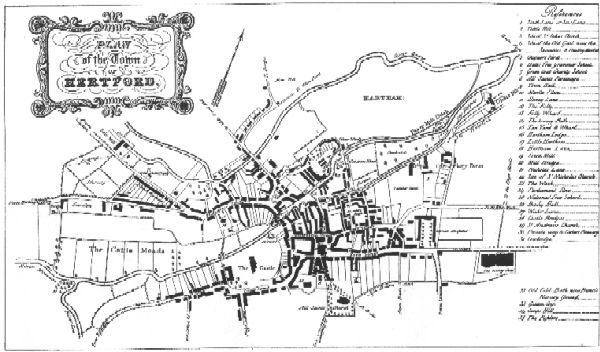 Lewis Turnor's "History of Hertford", 1830
as reprinted in the Victoria County History of Hertfordshire.
For detail see ROOKE, Hertford, early 19th century
Hertford. municipal borough, county and market town (Saturday), head of Union, County Court district and petty sessions division on the Lea. S.E. Herts, 12 N.E. of St Albans; acreage of borough 1,136.
Hertford was formerly a parliamentary borough returning 2 members prior to 1897, and one member from 1867 to 1885. It comprises the ancient parishes of All Saints, St Andrew and St John. All Saints Church (rebuilt 1895) is in Perpendicular style; it contains some interesting monuments, the most ancient being a brass for John Hunger (d 1435) chief cook to Queen Katherine, wife of Henry V. The church of St Andrew (rebuilt 1869) is in Gothic style. Christ Church Bengeo is an ecclesiastical parish with a church (built 1869) in Early English style. It has a Roman Catholic church, and there are Baptist, Wesleyan and Congregational Chapels, and a meeting place for Friends.
The town or shire hall, in the market place, is a brick structure in Italian style, dating from 1768. Of other buildings the most important are the Corn Exchange and Public Hall (1839), the Public Library and School of Art (1889), and the General Infirmary (1832), enlarged 1878. A commodious swimming-bath was opened in 1876. Christ's Hospital School, in which boys are received before entering the school of the parent house, is situated in Fore Street, on the east side of the town, near the road to Ware; the building dates from 1690. Hale's Free Grammar School (founded and endowed 1617-20) has scholarships at St Peter's College, Cambridge. The Cowper Testimonial National School and the Green Coat School (recently closed), London Road, are endowed institutions. Pettyt's Almshouses (1649) were rebuilt on a new site in 1854. There are several other valuable charities.
About 2 miles S.E. of the town is Haileybury College, founded 1809 for boys intending to enter the East India Company's service. This institution came to an end with the abrogation of the Company's powers in 1858, and after being used for a time as barracks, the building was in 1862 converted to a public school. The number of boys is limited to 500. The endowment includes scholarships tenable at the school and others at the universities.
Hertford carries on a large trade in corn and other agricultural produce and there are also iron foundries, breweries, malthouses, brickfields and limekilns.
The town was a place of importance as far back as 678, when an ecclesiastical synod was summoned here by Theodore, Archbishop of Canterbury. About 905 it was fortified and much enlarged by Edward the Elder, who is said to have begun the castle completed by William I. The remains of this fortress consist of the mound, with an embattled wall and part of a tower. It was the last residence of Isabella (1292-1358), widow of Edward II; and John, King of France, and David Bruce, King of Scotland, were confined here during the Hundred Years' War. The London law courts were transferred to Hertford for ten years (1582-92) in Elizabeth's reign for the purpose of avoiding the plague. Edmund Gunter (1581-1626), the mathematician, was a native.
The present seat of Hertford Castle dates chiefly from the reign of James I, and is built in part of materials taken from the ancient fortress. Bulls Park is a handsome edifice of brick, erected in the time of Charles I. Brickendonbury, Fanshaws, and Leahoe are other seats.
from Cassell's Gazatteer of the British Isles 1899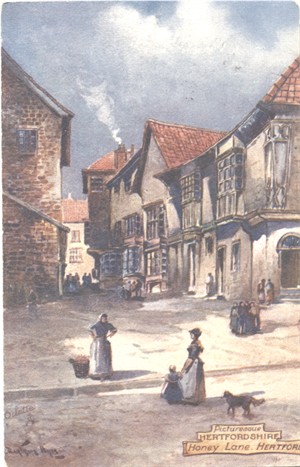 <<< Postcard of Honey Lane by Raphael Tuck, Oilette Series, posted in 1908.
Book: Hertford Guide Books from the early 20th century.
Book: History of Hertford, by Lewis Turnor, 1830
Book: Hertford Street and Place Names
Book: Hertford Past & Present
Book: Hertford - A History
Book: The Book of Hertford
Book: Discovering Hertford
Book: Yesterday's Town: Hertford
Book: Hertford in Camera, by Cyril Heath, 1987
Book: Hertford (Archive Photographs)
Book: The Accounts of Thomas Green, 1742-1790
Book: Lifestyle and Culture in Hertford... Wills and Inventories, 1660-1725
Book: The Hertford Loop - The first 100 years of a local railway
Book: My Life by Alfred Russel Wallace - includes detailed description of Hertford during his childhood (1830s)
Book: The Chronicles of Hertford Castle
Book: A History of the Girls' School of Christ's Hospital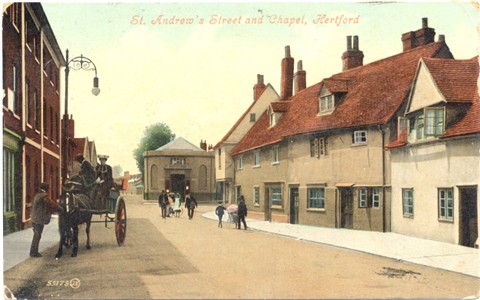 St Andrew's Street and Chapel - Posted 1908
Valentine card - No: JV 55173
Book: The First Hertford Quakers
Book: The First Unity - Synod of Hertford AD 673
Book: Stephen Austin of Hertford - A Hertford printing firm founded in 1768
Book: Addis, 1780-1980 - a Hertford brush manufacturer
Book: Balls Park, Hertford - history of the house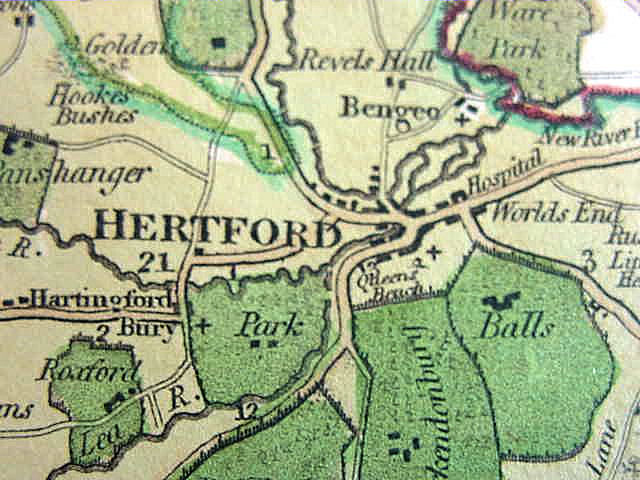 Detail from Charles Smith's map of Hertfordshire (1808 edition)
Book: Hertford's Past in Pictures, by Len Green, Rockingham Press, 1993 [link]
Education: Christ's Hospital, Hertford
Web: Discover Hertford
Web: Our Hertford and Ware (associated with Hertfordshire Memories)
Web: Lee Valley Online includes historical information on the principal towns and villages on the River including Hertford.
Web: The East Herts District Council web page also contain a page containing some historical information, and links to other possibly relevant web sites.
Web Site: Our Hertford and Ware (associated with Hertfordshire Memories)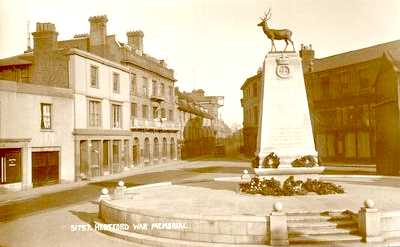 Hertford War Memorial - Post card from the early 1920's
Web Site: Hertford War Memorial
>>> Extra Pictures of Hertford <<<
If you know of other books, websites, etc, relating to this place, please tell me.
Page updated October 2009 - Additional Book Link