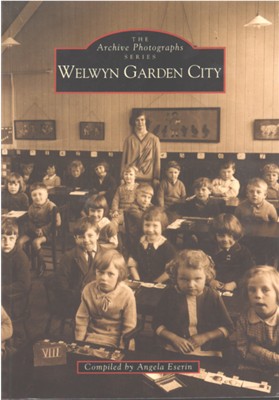 Welwyn Garden City
by Angela Eserin
The Archive Book Series, Chalford, 1995
The history of Welwyn Garden City is a remarkable one as it is one of only two garden cities ever built in Britain (the other, Letchworth, is also in Hertfordshire) following the ideas of the reformer Ebenezer Howard.
He bought land in rural Hertfordshire in 1919, formed a private company which became Welwyn Garden City Limited and, with a group of dedicated supporters, began in 1920 to build the town. It was to be a town planned with the social conditions of its inhabitants in mind. His plans included plenty of open space, good quality, low density housing with gardens and local industry and amenities for its inhabitants. His ideas became the foundation for the worldwide Garden Cities and New Town Movement.
The town's early development was beset with problems, the company finding few backers for their scheme in the hard times of the 1920s and 1930s. Despite this the town grew and from 1948, under the Development Corporation and Commission for New Towns saw great post-war expansion.
There is a web page for Welwyn Garden City and one for The Archive Photographs Series
See also Locating Books
At the time of posting this book was available on the internet
If you can add to the information given above tell me.
Page updated December 2004