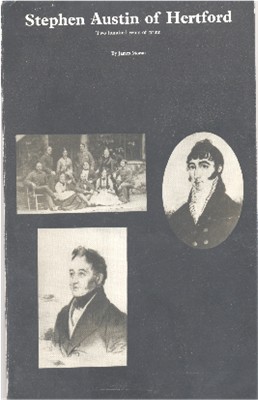 Books on Hertfordshire
Stephen Austin of Hertford
Two hundred years of print
James Moran
Stephen Austin, Hertford, 1968
Paperback Book, 28.5 * 18 cm, 72 pages
The book describes the history of the Hertford-based printing firm.
"If family tradition could be relied upon, this history of Hertford's first printing firm, founded by Stephen Austin in 1768, would begin with a stirring account of how young Austin, the intrepid apprentice, helped the famous 18th century politician, John Wilkes, in his fight for freedom of the press. Unfortunately, Austin's descendants., perhaps innocently, exaggerated the role played by him in the Wilkes affair."
However it is clear that Stephen Austin worked for Wilkes' publisher, George Kearley, in London, and had strong connections with the Radical movement which were continued by his descendents. He published the newspaper, the Hartford Mercury, in 1772, and the company later founded the Reformer in 1834, which later became the Hertfordshire Mercury. The book is not only a an excellent account of a successful printing firm, but throws light on the politics of the late 18th and early 19th century.
The John Wilkes legend

The foundation of the firm

The Reform Movement

Printer of Oriental Books

"The ingenious proprietor"

Men and Machines

New Blood - The Harrisons

The First World War and after

The Newspapers

Another war and new developments

Growth and expansion
There is a web page for Hertford