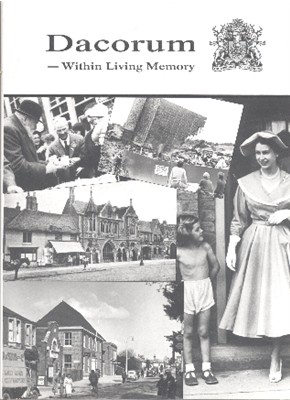 Books on Hertfordshire
Dacorum
within Living Memory
Cathy Shipman & Don Jackson
Pageprint, 1988
Hardback Book, 30 * 22 cm, 240 pages, many pictures
This is an excellent account of the Dacorum borough during the middle part of the 20th century. Coverage includes the towns of Hemel Hempstead, Berkhamsted and Tring - and the smaller villages.
CONTENTS

Berkhamsted

Foreword

7

Introduction

9

one

The Early Years

11

two

Life in Dacorum in the Mid-16th Century

20

three

Preparations for War

54

four

'Cor Crikey' - The Evacuees

65

five

The Home Front

76

Six

Civil Defence and Military Matters

89

seven

A War Time Miscellany

113

eight

Celebrating the End of the War

116

nine

The New Town

121

ten

The Coming of the National Health Service

147

eleven

The Development of Dacorum's Schools

158

twelve

Local Government Re-organisation

172

thirteen

Of Local Concern

180

fourteen

"Dacorum begins at Tring ... "

202

Index

232

Bibliography

236

Acknowledgements

237

Subscribers

238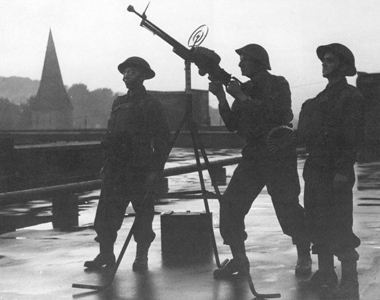 The Home Guard at Apsley
This book provides a useful introduction to the history of area including the towns of Hemel Hempstead, Berkhamsted and Tring. It contains a interesting account, with pictures, relating to the Second World War. For instance the chapter "Civil Defence and Military Matters" contains sections on civil defence, the war time health services, first aid, fire fighting, the Home Guard, the Royal Observer Corps, conscription, registration and youth organisations, the military, Bovingdon Airfield and the Americans and war work. There is also a good account of the origins of the New Town of Hemel Hempstead and a pictorial tour of the places included in the Borough of Dacorum.
For more information on the New Town see Hemel Hempstead, The Story of New Town Development 1947-1997.
There is a web page for Dacorum