A Walk around Hemel Hempstead
illustrated by old postcards

Marlowes
Enter from the Broadway
On the left is the garden of The Old House
On the right are some shops, known as Cheapside.
S. Umfreville & Son
muslin apron manufacturers,
5a, Marlowes. TN 73 Boxmoor.
Kelly's Directory 1926

Postcard taken by J T Newman, Berkhamsted

Patricia (patricia @t teepee32.freeserve.co.uk) supplied the above picture and writes: The photo was taken 1925-6 of the factory called Umfrevilles which was in Marlowes near the Sebright pub and where Dacorum College now stands. My uncle's mother, Winifred Kate Cosier nee Seabrook, born 1906, trained there. She was on piece work and was paid 17s 6d for making 12 greatcoats, that is all except the buttons and buttonholes. She earned about £3 10s per week.
The Baptist Church, Hemel Hempstead

Published by Hartmann,

reference 3979/2 - circa 1910

The 1851 Ecclesiastical Census records the minister as William Samuel Matthew Aitchison, and comments "There are two village preaching stations in connection with this place of worship, one at Leverstock Green, the other at Water End ... In the afternoon Sunday School is taught in the Chapel."
Interior Marlowes Baptist Church

Rev W Wright Robinson, Pastor

Published by H. W. Flatt, Boxmoor

The Baptist church at Marlowes, erected in 1861 on the site of one founded in 1679, will seat 800 persons. [Kelly's 1908]

Continue along Marlowes
On the left are some high class houses, mainly Victorian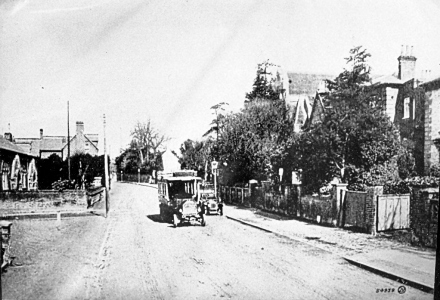 Very early bus with public baths/waterworks to the left.
The roof of the Baptist Church can be seen on the right.
Valentine Card JV 54939 - photograph taken 1906
Buildings on the right include the Waterworks and the Princess Theatre (cinema)
King's College Convalescence Home, Hemel Hempstead

The Convalescence Home is set back from the road, in an elevated position, and was previously the hospital. The "new" Infirmary was built behind it, further up the hill.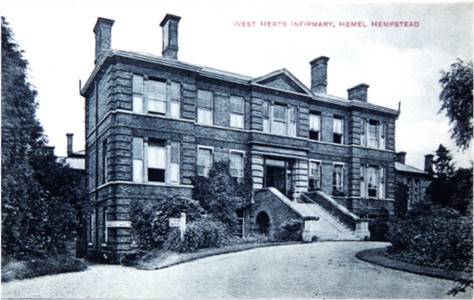 Hemel Hempstead Infirmary, Hemel Hempstead.
see The West Herts Infirmary for 1890 Old News report and background information.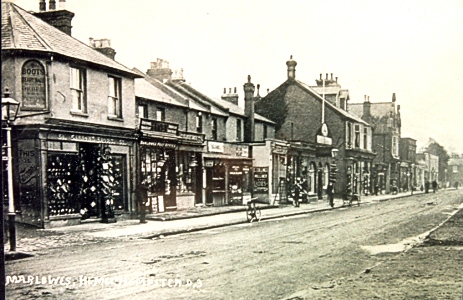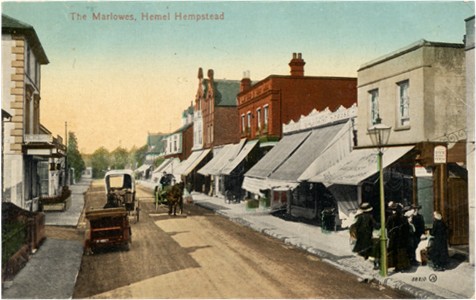 Shops in the southern end of Marlowes.
Edwin Keen's butcher's shop is the tall building on the left.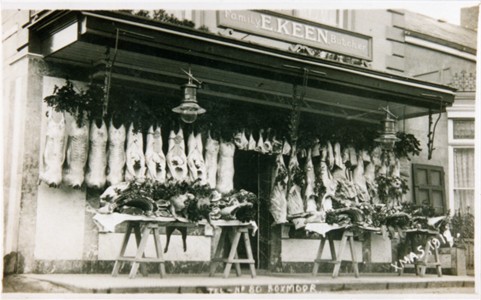 Edwin Keen's Butchers Shop with its Christmas display, 1918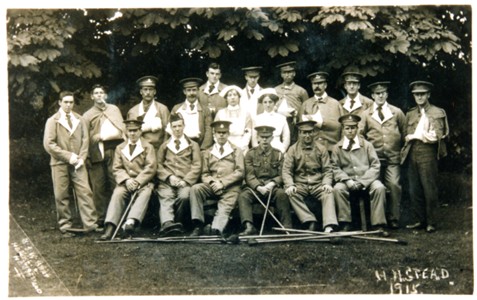 Invalid soldiers at a garden party help by Edwin Keen, 1915.
It was taken by H J W Bray, 161 Station Road, Forest Gate. By 1917 Mr Bray occupied the photographer's shop in Alexandra Road.
See Photographers, 15 Alexandra Road, Hemel Hempstead, early 20th century
Continue down the road and pass under the railway bridge.
The road junction you come to is the site of the present day "Magic Roundabout".
Straight ahead is Two Waters and Apsley
To the Right is Heath Park Halt - pass under the railway bridge to visit Boxmoor
If you know of other books, websites, etc, relating to this place, please tell me.
Page updated September 2007