Hertfordshire County Homes

Descriptive Accounts of the Principal Family Mansions in Hertfordshire

Anonymous

Illustrated by F. G. Kitton

Published by Subscription at the Hertfordshire Standard Office, St Albans, 1892

Hardback (tooled leather and cloth binding), 28*22 cm, 236 pages, many line drawings and photographs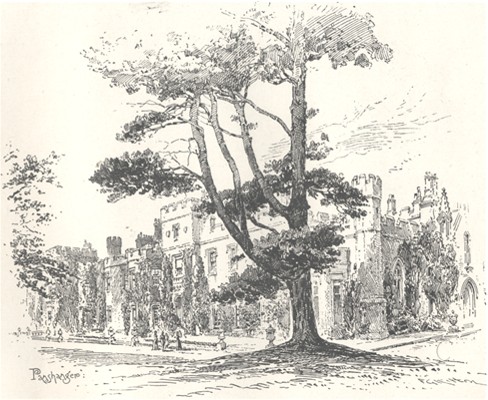 Panshanger
This book, with its presentation quality bindings, describes 18 of the most important houses in Hertfordshire, with drawings of their owners and (in some cases) photographs of the wives. There are also one or more drawings of each house - including both exteriors and interiors. It was published by subscription, the print being limited to 200, and presumably most copies were brought by the house owners for their own libraries or as gifts.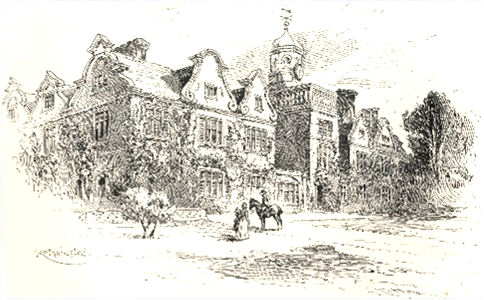 Rothamsted
The houses included in this volume are Hatfield House (Marquess of Salisbury), Aldenham House (Henry Hucks Gibbs), Ashridge (Earl Brownlow), Wrotham Park (Earl of Strafford), Dyrham Park (Colonel Trotter), Rothamsted (Sir John Bennett Lawes), The Grove, Watford (Earl of Clarendon), Tyttenhanger Park (Commander E B Van-Koughnet), Panshanger (Earl Cowper), Gorhambury (Earl of Verulam), The Grange, Totteridge (Sir Charles Nicholson), Nash Mills (Sir John Evans), Moor Park (Lord Ebury), Knebworth (Late Earl of Lytton), Childwickbury (J Blundell Maple), The Mansion, Munden (Hon A. Holland-Hibbert), Cassiobury (Earl of Essex), Carpenders (Robert Russell Carew).
Two more picture on the Cassiobury page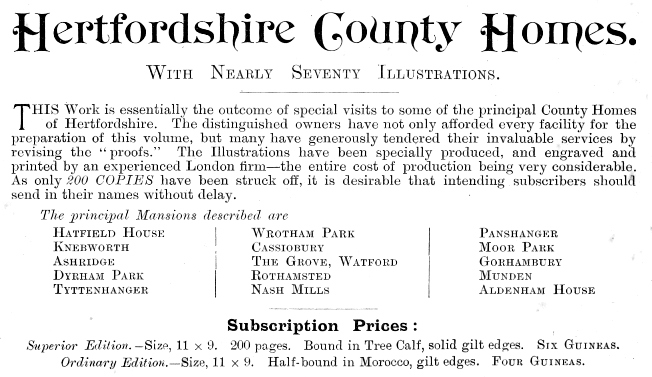 Advert from Hertfordshire Illustrated Review, May 1893
See also Locating Books
Rare: Reference Copy in HALS: No copyright library copies found.
Last updated February 2008