Hertfordshire Illustrated Review

1893-4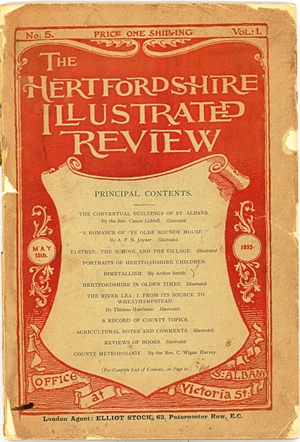 Published by Messers F. G. Kitton, Truman Press & Arthur Smith, Victoria Street, St Albans, and Elliot Stock, 62 Paternoster Row, London E.C.
Printed by Paternoster Steam Press, 11 Ivy Lane, London E.C. and Gibbs and Bamforth, Market Place, St Albans.
This magazine was published at monthly intervals starting in January 1893, and each issue contained some contemporary Hertfordshire news, articles of local historical interest, a short story set in a Hertfordshire context, and a few general interest items unconnected with the county. Many of the articles were illustrated by line drawings or photographs. At the front and the back there were a small number of advertisements.
At the end of 1893 an index was published and at least some sets were bound, but without the advertisements. The bound Volume I (from which the above publication information comes) contains viii + 790 pages and 360 illustrations. It is interesting to note the the British Library only holds copies of issues numbers 2-10 of 1893.
Kelly's 1894 directory states the the Review was published quarterly on 14th March, June, September and December. The proprietors were given as F. G. Kitton, Truman Press & Arthur Smith the publisher was T. Press. Initially I was unable to trace copies of the 1894 issues buty Jon Mein tells me there are copies in the University College London Library as part of the Herts Natural History Society Special Collection. He has supplied a contents list and reports that the final issue carries the following note from the publishers:
The Hertfordshire Illustrated Review" has been conducted by its promoters principally as a literary hobby. However, owing to various reasons, such as want of leisure and absence of opportunities extending the circulation the "Review" throughout the County, the Editors have reluctantly decided to relinquish their congenial labours.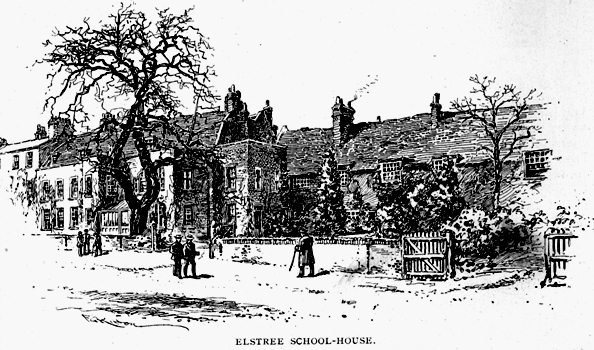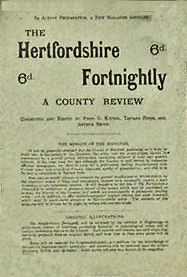 A leaflet, soliciting subscriptions to the Hertfordshire Fortnightly - to be edited by F. G. Kitton, Truman Press & Arthur Smith. It seems likely that this actually appeared as the Hertfordshire Illustrated Review.
Issue No 5. May 1893
PRINCIPAL CONTENTS
The Conventual Buildings of St Albans
"A Romance of 'Ye Olde Round House'"
Elstree: The School and The Village
Portraits of Hertfordshire Children
Bimetallism
Hertfordshire in Olden Times
The River Lea: I. From its Source to Wheathampstead
A Record of County Topics
Agricultural Notes and Comments
Reviews of Books
County Meteorology
See Watford Union for an extract from the February 1893 issue
See Hertfordshire County Homes for an advertisement from the May 1893 issue
See The Panshanger Oak for an article from the August 1893 issue
Page updated February 2008
January 2010: Additional material relating to its continued publication in 1894.
---
Contents List of Volume 2, kindly provided by Jon Mein
Volume 2 Issue 1

March 1894

Article Number

Title (where italics = my addition)

Author

Illustrations

1 (Frontispiece)

The Countess of Lytton

-

From a photo by Walery

2

Knebworth House

Kitton

· Late Earl of Lytton

· Knebworth House

· Queen Elizabeth's Chamber

· The Banqueting Hall

3

Dr Johnson and his biographer at Welwyn

-

4

Berkhamsted School

Kitton

· Exterior of the school

· Rev T C Fry DD

5

"With His Life"

"The Frost" (alias Subaltern Glyn)

6

County Notes

-

-

7

John Leech in Hertfordshire

Kitton

· John Leech

· Graves of Leech & Thackeray

8

The High Altar Screen in the Cathedral Church of St Albans

Rev Canon Liddell MA

9

A Record of County Topics

-

-

10

Hertfordshire Science and Scientists: Chemistry as Taught by A Hertfordshire Man

Charles H Ashdown

· Prof. John Attfield, FRS,

· Standon Church

· "Ashlands", Watford

· The Garden & Tennis Lawn at Ashlands

11

A Departed Hertfordshire Worthy: Rev William Falconer, MA, Rector of Bushey

Rev John Pickford MA

Rev Falconer portrait

12

"Sir John Mandevil, Liar"

-

-

13

Reply to Query: "Burial Garland"

14

Twilight in Hertfordshire: Some Gleanings From Folk Lore

E Wingate Rinder

15

Agricultural Notes and Comments

Arthur Smith

16

Review of Books

-

-

17

Relics at Lamer Park

-

-

18

County Meteorology

Rev C Wigan Harvey, MA; J Hopkinson, FR Met Soc.; E Mawley, FR Met Soc.

-
Volume 2 Issue 2

Mar 1894

1 (Frontispiece)

Lady Grimthorpe

-

From a photo by Maull & Fox

2

Hertfordshire Barrows: Six Hills, Stevenage

-

-

3

Chestnut Cottage, Harpenden

A E Gibbs

The Cottage

4

Rt Hon Earl Cowper at Panshanger

Kitton (illus)

· Panshanger House

· The Ear Cowper

· The Countess Cowper

· Lady Cowper's Sitting Room

· The Picture Gallery

5

Scott, The Amwell Poet

-

-

6

The Bull Inn, Hoddesdon

-

-

7

Hertfordshire Trees II: The Trent Park Oak

A McKenzie

The Tree

8

A Remarkable Will (John Carrington of Bramfield)

-

-

9

"The Learned Shepheard of Faire Hitching Hill": George Chapman, Poet & Dramatist

Frank Rinder

George Chapman

10

Lady Grimthorpe

-

-

11

A Training Ground for Statesmen: the Old East India College at Haileybury

-

· Haileybury College from London Rd

· Arms of Hon East India Company

· The Old Rye House

· Specimens of medals presented at Old Haileybury

· Facsimile of cover of the Haileybury Observer

12

River Mimram: From its source to the Lea

Thomas Hardman

Kimpton Mill

13

County Notes

14

Queries

15

St George's School, Harpenden

Kitton

· Rev H Wix

· Exterior of School

· A View in the garden with Gardener's House

· Boys Entrance with motto

· Mr H H J Wix

· The School Chapel

16

Earl of Essex at Cassiobury

A F N Joyner

A Glimpse of Cassiobury House

"The Cloister"

17

Record of County Topics

-

-

18

Death of Countess of Clarendon

-

-

19

Arts & Crafts at St Albans

-

-

20

County Meteorology

J Hopkinson

-
Volume 2 Issue 3

Sept 1894

1 (Frontispiece)

Marchioness of Salisbury

-

From a photo by Mayell

2

Francis Bacon

John Hopkinson, FLS, FGS

· Ruins of Old Gorhambury House

· Verulam House

· "Bacon's Mount"

· Ruined Porch, Old Gorhambury House

3

The Hook, Northaw

-

-

4

Hertford Town & Castle

Edith Wingate Rinder

-

5

Marchioness of Salisbury

-

-

6

Pishobury House

-

-

7

County Notes

-

-

8

An Old Hertfordshire Manor-House: Salisbury Hall

A F N Joyner

· Salisbury Hall

· Ancient Medallions

9

Replies to Queries

-

-

10

The Story of a Great Estate

A F N Joyner (illustrations by Kitton)

· Portrait of Earl Brownlow

· The Countess Brownlow

· Exterior of Chapel

11

The Great Civil War in Hertfordshire

Illus. Kitton

· Cromwell arresting the High Sheriff in St Albans Market

12

Hertfordshire as a Sketching Ground for Artists

P Bosanquet, JP

13

A Record of County Topics

-

14

County Meteorology

Hopkinson & Rev Wigan Harvey
Volume 2 Issue 4

Dec 1894

1 (Frontispiece)

Nether Hall

Alexander McKenzie

Nether Hall

2

Edward Strong, Master-mason of St Paul's Cathedral

Rev J Pickford

3

Dyrham Park

-

Dyrham Park

4

"Robert Cecil's Rise. A Tale of the days of Queen Bess"

A Bancroft

5

Hertford in the 17th & 18th Centuries

R T Andrews

6

On Pocket Sundials

Lewis Evans

· Ring Dial, 16th Century with a Seal

· Universal Ring Dial c 1620

· Pillar Dial

· Brass Pocket Dial

· Dial by Edm. Culpeper, 1670-1700

· Group of English Sundials

7

"Three Monks by Boat"

F V

8

County Notes

-

-

9

Reviews of Books

-

-

10

An Ancient Manor House: Theobalds

-

11

The Herts Agricultural Society and Its Hon Sec, Mr A J Sherriff

Kitton

A J Sherriff

12

Mr F Downer's Photographic & Photo-engraving studios at Watford

Kitton

· Frederick Downer (snr & jnr)

· The Studio

· A Christmas Card with a view of Watford High Street

· Gas Engine & Dynamo Machine

13

Reminiscences of Some Rambles with Herts Natural History Society

J Hopkinson

· Water End House, nr Wheathampstead

· The Moat nr Wheathampstead

· River Colne at Colney Heath

· Green Lane nr Colney Heath

· Chalk-pit nr "Copper Mills", Harefield

14

A Hertfordshire Antiquary: Mr W Ransom, FLS

-

W Ransom

15

Some Points of Interest in and around Hitchin

Ellen Pollard

"High Down", Hitchin

16

An Interview with Mr H J Toulmin, JP, CC

-

H J Toulmin

17

Mr J L Pank, CC

-

J L Pank

18

County Meteorology

J Hopkinson

-