"This Little Commonwealth"
Layton parish memorandum book 1607-c1650 & 1704-c1747
Edited by Heather Falvey & Steve Hindle
Hertfordshire Record Publications, 2003, ISBN 0 9523779 9 3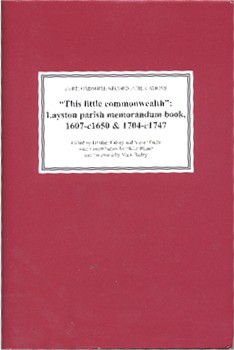 The parish memorandum book of the Layston clergymen, Alexander Strange and Thomas Heton, is a remarkable, indeed virtually unique, source for historians of the social, economic and cultural experience of the inhabitants of an English local community from the early seventeenth century to the mid eighteenth century. Few other documents are as revealing of the social and economic relationships between clergymen and their congregation.
Historians of Hertfordshire will find much of local interest here in the intimate disclosure of detail on life in the market town of Buntingford with its contiguous parishes of Layston, Aspenden, Throcking and Wyddial. ...
Introduction
The Clergy and the Politics of Poor Relief in a Hertfordshire Parish

"The Reverend Mr Thomas Heton a Worthy Vicar of this Parish"

Aspects of the History of Layston

The Original Manuscript
The Layston Parish Memorandum Book
Appendices
Original order of the pages of the Memorandum Book

Perambulation of Layston Parish

Perambulation of Wyddial Parish

Assize Sermon, preached on 4 March 1608

Layston parish registers 1604-1650

Alexander Strange's Will

Books referred to by Thomas Heton
Last updated November 2004