Wyddial
Adjacent Parishes: Anstey, Aspenden, Barkway, Buckland, Layston, Throcking
It is in Edwinstree Hundred and the Buntingford Union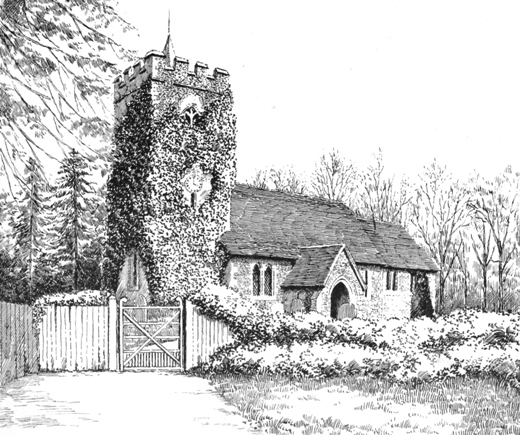 Wyddial Church [Picturesque Hertfordshire]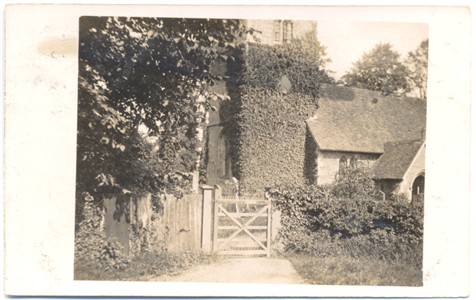 Wyddial Church - postcard posted 1903 - no publisher details.
WYDDIAL (or WIDIALL) is a parish in Edwinstree hundred, Buntingford Union, Royston county court district, rural deanery of Buntingford and archdeaconry and diocese of St Albans. The village, which is small and inconsiderable, is 1½ miles north-east of Buntingford, which town is partly within the parish and 7½ south from Royston. The church of St Giles is an ancient structure, consisting of chancel, nave and north aisle, south porch and a western embattled tower, with spire, containing 4 bells, the first dated 1866 and the tenor 1666, the second has an invocatory inscription to St Katherine and the third is undated; in 1867 Mrs Ellis caused all the bells to be re-hung and gave the clock in the tower: there are several stained windows, including two in the aisle apparently by a Dutch or Flemish artist of the 17th century and some monuments and brasses to the Gulston, Gyll and Ellis families; in the north wall of the chancel is a brass with effigy and inscription to Dame Margaret, daughter and heir of Sir Thomas Nevyll kt. brother to Lord Abergavenny and wife of Sir Robert Southwell kt. Master of the Rolls, who died 1575; there are also brasses of the Gyll family 1535-1600. The register of baptisms dates from 1666; burials from 1669. The living is a rectory, yearly value £326, with residence, in the gift of the trustees of Charles Heaton Ellis esq. and held by the Rev Charles Maxwell B.A. of Balliol College, Oxford. Wyddial Park is a considerable domain close to the village belonging to Heaton Ellis, who is lord of the manor. The principal landowners are the trustees of Chas. Heaton Ellis, William Butt esq. and Kings College, Cambridge. The chief crops are wheat and barley. The area is 1,187 acres, rateable value £1,904; and the population in 1881 was 202.
Parish Clerk, John Searle.
Letters through Buntingford, which is the nearest money order office. There is a letter box in the village, cleared at 6.30 pm week days only.
Parochial School, Mrs E Parry, mistress
| | | |
| --- | --- | --- |
| Maxwell Rev Charles B.A. Rectory | Bolton George, beer retailer | Walbey Hy. (Mrs.), frmr, Wyddialbury |
| Bolton Benjamin, farmer, Home farm | Pigg Robert, sen. farmer, Beauchamps | |
Kelly's Hertfordshire Diretory 1882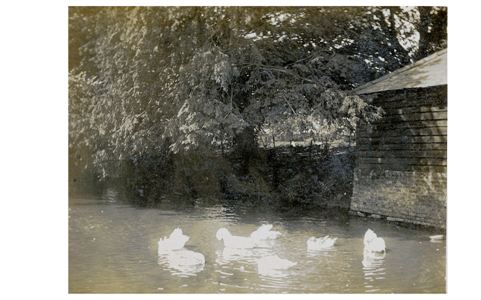 "Part of Home Farm, Wyddial" - Postcard posted 1903
The 1902 Kelly's directory for Hertfordshire listed only one farmer in Wyddial, who was Charles Jackson of Home Farm
Wyddial (6 miles N.) includes Corneybury, the picturesque 17th century manor house of Buntingford; also Wyddial Hall which was built 200 years ago on 16th century foundations. The pretty village of thatched cottages has an ancient church with a brick-built north chapel added in 1632. The Jacobean screens to the Goulston chapel are notable; also some good brasses and medieval Flemish glass.
Braughing Rural District Official Guide 1971
Wyddial Hall
photo by S Smith
(very faded undated real photo - 1920s?)

Wyddiall Hall, a domain of 180 acres close to the village, is the seat of Lieut.-Col. Charles Henry Brabazon Heaton-Ellis D.L., J.P. who is lord of the manor. [Kelly 1917] He was still there in 1933.
Book: Layston parish memorandum book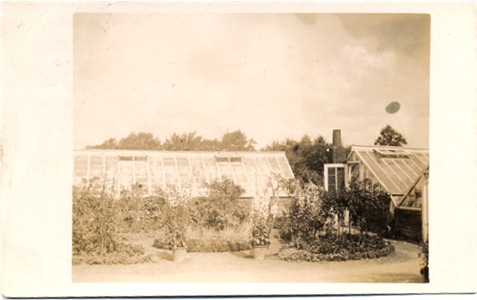 Wyddial Nurseries - postcard posted 1903
The back of the card reads "Wyddial. Part of the Nurseries where I stayed." George Bolton was landlord of The Fountain Public House and was also a nurseryman.
| | | |
| --- | --- | --- |
| Broughton, Rev. Frederic Robert, M A | Bolton, George, The Fountain P H & nurseryman | Dawe Joseph, farmer, Wyddial Bury |
| Heaton-Ellis Major Charles Henry Brabagon J P, Wyddial Park | | Jackson Charles, farmer, Home Farm |
Kelly's Hertfordshire Diretory 1902
See also Vital Records
If you know of other books, websites, etc, relating to this place, please tell me.
Page updated February 2008