Water End, Sandridge

Later transferred to Wheathampstead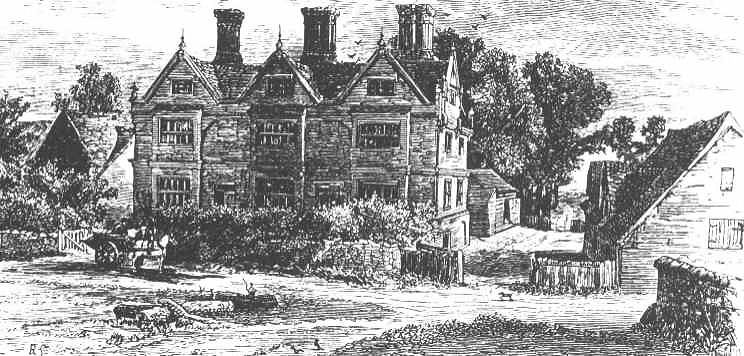 Water End Farm, birth place of Sarah, Duchess of Marlborough. (Cussans)
Water End, Sandridge (now Wheathampstead), on the north bank of the Lea, about a mile south-west of Ayot St. Peter, is a fine old brick mansion here engraved. It was probably built by Sir John Jennings about the year 1610, and was for many years the residence of the Jennings family. Here was born on the 5th June, 1660, Sarah Jennings, Duchess of Marlborough, who was baptised in the Abbey of St. Albans on the 17th of the same month. ... There is nothing of interest within the house, beyond a good oak staircase, a little panelling, and the usual long garret extending the whole length of the building.
Cussans, History of Hertfordshire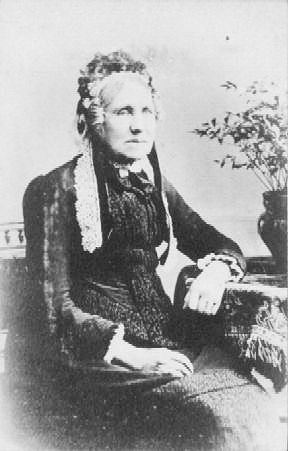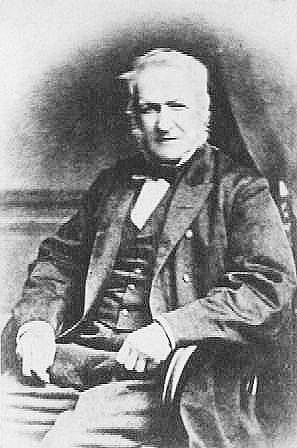 Dolphin and Maria Smith of Water End, Sandridge

This farm is of particular interest to me as my great great grandfather, Dolphin Smith (1805-1885), moved there from Ramsbury, Wiltshire, in 1846, and farmed it until about 1876, when he retired to Hatchen Green, Harpenden. The print at the head of this page may well have been drawn while he was the farmer.

At the time of the 1851 census the people in the house, which included a number of live-in farm labourers were:
| | | | | | |
| --- | --- | --- | --- | --- | --- |
| Name | Relation | Marital Status | Age | Birthplace | Occupation |
| Dolphin SMITH | Head | M | 45 | Ramsbury, Wilts | Farmer of 480 acres employing 22 labourers |
| Maria SMITH | Wife | M | 39 | Frecksfield [Froxfield], Wilts | Farmer's wife |
| Ellen SMITH | Dau | | 10 | Ramsbury. Wilts | Scholar |
| John H SMITH | Son | | 8 | Ramsbury, Wilts | Scholar |
| Agnes SMITH | Dau | | 4 | Sandridge | |
| William A SMITH | Son | | 2 | Sandridge | |
| Elizabeth SMITH | Dau | | 11m | Sandridge | |
| Anna WOODWARDS | Serv | U | 17 | Wheathampstead | House Servant |
| Jane RUMNEY | Serv | U | 16 | Hatfield | House Servant |
| Thomas JONES | Serv | Widower | 58 | Mildenhall, Wilts | Agricultural Labourer |
| James HONNOR | Serv | U | 18 | Wheathampstead | Agricultural Labourer |
| Mark WARBEE | Serv | U | 16 | Wheathampstead | Agricultural Labourer |
| Henry WOODWARD | Serv | U | 13 | Wheathampstead | Agricultural Labourer |
Waterend House. Grade II* House. Mid C17. Red brick with cement dressings. Plain tile roof. 2 storeys and attics. 5-window main front has 3 equal parapet gables with moulded brick coping. Beneath the gables are 2-storey shallow-projecting window bays with stone quoins and stone-dressed 5-light mullion and transom windows. To the attics are 3-light windows with thin hood moulds. The intermediate bays have square-headed doors with moulded brick surrounds and hoods. 2-light windows above these. Cornice bands to 1st and 2nd floors have single cut-brick cyma recta mouldings. Original brick finials to gables. Behind the roof are 3 tall chimney stacks with grouped octagonal shafts, moulded at the bases and caps. The rear elevation forms an open courtyard with 2 projecting gable ends, likewise with coping and finials. 1st floor bands. 3-light windows. To centre left is a narrow gabled stair turret with a 4-centre arch door and right of this isthe central chimney stack with diaper brick patterning. Square leaded casements to all elevations. Internally there is an unusually large central hall with exposed chamfer-stopped beams and a broad stone fireplace. Original simple oak spiral staircase in the turret. Smaller late C17 newel staircase in the opposite angle leading to 1st floor NE room which has a fireplace with an inscription dated 1692. An exceptionally complete example of a mid-C17 medium-sized country house. (RCHM Typescript).
At the time of the 1881 census the farm was occupied by James Cole:
| | | | | | |
| --- | --- | --- | --- | --- | --- |
| Name | Relation | Marital Status | Age | Birthplace | Occupation |
| James COLE | Head | M | 28 | Potters Bar, Middlesex | Farmer 475 Acres 11 Men & 4 Boys |
| Sarah COLE | Wife | M | 25 | Leicester | Farmers Wife |
| Alfred COLE | Brother | U | 25 | Potters Bar, Middlesex | Farmers Son |
| Edith COLE | Daur | | 3 | Wheathamstead | |
| William COLE | Son | | 6 m | Wheathamstead | |
| Sarah HYDE | Servant | U | 18 | Wheathamstead | Servant |
Water End Farm, 1953

(family photograph)
| | | |
| --- | --- | --- |
| Water End House | | |
See also: Bricks: Water End House
The larger barn has been moved to the centre of St Albans and used as a restaurant. There is information about its history at www.clickonhertfordshire.co.uk/waterend.htm
---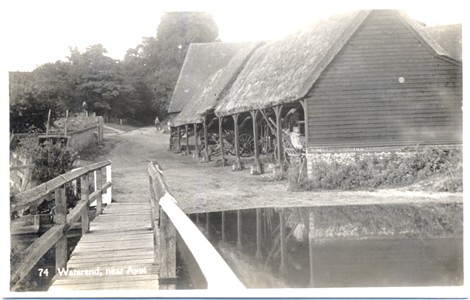 Early postcard of the ford over the River Lea, and some of the barns.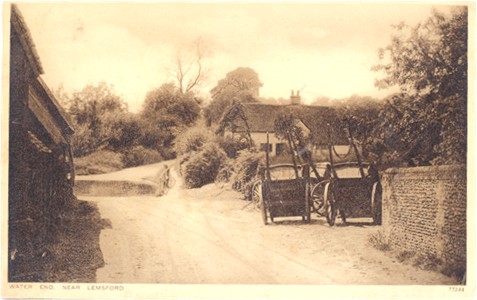 A view of the ford from the other side
Published for Welwyn Stores (1929) Ltd by the Photochrome Co. Ltd - Posted 1936
Amateur snapshots of the wooden footbridge over the River Lea at Water End..

Date, and people unknown, but probably taken about 1960.
---
Harvey Wyman (wymanh60 @t btinternet.com) of Fakenham, Norfolk, writes:

Sometime in the 1930's, I think, presumably at about the time that the large barn was taken to St Albans to become the Waterend Barn Restaurant, the house was leased by the Brocket Estate as a private residence. At some time in the late 1930's the lease was taken by Colonel Walker and his wife, the Danish Countess Louise Marie Reventlow. Colonel Walker had met the Countess in Germany after WW1. He died at Waterend House in about 1948 and is buried somewhere in the grounds. The Countess, as she was known locally, then lived there until about 1957 when she went back to her estates in Denmark. Colonel Walker had owned the Rolcut Secateurs company and the Countess ran it after his death.
Colonel Bertram James Walker was born on 25 Jun 1880. He died at Wheathampstead on 8 Mar 1947. He married (2nd wife) Lucie Marie Ludovika Anastasia Adelheid Karola Hedwig comtesse Haugwitz-Hardenberg-Reventlow of Denmark on 19 Jul 1940. She was born on 24 Oct 1884 in Züllichau. She died on 20 Apr 1984.
My Father, Percival Wyman, was head gardener from 1944 until the Countess left, he stayed on as gardener to subsequent tenants the first of which was Mr Malcolm Messer who was editor of the Farmers Weekly.

The gardens had been laid out by the Gavin Jones company of Letchworth in the 1930's and were still very much in the "raw" state when my father got there in 1944. As well as about five acres of garden Dad had six Jersey cows and around fifty chickens to look after all with the help of just one German prisoner of war.

The house was built of brick with some curious very flat bricks in areas of the lower part. We were told by W Branch-Johnson the local historian that these were Roman bricks and had probably been taken from a ruined building nearby. The house is next to a ford over the River Lea on the road from St Albans so might have warranted a Roman building. Certainly Dad recollected that when they did very deep ploughing in the water meadow during WW2 any amount of broken pots in the dark red semi-glazed form seen in Verulamium museum were turned up and we used to find similar bits at odd times in the fifties.

On the top floor is a room, a servants room I guess, with an exposed beam in which the numbers "1610" had been carved. In the main bedroom there was a glass panel over the large fireplace behind which the original plaster above the fireplace had been exposed. On the plaster were a number of sets of initials in charcoal, drawn presumably from the fire, amongst which were the initials "SJ" which, we were told, stood for Sarah Jennings who subsequently became the first Duchess of Marlborough.

The cellar was a vaulted brick construction most of which was inaccessible at the time with a set of stairs obviously leading down to it in a cupboard in one of the hallways. This stair had been blanked off with concrete a few inches down.

One thing which always intrigued me was the two "wings" protruding from the rear. One side was in the same quite ornate construction as the rest of the house while the other was the same size but of a cruder construction, obviously very old but lacking the second floor window which was present in the "original" wing. Internally there was an area, a room say, behind the huge chimney stack in that area which could not be accessed, unlike the same space in the other wing which was a room accessible by a door beside the matching chimney stack.

Externally most of the barns had gone but the foundations remained as different levels in the orchard and gardens and large lawns and wide flower beds had replaced what must have been a huge farmstead.
Anthony has added the following note, including information translated from the Danish.

It is interesting to see a link between Hertfordshire and Denmark, the more so in this case, since my family had a connection to Water End. Stephen Fordham was the river keeper at Water End and his daughter Emily married my great uncle Arthur George Goodship. By the time the Countess came to Water End, Arthur was Police Superintendant Goodship.

Lucie Marie Reventlow (1884 - 1984)

Lucie Marie Ludovika Anastasia Adelheid Karola Hedwig Haugwitz Hardenberg Reventlow was born into the German aristocracy and married Count Christian-Einar Ferdinand Ludvig Eduard Reventlow on 26 November1909. He was one of Denmark's greatest landowners and had his seat at Brahetrolleborg on Funen (a half hour drive from my home). They had two daughters and a son. The son died aged 16 in 1928, while at school in England [probably Shrewsbury as his death is recorded in Atcham RD]. The count, heartbroken, died the following year. Lucie travelled widely, especially in England, and resided there during the Second World War, marrying Lieutenant Colonel Bertram James Walker on 19 July 1940. Following his death in 1947 she returned to Denmark and Brahetrolleborg and lived there until she died in 1984, just short of her centenary. Lucie and her sister Naka were deeply involved with the Danish Girl Guides (Det Danske Pigespejderkorps) of which Lucie was an honorary member. She received a medal for her work with the ARP in England.

Source (in Danish): http://www.kvinfo.dk/side/597/bio/1779/origin/170
David Cole writes: My grandfather Charles Percy COLE (1884-1966) was a member of the family of James William COLE (1851-1923) who inhabited Waterend House soon after your ancestor Dolphin Smith left there, i.e. from around 1878 until at least 1907 when my grandfather emigrated to Canada.

I note the following facts:

Waterend House and Farm were part of the Brocket Estate.

The 7th Earl Cowper (1834-1905) owned the Brocket Estate c1900.

His grandmother's name was Lady Henrietta Frances nee Cole (c1781-1848).

Her husband, Thomas PWR De Grey (1781-1859), rebuilt Wrest House in Wrest Park. Beds. in 1839 and the De Greys & Cowpers lived in Wrest House until 1902. Wrest House is 3 miles south of Haynes Church End, Beds.

The father of James William COLE was Daniel COLE (1814-1898) who was born in Haynes, Beds which is 1 mile east of Haynes Church End.

Daniel COLE grew up in Hammer Hill farm very near Haynes. He was living in Haynes immediately after his marriage.

In 1848 Daniel COLE married Emma nee COLES from Cotton End, Beds (no record) Their first child Maria Ann Cole was born in Haynes, Beds in 1850.

Daniel himself probably lived in Haynes from 1814 to 1850. His close relatives probably stayed near Haynes even longer.

So James William COLE rented Waterend Farm from Earl Cowper, the grandson of Lady Henrietta Frances COLE and there were common links with Haynes, in Bedfordshire. Could this be a coincidence?

James William Cole of Water End Farm

I have documented this on my web site at

There seem to be three possibilities:

There is some reasonably close relationship between the two Cole families in the Haynes, Bedfordshire, area - despite the difference in social class. It would help to know more about Daniel - and particularly how well off he was (How big was the farm? Did he leave a will? Was he a church warden in the parish?) Some tenant farmers could be very well off, while other may have been scraping a living on little more than a smallholding.

The families were not related but Daniel Cole was a tenant of the Wrest Park Estate. Landlords like good reliable tenants - and if they are looking for a tenant for a vacant farm they might consider moving a highly competent tenant if the result would be more profitable for both the tenant and the landlord. Such moves may have to be arranged in a hurry if, for example, the sitting tenant dies and his family are unable to manage the farm, and the son of a good tenant would be an obvious candidate to become the new tenant.

There is no deep reason for two families with the name Cole living at Haynes at the same time.

Because the search is hihly speculative at this stage, and involves Bedfordshire records rather than Hertfordshire I will not be following it up - but if anyone else knows the answer I wouild be happy to include details here.
If you can add to the information given above tell me.
| | | |
| --- | --- | --- |
| August 2007 | | Page updated |
| March 2014 | | Harvey's account, mid 20th century, plus Anthony's note |
| April 2014 | | Snapshots of the ford |
| Devember 2015 | | Cole picture and family query. |