Cassell's Gazetteer of Great Britain and Ireland
This was published in six volumes and includes a large number of descriptions of places throughout the country, together with maps. There are also pictures of some places, including some in Hertfordshire.
The 1898 edition is available as a 4 CD set for £28 from Archive CD Books while the 1899 edition is available on a single CD for £20 (published by Quintin Publications) from the Society of Genealogists online bookshop (both prices ex VAT and any postal charges). I have not had a chance to compare the two directly but the Archive CD Books version is quite clearly scanned at a higher resolution, and is probably better bookmarked. This will make entries quicker to find and easier to read - and make the maps and illustrations more useful.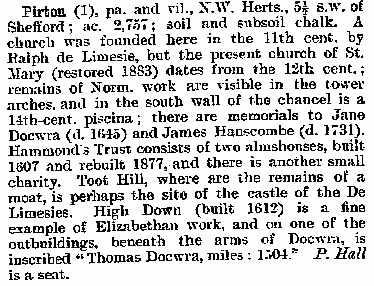 A typical description of a small village from the 1899 edition.
For a sample of a longer than average description of a Hertfordshire town see Hertford.