BUCKINGHAMSHIRE ADVERTISER

UXBRIDGE HARROW AND WATFORD JOURNAL

MIDDLESEX HERTS AND BERKS GAZETTE
This paper was started in 1853, and had various titles, the above being the title in 1890.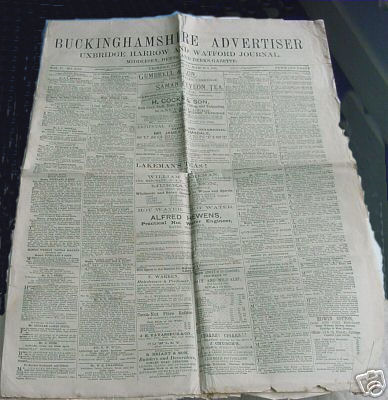 The above issue of 8th March 1890 consists of 8 pages of 6 columns. There were 1½ columns of Hertfordshire News. Watford coverage was limited to a report on cases at the Petty Sessions (which were probably better covered in the Watford Observer) and a report on the Watford Chrysanthemum Society (probably submitted by the secretary of the Society)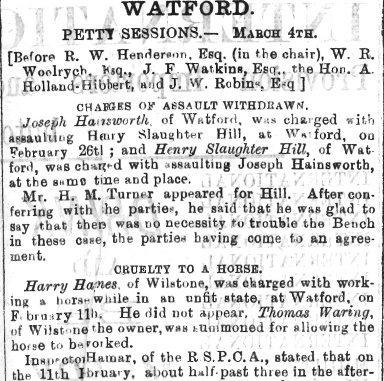 ...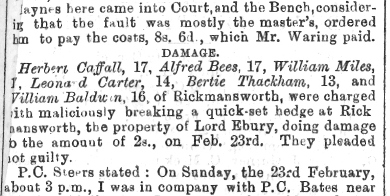 ...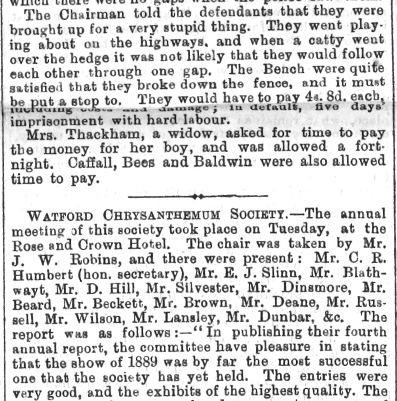 ...
Coverage of Rickmansworth was very different, with a fair number of short news items: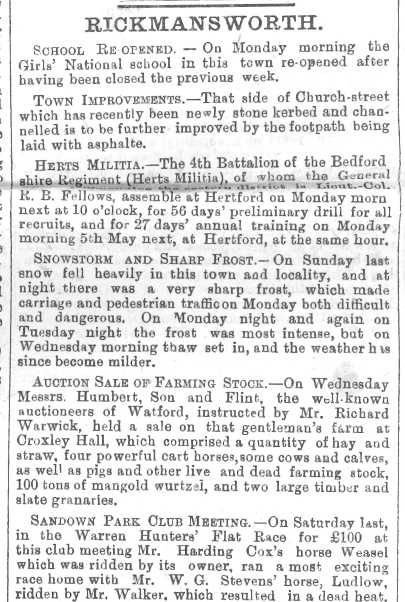 ...
Wesleyan Chapel Missions ...
Conservative and Unionist Meeting ...
Lecture at Herongate ...
Penny Reading Society's readings ...
There were only three display adverts relating to Hertfordshire (plus one by the Rickmansworth Water Works relating to Middlesex):
| | |
| --- | --- |
| | |
There also very few small advertisements relating to Hertfordshire, and no Births, Marriages or Deaths.
MRS. TAYLOR'S WATFORD REGISTRY for Ladies and Servants, 23 King Street, Watford, Herts, Established 1860; COOKS and GENERAL SERVANTS WANTED at once.
SITUATION WANTED in Blacksmith's Shop as IMPROVER; age 21, good character. - W.G., c/o Mrs Yaylor, 23. King Street, Watford, Herts
TO BUTCHERS. - Wanted, by a respectable young man, a SITUATION as first in the shop and slaughterhouse, round if required; good references - Apply R.H., Elstree, Herts.
HERTS - TO BE LET, 109 ACRES OF PRODUCTIVE ARABLE and PASTURE LAND and good HOMESTEAD, together with MODERN RESIDENCE containing 12 rooms, good gardens, and stabling for six nah horses, coach house and harness room, near three packs of hounds, 4 miles from station on the L. and N.W. Railway, and 20 miles from London, suitable for a gentleman farmer. Apply to Mr. H.B. Didsbury, land agent, Watford, Herts.
My view, based on a detailed study of this one issue, is that apart from Rickmansworth, where it might be the paper of choice, this paper is unlikely to contain significant Hertfordshire news in the late 19th century, and what it does contain is likely to be more thoroughly reported elsewhere, such as the Watford Observer.
Middlesex Advertiser and County Gazette
| | | |
| --- | --- | --- |
| BUCKINGHAMSHIRE ADVERTISER | | HARROW & WATFORD JOURNAL |
| THE UXBRIDGE GAZETTE | | RUISLIP - NORTHWOOD COURIER |
[Title in 1927]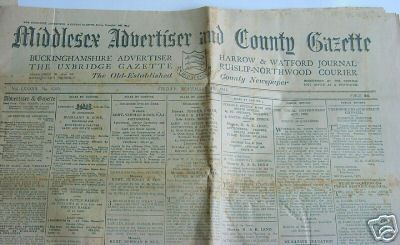 It would appear that by this date the paper had given up all pretence to cover Hertfordshire News.
If you can add to the information given above tell me.
Page Updated November 2007
Picture Keywords: Chorleywood Cedars Estate, beech, oak, larch, timber, Humbert Son & Flint, Watford, Swannell,]