Wendover, Halton House
The model village of Halton is about two miles from Wendover; Halton House is beautifully situated on the slope of Boddington Hill, and is the seat of Mr. A. de Rothschild.
Published by Freeman, Sons & Co., Wendover, Buckinghamshire.
[Printed in England]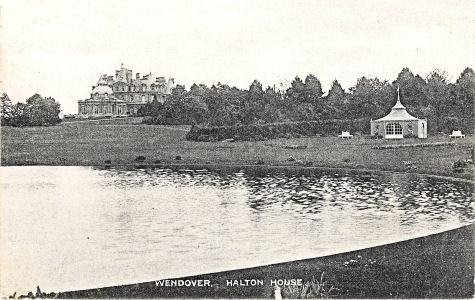 Dear Ned
Just a line to let you know that I am well.
This is the place where we are
Lord Rothschilds letter following.
Tring, Bucks
William Elliot
Card posted ?? ?? 1914 to
Mr Edw Matthews, No 6. 3rd Row, Ellington Morpeth, Northumberland
When war broke out in August 1914 the Northumberland Fusiliers went to War Stations in Berkhamsted, but Alfred Rothschild made his house available and the soldiers relocated in Halton. Their place at Berkhamsted was taken by the Inns of Court Regiment.
The Camp later became used for training aviators, and the origins of the Royal Air Force.