Bishops Stortford
St Michaels
(The ParishChurch)
St Michael's, Bishops Stortford
Valentine's Series post card #39272
photographed 1903
posted 1905


[Framed version of above, posted circa 1918, several monochrome versions also known.]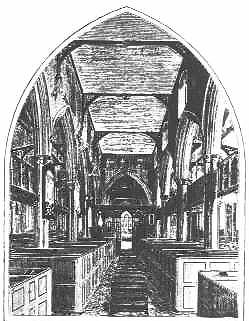 Interior of St Michael's Church before the 1860 restoration. (Cussans)
The church, dedicated to St Michael, occupies a lofty position on Windhill. It is a very large building in the perpendicular style, and was built some 500 years ago, but restored about 1860, and again in part in 1884. The nave is of six bays, separated from the chancel by a fine oak screen (restored). Nearby are the remains of the ancient stairs to the rood loft. The tower has a tall spire and pinnacles at the angles, much of the tower being patched or built in brickwork, plastered over; it contains six bells. (Another church in the county to equal this number is St Peter's, St Albans.)
On the south wall of the nave is a sundial dated 1798. The font is Norman, with four sunk panels on each side, and the south porch contains the remains of a holy water basin.
Of the church's memorials, the most interesting is a brass in the chancel floor to Lady Margaret Denny (1648), a maid of honour to Queen Elizabeth.
Chauncy mentions three guilds and a chantry founded in this church. (Guilds having an altar in the church were common to trades in some towns centuries back, Coventry being an exceptionally interesting place in this respect). Tradition has it, that somewhere on this hallowed ground, within an earlier building was interred the body of Edith the Fair, daughter of Earl Godwin, and wife to Edward the Confessor; but seeing that the Abbey Church of Westminster exhibits her tomb - a tradition it must remain.
From A Pilgrimage in Hertfordshire
St Michael's Church, Bishops Stortford
R A Series circa 1925?
St Michael's Church, Bishops Stortford
Mardon's Series 44285
[Frith negative date 1899]

There are other virtually identical views by other publishers (or unidentified)
Page created October 2007