Ghipperfield

Chipperfield was part of Kings Langley ecclesiastical parish until 1863.
The name is first recorded in the 14th century and may be from the Old English for "traders" giving the "traders' open space" (feld).


Fishpond Stile, Chipperfield Common
Photo by Coles, Watford, circa 1904
The Street, Chipperfield Photo by Downer, Watford, circa 1904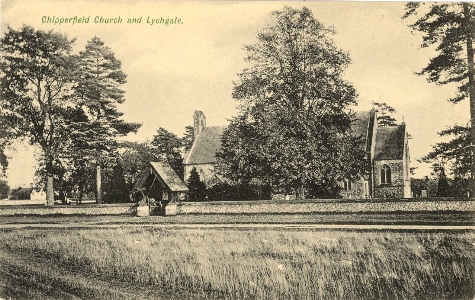 Chipperfield Church and Lychgate
Photo by Coles, Watford, circa 1904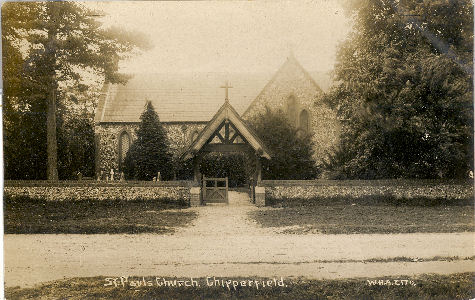 St Pauls Church, Chipperfield
Publisher: W.H.A. Ref: c170 - probably c1910
CHIPPERFIELD is a village, including the hamlets of Common Wood, Buck's Hill and Chandler's Cross, 3 miles west from Kings Langley station and 6 miles south from Hemel Hempstead, in Hemel Hempstead Union, Watford county court district, rural deanery of Watford, archdeaconry and diocese of St Albans. In 1838 the district of Chipperfield was formed out of the parishes of Kings Langley, Watford and Abbots Langley and in 1863 it was constituted an ecclesiastical parish. The church of St. Paul, situated on the common, is a small building, chiefly of flint, erected by subscription in 1837 and consists of quasi-chancel, nave, transepts and has one bell; the west window is a memorial to the Rev Henry Dennis, first incumbent of this church, ob.1863 and there are other stained windows; the church will seat 400. The register dates from the year 1838. The living is a vicarage, yearly value £350, in the gift of trustees and held by the Rev. Wm. Geo. Sharpin B.A. of Caius College, Cambridge. The vicarage house was rebuilt in 1874-5 by the Ecclesiastical Commissioners. The poor of the parish have 12 half-quartern loaves of bread every Sunday and 13 shilling loaves yearly from the charities of the mother parish of Kings Langley.
The principle landowners are the earl of Essex, W. Jones Loyd, Esq. and Henry Blagrove Bradshae esq. and Robert Blackwell esq.; this place is within the manor of Kings Langley, of which Robert Blackwell esq. is the lord.
The soil is mixed; subsoil chalk. The chief crops are wheat, barley and turnips. The population of the ecclesiastical parish in 1871 was 1,200 and in 1881 for Chipperfield district 575.
Kelly's Directory for Hertfordshire, 1882

Tower Hill, Chipperfield
Photo by Downer, Watford, circa 1904
Tower Hill, Chipperfield Photo by Downer, Watford, circa 1904
Book: A Hertfordshire Valley includes a chapter on Chipperfield.
Book: Chipperfield within living memory contains memories of the 20th century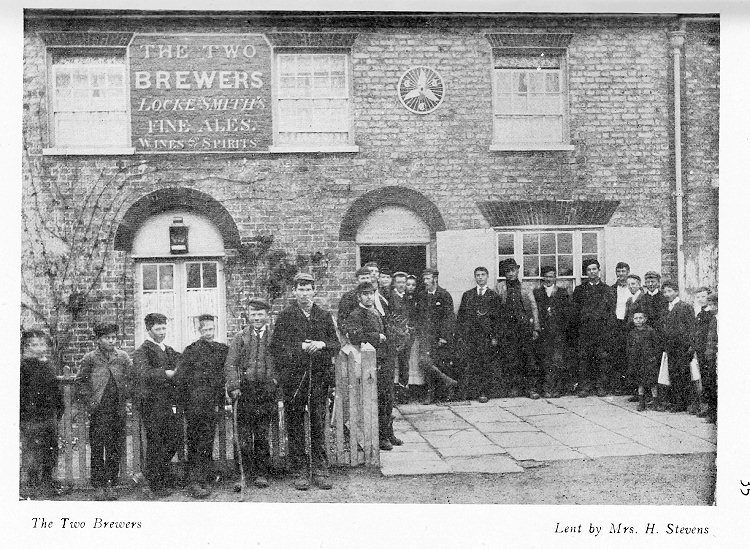 The Two Brewers from Notes on Old Chipperfield
Book: Notes on Old Chipperfield - A very useful booklet published in 1948, which includes a fold out copy of the 1839 survey map of Knigs Langley.

Buck's Hill Bottom, Chipperfield
Photo by Coles, Watford, circa 1904
Book: The Carters of Kings Langley - The ancestors of US President Jimmy Carter came from Chipperfield.
<< The Village, Chipperfield


West View, Chipperfield Common


Fish Pond Path, Chipperfield Common


Fish Pond, Chipperfield Common

<< Pil Pond, Chipperfield Common

Photographs by Downer, Watford
circa 1904
The Trees on the Common

CHIPPERFIELD. It is country pure and simple, chiefly village green, a wide and lovely stretch of Hertfordshire, with a background of wood and common, a place for cricket with a good view from the old inn, or for a stroll into woods and high bracken and sweet-smelling gorse. Among lime trees at one corner of the green stands a small church of last century, not unattractive within; on the far side a road leads in one direction past the dignified manor house (seen through fine gates), and down the hill another road leads to Pale Farm, a timbered brick building with an overhanging storey 400 years old.

Chipperfield is not the place for antiquarians; it is fresh and green and young, one of the best bits of country within easy reach of London, and we found it rejoicing in another gift from its generous Blackwell family, who had just given 113 more acres of wood and heath to the public on condition the elms in front of the manor house are not cut down. On the common is the Apostles' Pond, encircled by eleven beautiful limes, which used to be twelve until Judas Iscariot was blown down. A Spanish chestnut is said to be 300 years old, with a trunk about 21 feet round.

Arthur Mee's Hertfordshire


Bovington Road
[Bovingdon Road]


Nr Watford Road
Chipperfield Common


Fishpond Path
Chipperfield Common

Photographs by Coles, Watford, circa 1904
See JORDAN & Yew Tree Cottage, Chipperfield, early 20th century.
Web Site: Our Dacorum (associated with Hertfordshire Memories)
See also books on Kings Langley
| | | |
| --- | --- | --- |
| August 2010 | | PC of church |
| March 2018 | | Picture of Three Brewers |