Puckeridge

Puckeridge is a village part of which is in Braughing parish and part in Standon parish

It is in the Braughing Hundred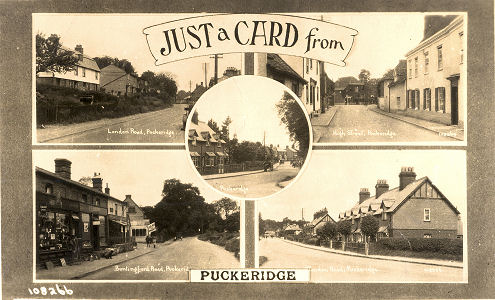 Just a Card from Puckeridge - Published B P C Ltd (1930s)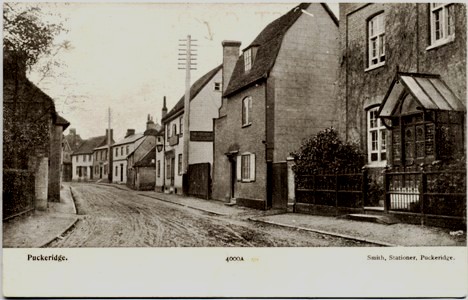 A street scene including the Anchor, Puckeridge, in the middle distance. It was published by Smith, stationer, Puckeridge. Miss Sarah Ann Smith is listed as the stationer in the 1912 Kelly's Directory for Hertfordshire, which shows George Joslen at the Anchor P.H. (see Postcards of Hertfordshire Pubs)
Betty Wilhelmsen (bettywilhelmsen @t hotmail.com) of Carlisle, Ma., U.S.A. writes: The post card (1912) from The Smith Stationer's is such a surprise. Sara Smith was my father's paternal aunt and his only family contact in England. I have 1 letter from her to my Dad and the other letter from her companion Ms. Simmance in 1938. Along with the letter she sent a poem written by my Great grandfather Charles Smith about The Old Puckeridge Toll Gate (1872).We also have a Smith genealogy back to 1771 in Hertford, Puckeridge, Standon (basic names dates and parentage which is hand written by my Grandfather Charles William Smith brother to Sarah Ann Smith (Puckeridge Stationer) and to Mrs. James Judd (Mary Hayden (Smith) Judd). I am trying to find info on Mary H. Judd whom we are told went to Australia and died in childbirth.
In addition I have a letter from a William Smith to his 2 sons Charles and George working in London and written about 1840.This letter was hand delivered by Puckeridge friends or cousins travelling to London. William Smith was my G.G.grandfather and his son Charles was my great grandfather. I suspect there are many Smiths from that line still in Puckeridge or Standon. Sarah Smith was also a music teacher. [March 2007, revised April 2008]
PUCKERIDGE is a village in the hundred of Braughing, county court district of Hertford, situate partly in Standon and partly in Braughing parishes, 6 miles north from Ware railway station, one mile east from Braughing, one mile west from Standon. and 27 miles from London, on the high road from London to Cambridge. A School for the education of both sexes, and lecture room with schoolhouse attached, has recently been erected, principally from moneys left for that purpose by the late Charles Sworder, Esq., of Standon Lodge. Here is an Independent chapel, and a Roman Catholic School.
The trade directory includes:
Drage James, Crown & Falcon
Grant William, Buffalo's Head
Hilton Henry, Anchor
Lagden Sarah (Miss) White Hart
Parker Robert Archer, Woolpack
Spencer William, Rising Sun
1866 Post Office Directory for Hertfordshire.
The High Street, including the Old George, Puckeridge. It is selling McMullen's Ale. It is presumably one of the unnamed beer retailers listed in the 1912 Kelly's Directory for Hertfordshire. (see Postcards of Hertfordshire Pubs)

A Bedwell Series card
High Street, Puckeridge

Published by The R & R Co Ltd

Cars suggest 1920s date

The Shop is the Post Office, which also sells Kodak film.

Kelly's 1926
Mrs Edith Ruth Camp, sub-postmistress & stationer
Standon Road, Puckeridge


Gordon Smith, publisher
15 Stroud Green Road, Finsbury Park
posted Ware in 1909

Also know in colour posted 1907
Puckeridge was on the main road from London to Cambridge - see Ogilby's Strip Map to Kings Lynn (Puckeridge to Barley) and Village development along the Old North Road