Radwell
Adjacent Parishes: Bygrave, Caldecote, Newnham, Norton, Stotford (Bedfordshire)
It is in the Odsey Hundred and the Hitchin Union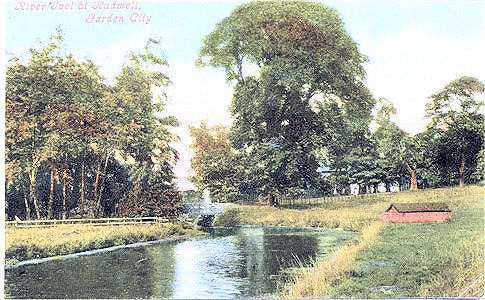 River Ivel at Radwell (Valentine's Series, posted 1908)
RADWELL is a village close to the Biggleswade road, and on a tributary stream of the river Ivel, 1½ miles north-west of Baldock station, and 38½ miles from London. Radwell is in the Odsey Hundred and contains 740 acres, and a population of 98. The assessment to the income tax was £1,387 in 1842. Radwell Grange is 1 mile north. Living a rectory, value £226, in the gift of Francis Pym, Esq., and incumbency of C. J. Spencer.
GENTRY

Pym Francis Leslie, esq. Radwell House

Spencer Rev. Charles J. [rector]

TRADERS

Christy Richd W. miller & bone crusher

Gardiner William, farmer, Bury Farm

Marsh Alfred, farmer, Grange Farm
Post Office Directory for Herts, 1851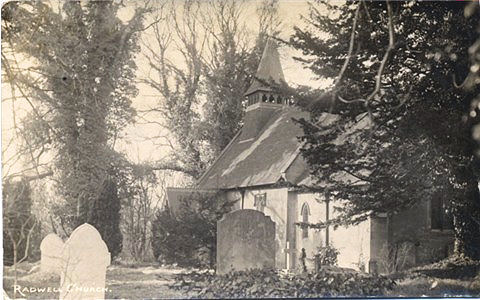 Radwell Church - posted 1920
Dear Mother, I am having a lovely time here. Tell Dada that I have seen pike 2 feet long and some trout in the River [Ivel]. I saw a man shooting rabbits, and I saw a man shoot birds. Charlie went up a tree and showed me birds eggs. I have been helping uncle today. Love Teddy.
Addressed to Mrs Cant, 131 Endlesham Road, Balham, London S.W. 12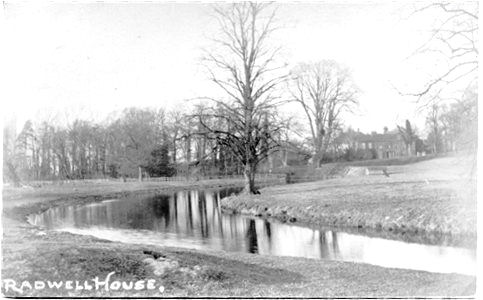 Radwell House - posted Edward 7th
Photo: A Clutterbuck, 225 Ickneild Way, Letchworth
Book: For information relating to the Pym family see Sentimental Journey
Radwell Mill, near Baldock, Herts

Posted 1905

This card may well have been published before the founding of Letchworth Garden City.
Radwell Mill, Garden City Estate
Published by Valentine & Sons. 41550 JV
Bridge at Radwell, Garden City - Valentine's Series, circa 1905
[coloured version seen - 41555? JV posted 1907]
See also Vital Records
Page updated November 2007