St Mary's CHurch,

Redbourn
Redbourn Church, Redbourn
D B Skillman, Harpenden
3rd Series
Posted 1905

Kelly's 1908: Daniel Barton Skillman, athletic depot, stationery, & Post Office, High Street, Harpenden

Another copy of this card, posted July 1914, carried the message: The country here is delightful. Saw a field full of wheat and poppies such a sight.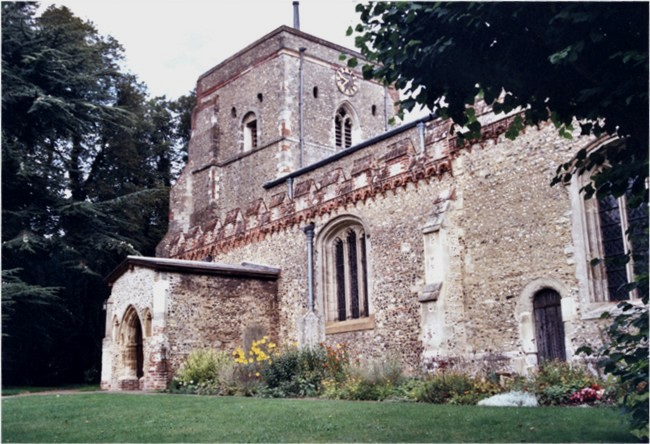 The Church was visited in August 2004. It is at Church End, Redbourn, adjoining the Hemel Hempstead Road, and adjacent to countryside to the west of the village, well away from the village centre. It would seem that over the centuries, the village centre developed along the main road from London to Dunstable, which later became the A5 trunk road.
| | | |
| --- | --- | --- |
| | | The Church was consecrated in about 1100, and the North Aisle, with its Norman arches, was added about 30 years later. In the 14th century the Chancel was enlarged and the South Aisle was built. Further changes were made in the 15th century, but the church remained structurally unchanged until 1989 when the Transept Hall, which provides a parish hall and other facilities, was built to the North of the Church. |
One thing which will disappoint most family historians, is that the area immediately surrounding the church has been converted to lawn, and virtually all the older tombstones have been removed. It was noted that a large number had been used (stacked flat) to build a wall round the compost heap.
| | | |
| --- | --- | --- |
| There is an excellent little guide, published in 2003, and based on an earlier guide produced by the Redbourn Research Group in 1973 and revised in 1983. | | This picture shows the box pews (probably constructed in the 17th century) from a drawing made by J. C. Buckler in 1839. They were removed in 1850. |
The memorials have been indexed by the Hertfordshire Family History Society
There is a web page for Redbourn
Original Photographs © Chris Reynolds
If you know of other books, websites, etc, relating to this place, please tell me.
Last Updated September 2004