Adjacent Parishes: Flamstead, Harpenden, Hemel Hempstead, Market Street (= Markyate), St Michaels (St Albans), Wheathampstead
Redbourn, an ancient town on the River Ver, in St Albans Union and Liberty, and on Watling Street, 24 miles form London, 4 miles north-east of Hemel Hempstead station, 4½ miles north-west of St Albans. Previous to railway being opened upwards of 80 coaches passed through, and now there is not a single conveyance. In 1831 the population was 2,024, and the number of acres is 4,260, assessed to the Property Tax, in 1815, at £6,499, and, in 1842, at £9,577. On the river are mills, and there are fairs on the first Wednesday after Jan. 1st, on Easter Wednesday, and on Whit Wednesday. The church, ½ mile south west, is ancient, but recently restored, and the living is a vicarage, valued R. R. 1834 at £302 per annum, in the gift and impropriation of the Earl of Verulam. The vicar is the Rev. William S. Wade. Aubury, close to Foster's Farm, is an ancient camp of large size, ¾ mile south-west. Dean end, Revel end, Hammond's end, Beeson's end, and Rothampstead are places in the neighbourhood.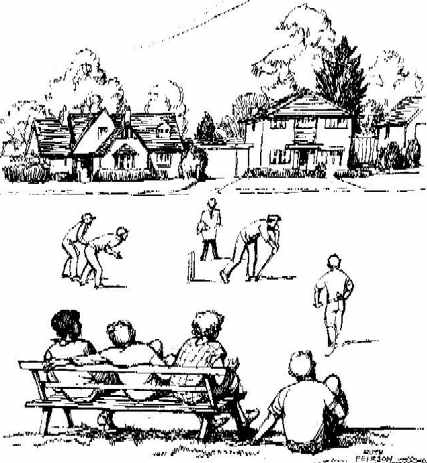 Redbourn Common lies to the west of the High Street, and is over half a mile long ... The Common is the home of the Cricket Club, the oldest known team in the country, dating from 1666. Matches are played here every week-end during the season with a cricket week in August and the occasional celebrity match. Some of the many lively organisations in the village arrange fetes on the common during the summer, a fair visits twice a year, the village bonfire and fireworks evening is becoming an established event, followed a few days later by the Remembrance Day Service at the War Memorial ,,,
The Hertfordshire Village Book
See review of Redbourn for information on The Cricketers Inn.
Book: Redbourn's History
Book: The Story of Redbourn
Book: Redbourn by May Walker
Books by Geoff Webb: Redbourn through time, The Character of Redbourn, Redbourn Memories, Redbourn Reflections, A Redbourn Commoner. In addition a number of his Redbourn photographs are on the web site Hertfordshire Memories.