From the Blog 28th August 2010
Heartwood Forest
is immediately to the south of
No Mans Land
, and while in the area I took the opportunity to attend their open day.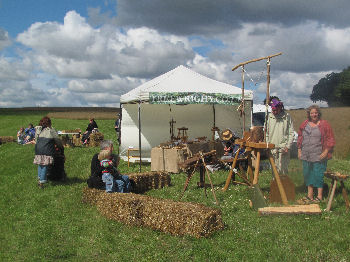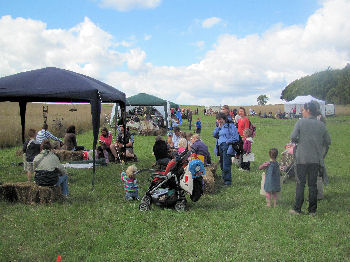 From the Blog 1st July 2010
Why not plant a tree for your Hertfordshire Ancestor
: Before the Iron age much of Hertfordshire was covered by forest, and there has always been a need for woods to provide timber and fuel. A few ancient woods (much changed by woodland husbandry over the years) survive and the
Woodland Trust
has now acquired some 800 acres of farmland near
Sandridge
, immediately south of
No Mans Land
Common. The area includes some small surviving old woods. The
plan
is to plant some 600,000 trees in coming years to recreate a significant forest area less that 25 miles from central London..
The area is of particular family interest in that my first home (until the age of eleven months) was in Sandridge and my ancestors have farmed in the immediate area for several hundred years. In fact a small spinney close to the east boundary of the new forest area was planted on Hammonds Farm by my father some 89 years ago.
A spell of fine weather (actually really too hot) tempted me to visit the new forest yesterday. Much of the area is still large open fields, although there were small patches planted last year with very young trees, almost invisible in the distance because of the length of the grass. However in a few years major changes will start to show, and the whole area will be a great haven for woodland animals and plants for future generations to see and admire.
So why not visit the Woodland Trust's Heartswood Forest page - and even better plant a tree (or trees) for your Hertfordshire ancestor(s). If you live in England you could also come to Sandridge on 28th August and attend the HeARTwood Festival, the annual family summer festival celebrating trees and woodlands through art.
Some of the ancient woods in 1884

In Langley Wood

In Well Wood

Towards Pudler's Wood
For information of the farmer of part of this area see Jonathon Cox, Hill Farm, Sandridge, 1821-1881
f you can add to the information given above tell me.
| | | |
| --- | --- | --- |
| July 2010 | | Page created |
| August 2010 | | Jonathan Cox link |
| December 2010 | | Broken link repaired |