Roderick Manzie (roddy @t merlinmr.co.uk) wrote: Your multimap page on the website references Eylotts and Meadow Lodge on Hammonds Lane, where you were brought up in Sandridge. I now live in Meadow Lodge - was it you who was brought up here - I am interested in the history of the house.
The house called Meadow Lodge, was formerly Eylotts, and was named after the field on Hammonds Farm in which it was built. In answering your query it is sensible to summarise the history of the farm - which is very much tied up with my ancestors.
The Thrale family had connections with Hammonds farm from before 1603 until the death of John Thrale in 1803. By this date most of Sandridge, including Hammonds and the often linked Tower Hill Farm, were owned by the Lord of the Manor, Earl Spencer.
The next tenant appears to have been William Cox (1784-1853), the son of William Cox (1760-1802). He married Elizabeth Weathered in Sandridge in 1803 and his first child was baptised in Sandridge in 1804. In 1824 William had moved to Nash Farm, Sandridge, and he may have been immediately succeeded at Hammonds by his brother Thomas Cox (1794-1874), who was definitely in Sandridge in 1828, and definitely at Hammonds Farm in 1832. In about 1858 Thomas retired to live in St Albans and his son Henry Cox (1826-1882) succeeded to the tenancy. In about 1863 Henry moved to Harpendenbury Farm, Harpenden, where his children included Sarah Constance Cox (1867-1935).
Henry Cox was succeeded at Hammonds Farm by Jacob Reynolds (1835-1926). He married Ellen Smith (1840-1935), daughter of Dolphin Smith (1805-1885) of Water End, in 1864. His eldest son, Harry Finch Reynolds (1865-1947), was born at the farm. In 1870 Edmund Smith (son of Robert Smith of Heath Farm, Sandridge, see Who is related to who) died suddenly, and it appears that Jacob Reynolds stepped into the breach, running both Heath Farm and Hammonds for a short period before vacating Hammonds in 1871. In 1893 Harry Finch Reynolds married Sarah Constance Cox at Harpenden.
Richard Clark (1823-??) was living, and probably farming at Tower Hill Farm, Sandridge, in 1867 - suggesting that Hammonds and Tower Hill were then being run as two separate farms. By the 1871 census Richard, his wife Mary , and his brother Joseph (1848-1876) were farming at Smallford. However by 1874 Joseph was listed as farming at Hammonds, and following his death in 1876 he was succeeded by Richard's widow, Mary. She was farming both Hammonds and Tower Hill Farm in 1900. In 1909 and 1922 her son Richard Clark was farming Hammonds and Tower Hill.
Meanwhile Harry Finch Reynolds had become a veterinary surgeon, and built Calverton, the large house, next to the Cricketers, which looks down St Peter's Street, St Albans. His son Gerald Finch Reynolds (1907-1977) was born there. Following war service with the Royal Army Veterinary Corps Harry returned to St Albans to find that most of his customers had deserted him - and in 1922 decided to return to farming - moving to Hammonds Farm.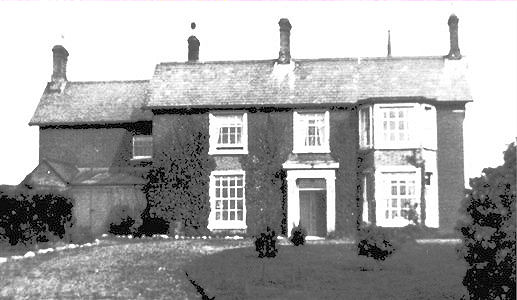 Hammonds Farm House, 1936
While his elder son Jack moved away (including going to Southern Rhodesia in a gold rush) Gerald stayed and worked on Hammonds farm, his duties including looking after the poultry side of the business.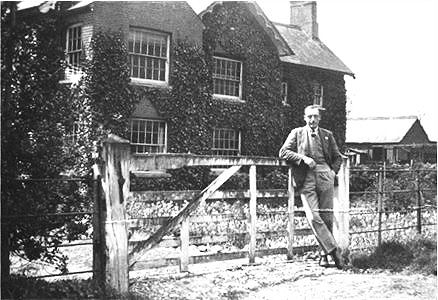 Gerald Reynolds at the back of Hammonds, 1936
In 1937 Gerald married Frances Bertha (Betty) Locke, and as a wedding present they were given the field Eylotts, which may have already contained some poultry sheds (erected by Gerald). A new house was erected, and given the name the field was known to have had for at least 200 years.
| | |
| --- | --- |
| Eylotts from Hammonds, circa 1938 | Rear of Eylotts, circa 1938. The cage on the corner of the house contained foreign finches. |
Probably at the same time as Eylotts was built Harry decided to retire from farming and built Little Hammonds, where he lived at least until 1943, when he moved from Sandridge, first to Bexhill and then to Torquay. I have no information on who moved into Hammonds Farm House and who ran the farm. However Gerald and Betty ran the poultry farm at Eylotts and in 1938 Christopher Finch Reynolds (Me!!!) turn up.
| | |
| --- | --- |
| Gerald Reynolds and Chris (6 months) at Eylotts | Gerald, Chris, with friend, about to leave Eylotts, 20th February, 1939 |
At the end of 1938 farming was not very profitable, and following discussions with his St Albans accountant, Mr Hole, Gerald sold Eylotts for, I believe, £1,250, and in early 1939 he rented a shop that had been run by the late Bert Hole (a relative of his accountant) in Watchet, Somerset. As a result I was brought up in the Somerset and Devon, returning to Hertfordshire in 1962, with no memory of my year living at Eylotts.
I can add little about what happened after 1939, except that the 1949 Kelly's street directory shows that at that time Hugh Buckingham was living in Hammonds, the farmer was a Fredrick William Jackson, and a Miss D. W. Hall, M.B., F.R.C.S., was living at Eylotts. More recently I have driven along Hammonds Lane and noticed that the house had been renamed.
December, 2003
Angus Johnson writes: My neighbour Rod Manzie gave me a copy of your note about Hammonds Farm. I own the House (but not the farm) and so you might be interested in what happened after your grandfather left.
Harry Reynolds owned Hammonds Farm until 1939 (although Henry Reynolds and Gerald Reynolds are also named in the conveyance which is referenced in my deeds). I think Harry had bought the land from the Spencers around 1920.
I was unaware of the precise arrangements. Henry Jacob Finch Reynolds (1897-1962, my Uncle Jack) left the farm and was in Southern Rhodesia by 1929. He came back to England in 1937, returning to Southern Rhodesia in 1952.
The farm was sold to a gravel company Boyers in 1939. In 1938 Fred Jackson moved into the Farm as tenant, and lived in the Farmhouse for about 7 or 8 years, then moving into the new house next door built by Harry Reynolds in 1938.
At about the same time as Gerald was building Eylotts Harry was building what he called Little Hammonds, with a view to giving up farming. The picture shows Harry and his second wife, Pauline, outside Little Hammonds. The picture was taken in 1939 and the baby is me!
At some time in the late 40s Hugh Buckingham moved into the House, and in 1951 Boyers sold him the House (for £3850), thus separating it from the farm. In 1953 Buckingham sold the house to Lilian Sursham, wife of the owner of Markyate Cell, and it was occupied for some years by the Campbell family Ė I donít know if they were related to the Surshams.
In 1964 the House was sold to Angus Ashford and his wife Elizabeth (nee Mercer of the St Albans chronometer makers Mercer) who moved there from Beaumont Avenue in St Albans. They stayed until 1993 when I bought Hammonds.
Hammonds Farm is still farmed by Henry Jackson, Fred Jacksonís son. He remembers living in the house as a boy, and also has vague memories of your father and grandfather. Before the war his father employed about 10 men. Now Henry (in his 70s) does it single handed. Boyers still own the land, with the exception of a 6 acre field in front of our house, which was hived off in the 1950s and now belongs to us.
Incidentally my copy of the 1881 census shows Mary Clark and her son at Hammonds and a grand-daughter called Kate Mossman. One of the windows in the drawing room is engraved in a childís hand with the name Kate Mossman!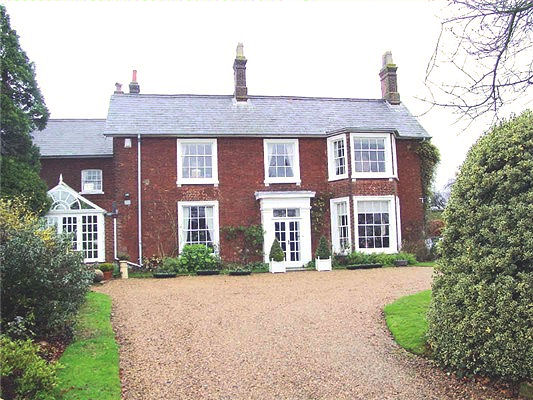 Hammonds Farm in the 21st century

I was very interested to see the photos of Hammonds Farmhouse in 1936. It hasnít changed very much in the last 30 years. I think that Harry Reynolds may have been responsible for the bay window at the front as this seems to have been a 20th century change. I enclose a recent photo.

[above]

I believe that there is some earlier history of Hammonds Farm in the Althorp Estate archives which are held in Northampton County Library. I have been meaning to go there but havenít found time yet.
I have looked at some of the Althrope Estate Papers in the Northampton Records Office. While they do contain information about Hammonds it is not easy to find, as very few documents appear to be about single named farms. For instance some of the documents are lists of fields cultivating various crops in specific years - unfortunately this covers the whole of Sandridge and fields are numbered according to maps which appear to have been sold off. I have some manuscript notes, which need sorting out, so may be able to add something from this source at a later date

One of the key estate maps from 1726 is now in the British Library and I have some notes on that which I have posted as A Survey of Sandridge in 1726. This lists the owners and occupiers of all the property in the manor at the time and shows John Thrale was at Hamens or Amen farm.
I have added the following "Old News" press cuttings which refer to Hammonds Farm:
Trespassing in search of rabbits at Sandridge (1866)
Assault on Hammonds Farm. Sandridge (1869)
HAWKINS, Hertford Jail, 1871 (1871 & 1873)
If you can add to the information given above tell me.