George Fearnley Whittingstall was baptised on at Watford on 13 March 1830, the son of the Watford Brewer, Edmund Fearnley Whittingstall (1788-1854) and Mary, daughter of John Griffin (married 21 September 1825). George married Anne Mary Myers, daughter of William Joseph Myers at Shenley on 25 July 1854, and were living in Prae House, Redbourn Road, St Michael's, St Albans by the time of the 1861 census. He was still there, listed as Captain George F Whittingstall in the body of the 1866 Post Office Directory for Hertfordshire. In 1862 and 1863, and later in 1874, the leases of the Watford Brewery and its tied estate were transferred to William F. Sedgwick.
It seems likely that Hawkswick was built in about 1866/7 and George Whittingstall moved there from The Pré, which was put on the market in 1868 (Herts Advertiser 14th March, 1868). It is known that Henry Joseph Toumlin moved to The Pré after George left and was there for several years before moving back to Childwickbury on the death of his father in 1871. It is possible that two of his children, Mary in 1868 and Evelyn in 1870, were born in The Pré. An unconfirmed report (Christine Aitken) suggests that a house in Harpenden built in the 1930s from materials salvaged from Hawkswick had iron gutter boxes dated 1866? which are identical with those in pictures of older house. In addition the index of the 1866 Post Office Directory lists George as being at the "Red House", St Albans, suggesting that an amendment was received while the directory was in preparation and was only partially amended. (Hawkswick was built of red brick.) It may be possible to check from records of the Petty Sessions at St Albans, as George became a J.P. in, or shortly before, December 1866 and there should be some record of his appointment which would include his address.
George purchased Hawkswick and it seems likely that he decided to retire to Hertfordshire, leaving his son George Edward Checkland (who married Agnes Aked Claye at St Lawrence, Long Eaton, Derbyshire in 1873) in charge of the business, although he kept in touch as the following news item, from the Burton Chronicle of 8 July 1875 shows:
On arrival in St Albans George started to take an interest in local affairs. The Herts Advertiser reported his involvement in the the first vegetable and flower show to be held in Sandridge in September 1875, while in May 1876 he was listed as one of the proposed shareholders in the St Albans Public Baths. He is also listed as living at Hawkswick in the 1878 Post Office Directory.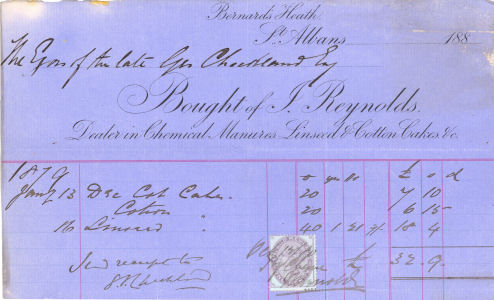 In January 1879 he purchased cotton cake and linseed cake from Jacob Reynolds of Bernards Heath but the bill was not paid until October 1880 because George died on 25 May 1879. His estate was not proved until 21 September 1880, the executors being Millicent Checkland (widow), George Edward Checkland (son) and George Griffiths Williams. Another receipt, dated 24 November 1880 for £18 17s, probably refers to clothing he brought before he died, and later paid for by the estate. His well-stocked cellar, sold off in October, included 100 dozen fine old Port, 30 dozen Claret, four dozen Maderia, two dozen Chateau d'Yquem, six dozen sparkling Moselle, three dozen Champagne, five dozen sparkling Johnannisberg and two dozen sparkling Schwartsberg (Luton News, 22nd October 1880).
At the time of the 1881 census an unnamed property, believed to be Hawkswick, was occupied by John Miles (a 53 year old housekeeper), his wife, and Jane Hutchins (a 24 year old domestic servant). There was also a gardener in Hawkswick Cottage. George's widow, Millicent, was living at 41 Thistle Grove, Kensington, London, W. It is not known if the house was sold at the auction, or later by private treaty.
---
Merchant & Ship Owner - at Hawkswick 1881-1897
John Sherriff Hill was born on 13th August 1836 at No 30, York Place, City Road, Islington, the son of John Hill (a merchant, born in Scotland in about 1796) and Elizabeth (born Scotland about 1796) and was baptised at the Scotch Church, River Terrace, [Islington?] on 27th December 1836. In 1871 John S Hill, J.P. (merchant and shipowner, born Islington, 1837) was living with his wife Julia Skipper (33, born Bloomsbury - married 1861), six children, and seven living in staff, at Long Ditton, Surrey. He was still at Long Ditton in 1881, described as an Australian merchant ship owner, with one new child, born in 1872, a new wife, Amy Fitz-Gerald (born in India in 1858), and six resident staff. John and Amy married in 1877.
John Sheriff Hill came to Hawkswick in 1881, almost immediately became a magistrate and started taking an interest in activities in St Albans. For this reason there are many mentions of him in the Herts Advertiser - especially when he was on the Bench in the Magistrates' Court, but also on various subscription lists. As there is was comprehensive obituary I am only mentioning a few news items here.
The Times of 15th October, 1883, carried an advert for a Resident Governess for two children of 12 and 14. Thorough English, French, German and music indispensable A liberal salary will be paid and a comfortable home may be relied on. The favour of any lady's recommendation would be much valued. Apply, by letter, to Mrs J. S. Hill, Hawkswick, St Albans.
The 1891 census shows the family in residence, with the normal bevy of resident domestic staff.
| | | | | | | | |
| --- | --- | --- | --- | --- | --- | --- | --- |
| HILL, John S | Head | Married | M | 54 | 1837 | Australian Merchants & Ship Owner | Islington, Middlesex |
| HILL, Amy | Wife | Married | F | 33 | 1858 | | East Indies |
| HILL, Elizabeth M | Daughter | Single | F | 21 | 1870 | | Long Ditton, Surrey |
| HILL, Walter F | Son | | M | 9 | 1882 | | St Michaels |
| HILL, Amy F | Daughter | | F | 8 | 1883 | | St Michaels |
| HILL, Winifred M | Daughter | | F | 7 | 1884 | | St Michaels |
| HILL, Elsie F | Daughter | | F | 5 | 1886 | | Kensington, Middlesex |
| HILL, Edith F | Daughter | | F | 3 | 1888 | | St Nicholas |
| RAMSEY, Lilian A | Governess | Single | F | 21 | 1870 | Governess | East Indies |
| MILD, Agnes M | Servant | Single | F | 24 | 1867 | Ladys Maid | Scotland |
| BARRETT, Eliza P | Servant | Single | F | 47 | 1844 | Nurse | St Pancras, Middlesex |
| LANGFORD, Fanny | Servant | Single | F | 28 | 1863 | Cook | Lyndhurst, Hampshire |
| JENKINS, Esther M | Servant | Single | F | 23 | 1868 | Housemaid | London, Middlesex |
| ARKELL, Annie M | Servant | Single | F | 22 | 1869 | Housemaid | Hartley, Gloucestershire |
| MARKWELL, Florence E | Servant | Single | F | 17 | 1874 | Under Nurse | Bishops Stortford |
| MASON, Annie M | Servant | Single | F | 21 | 1870 | Kitchen Maid | Ramsey, Hampshire |
However it is not clear whether the family was in continual residence as the Herts Advertiser of 13 August 1892 reported at length that Mr. Hill's house at Hawkswick, now temporarily occupied by Mrs Seligman, of 3 Moreton Gardens, South Kensington, was the scene of a robbery last Friday night, or early Saturday morning ... [The 1891 census shows Elemore Seligman (an American citizen born in Germany in 1845) at 3 Moreton Gardens with a large family born in America or Germany, the eldest son being a banker.]
In 1893 John Blundell Maple, of Childwickbury, purchased the adjacent Hawks Wick Estate from the J. S. Hill family for £10,000 and agreed to them remaining as tenants for an annual rent of £400. (Christine Aitken's Childwickbury)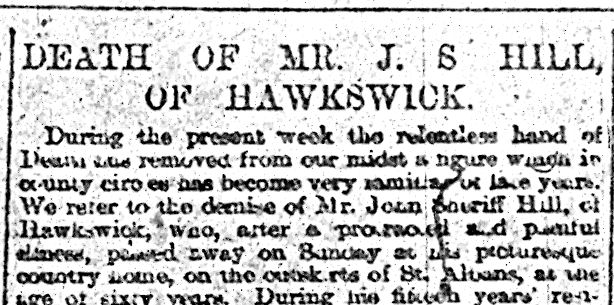 DEATH OF MR. J. S. JILL OF HAWKSWICK

During the present week the relentless hand of Death has removed from our midst a figure which in county circles has become very familiar of late years. We refer to the demise of Mr. John Sheriff Hill, of Hawkswick, who after a protracted and painful illness passed away on Sunday at this picturesque country home, on the outskirts of St. Albans, at the age of sixty years. During his fifteen years residence in Hertfordshire, Mr Hill and his family have been closely identified with the public [???] of the county, and he, by his large-hearted beneficence, and truly noble demeanour, had won a prominent place in the estimation and affection of all those whom he chanced to meet in the fulfilment of his various engagements.

The deceased gentleman was a son of the late Mr. John Hill, originally of Montrose, Scotland, and afterwards of Portland Place, London, and his mother, nee Miss Elizabeth Duke, was sister of Sir James Duke, Bart., M.P., who was for many years was member of Parliament for Boston, Lincolnshire, and afterwards was representative for the City of London. The gentleman whose regrettable death we now record, was born in London, and was educated at Brighton, King's College, London, and abroad. At the age of sixteen or seventeen he entered his father's firm in London, now styled as Messrs. Nicholas Wood and Company, and connected with the Coal Exchange, During the year 1848-50, Mr. J. S., Hill resided at the Mansion House, his uncle, Sir James Duke, being Lord Mayor of London for that year. In 1861 he married Miss Julia Skipper, daughter of Mr. Charles Skipper, of Russell Square, London, who, however, died in 1874. Mr Hill remained an active member of his father's firm up to the time of his marriage, when he removed to Shelton, near Burslem, in Staffordshire, for which county he was appointed a magistrate. He remained at Shelton until the end of 1864, when he went to Long Ditton, in Surrey. In 1865 he took a voyage to Australia, mainly for the benefit of his health, and while staying there, he became connected with Australian affairs. Upon his return he joined the firm of Messrs. Young, Elders and Company, Australian Merchants, of Great St. Helens. In 1874 the death of Mrs. Hill took place, and three years later the deceased gentleman was married to Miss Amy Fitzgerald, daughter of Major C. M. Fitzgerald. In 1881 he took up his residence at the handsome mansion, Hawkswick, previously occupied by Mr. Checkland, and in the first instance by Major Whittingstall, the builder. Mr. Hill had not been long resident at Hawkswick when he was appointed upon the Commission of the Peace for the County, and he was frequently seen adjudicating upon the Bench, as a member of which he was very highly esteemed. In all projects for the benefit of his fellow-men, the deceased took a lively and whole-hearted interest, and his assistance, always freely and ungrudgingly given, was very much valued. He was, for a number of year, a member of the St Albans Public Library Committee, and although not a regular attendant, he took a deep interest in the work carried on at that institution, and the School of Science and Art. At their meeting on Tuesday evening, the Library Committee unanimously passed a resolution of condolence with Mrs. Hill and family. For more than twenty years Mr. Hill was on the Board of the Union Bank of Australia, and took a great interest in its operations, and he was also a director of the Imperial Fire and Life Insurance Companies, having, for some time, acted as Chairman of both. As a governor of St. Bartholomew's Hospital, in London, too, he was very much respected.

During his residence in Staffordshire, Mr. J. S. Hill devoted a great deal of time and interest to the project for the foundation of the Wedgewood Institute, which was erected as a memorial to "the Father of English Pottery," at Burslem, and which received the cordial support of Mr. W. E. Gladstone, the then Chancellor of the Exchequer, Earl Granville, the Chief on the Committee of Council on Education, the Right Hon. Robert Lowe, vice-president of the same committee, Sir James Duke and many other leading gentlemen. Mr. Hill was untiring in his efforts as chairman of the committee by which the proposal was advanced and brought to a very successful issue, in the erection of one of the most valuable institutions in Staffordshire.

The affliction from which the deceased gentleman suffered was sarcoma, for which he was attended by Mr. H. Leslie Bates, of St. Albans, together with London physicians. In January of last year it was found necessary to perform a surgical operation, upon recovery of which he went abroad for a time, but in April it was found necessary to again operate upon him, and although he seemed to be better, his recovery was regarded as a matter of great uncertainty. During the summer he stayed at Eastbourne for his health, and although under medical, he continued until October to move about here and there discharging various public duties, giving his attention and influence to those institutions which had the honour of his genial patronage.

Mr. Hill leaves a widow and twelve children, four sons and eight daughters, for whom the sincere sympathy of all will go out in their sad bereavement. Among the children by the first marriage are the Rev. Charles Hill, rector of Halesowen, Staffordshire, Mr. Herbert J. Hill, who has been closely identified with cricket in St. Albans, now in Australia, and Lieut. E. R. Hill of the Highland Light Infantry, at present at Malta, while among his daughters are Mrs. Darlington and Mrs. Law, both of Harrow.

[Continues with details of the funeral at St Michael's Church.]

Herts Advertiser , 23 January, 1897
---
Dowager Countess of Limerick
at Hawkswick c1898-1900
The St Albans Street Directory lists the occupant of Hawkswick between 1898 and 1900 to be the Dowger Countess of Limerick - but I have found no other local references, apart from the observation that the Countess of Limerick (gardener J. T. Ryder) won prizes for black grapes, peaches, melons, cucumbers, fuchsias, and table flowering plants at the Harpenden Horticultural Show in 1899 (Luton Times, 25th August, 1899). However William Hale John Charles Pery, 3rd Earl of Limerick died on 8 August 1896, leaving a widow, Isabella, the daughter of James Charles Henry Colquhoun, who he married in 1877. Following his death Isabella married Major Sir Edmund Halbert Elliot on 22 February 1898. It therefore seems she may have rented the house sometime in 1897 but only lived there for a short time.
---
Walter Reynolds
Provision Merchant - at Hawkswick 1900-1924
Walter Reynolds was born in 1847 in St Luke's, Finsbury, the son of William Reynolds (provision merchant, born 1815 in Nottingham) and Emlyn, his wife. In 1871 Walter was a provision merchant living at Pemberton Gardens, St Mary's, Islington with his wife Kate Cooper Harris (born Windsor, in 1848, married 1869) and an infant child. Ten years later he, and the growing family were at Lynton House, Hampstead Lane, Hornsey, an in 1891 he was still a provision merchant, living with the family at 9, The Grove, St Pancras, Highgate. The family appears to have moved to Hawkswick in the Summer of 1900.
STABLE-HELPER WANTED for country: must be well up in his work; wages £1 weekly, with room. - Apply stating height, age and experience, Caulkitt, the stables, Hawkswick, St Albans, Herts.

Morning Post, 10 August, 1900

WANTED, a Thorough PARLOURMAID for country house where two are kept: must have excellent references. - Apply Mrs. R., Hawkswick, St Albans.

Morning Post, 3 October, 1900

EXPERIENCED PARLOURMAID WANTED for country house where two are kept: must have excellent references. - Apply Mrs. Reynolds, Hawkswick, St Albans.

Morning Post, 16 October, 1900
He was in definitely in residence, with resident domestic staff in place, by the time of the 1901 census.
| | | | | | | | |
| --- | --- | --- | --- | --- | --- | --- | --- |
| REYNOLDS, Walter | Head | Married | M | 54 | 1847 | J P Provision Merchant | Finsbury, London |
| REYNOLDS, Kate C | Wife | Married | F | 53 | 1848 | | Windsor, Berkshire |
| REYNOLDS, Walter H | Son | Married | M | 30 | 1871 | | Islington, London |
| BEGLISE, Catharine M | Daughter | Married | F | 25 | 1876 | | Islington, London |
| REYNOLDS, Cecil H | Son | Single | M | 22 | 1879 | Undergraduate | Highgate, London |
| REYNOLDS, Margaret D | Daughter | Single | F | 18 | 1883 | | Highgate, London |
| BARKER, Alexander J | Nephew | Single | M | 34 | 1867 | Tea Merchant | Enfield, Middlesex |
| ROBINSON, Josslyn A | Visitor | Single | M | 22 | 1879 | Land Agent | Cockermouth, Cumberland |
| SNOWDON, Annette | Servant | Single | F | 34 | 1867 | House Maid Domestic | St Pancras, London |
| WELLS, Fanny E | Servant | Single | F | 39 | 1862 | Parlourmaid Domestic | Bethel Green, London |
| DEVLIN, Eliza J | Servant | Widow | F | 36 | 1865 | Cook Domestic | St Pancras, London |
| CARTER, Edith | Servant | Single | F | 26 | 1875 | Parlourmaid Domestic | Horton, Oxfordshire |
| MOBBS, Florence M | Servant | Single | F | 24 | 1877 | Housemaid Domestic | Westminster, London |
| SMITH, Ethel T | Servant | Single | F | 21 | 1880 | Kitchen Maid Domestic | Rickling, Essex |
| NICKOLLS, Alice | Servant | Single | F | 15 | 1886 | Scullery Maid Domestic | Leytonstone, Essex |
On 13th January 1905 the Luton Times reported that Mr Walter Reynolds, of Hawkswick, St Albans, who has resigned the chairmanship of the Highgate Bench of Magistrates, is an elder brother of Sir Alfred Reynolds, of Digswell, and succeeded as resident at Hawkswick the Dowager Countess of Limerick.
Walter Reynolds was a tenant, and an advert in the Herts Advertiser of 1 December 1906 announces the sale of the estates of the late Sir J. Blundell Maple, of Childwick, which included: The Hawkswick Estate (two miles from St Albans) and comprising an Imposing Mansion, Stabling, Model Farm, Two Lodges, Pleasure Grounds, and an undulating Park, in all 75 acres. Vacant possession Lady Day next.
Christine Aitken's book Childwickbury reports that on 17th April 1907 Hawkswick was conveyed to J. B. Joel, the new owner of Childwickbury, and the lease on the house and gardens was renewed with Walter Reynolds continuing as tenant at a quarterly rent of £143 15s.
| | |
| --- | --- |
| Miss Margaret D Reynolds, of Hawkswick, took the part of Boadicea in the 1907 St Albans pageant. | |
In 1911 the occupants of Hawkswick were listed as:
| | | | | | | | |
| --- | --- | --- | --- | --- | --- | --- | --- |
| REYNOLDS, Walter | Head | Married | M | 54 | 1847 | J P Provision Merchant | Finsbury, London |
| REYNOLDS, Kate C | Wife | Married | F | 53 | 1848 | | Windsor, Berkshire |
| REYNOLDS, Walter H | Son | Married | M | 30 | 1871 | | Islington, London |
| BEGLISE, Catharine M | Daughter | Married | F | 25 | 1876 | | Islington, London |
| REYNOLDS, Cecil H | Son | Single | M | 22 | 1879 | Undergraduate | Highgate, London |
| REYNOLDS, Margaret D | Daughter | Single | F | 18 | 1883 | | Highgate, London |
| BARKER, Alexander J | Nephew | Single | M | 34 | 1867 | Tea Merchant | Enfield, Middlesex |
| ROBINSON, Josslyn A | Visitor | Single | M | 22 | 1879 | Land Agent | Cockermouth, Cumberland |
| SNOWDON, Annette | Servant | Single | F | 34 | 1867 | House Maid Domestic | St Pancras, London |
| WELLS, Fanny E | Servant | Single | F | 39 | 1862 | Parlourmaid Domestic | Bethel Green, London |
| DEVLIN, Eliza J | Servant | Widow | F | 36 | 1865 | Cook Domestic | St Pancras, London |
| CARTER, Edith | Servant | Single | F | 26 | 1875 | Parlourmaid Domestic | Horton, Oxfordshire |
| MOBBS, Florence M | Servant | Single | F | 24 | 1877 | Housemaid Domestic | Westminster, London |
| SMITH, Ethel T | Servant | Single | F | 21 | 1880 | Kitchen Maid Domestic | Rickling, Essex |
| NICKOLLS, Alice | Servant | Single | F | 15 | 1886 | Scullery Maid Domestic | Leytonstone, Essex |