All Saints Church,

St Pauls Walden
| | | |
| --- | --- | --- |
| All Saints Church, St Pauls Walden. The embattled tower, with its spike and a stair turret, is 15th century in its upper stages but the lower part is probably 14th century - possibly contemporary with the nave. The south chapel was added in the early 16th century but the most interesting part of the church is the chancel which was entirely remodelled in 1727: it is separated from the nave by a "gorgeous, if decidedly worldly, screen" commissioned by Edward Gilbert of The Bury, and an ancestor of the Bowes Lyon family: a small memorial to him was put up on the south wall after his death in 1762. There is some speculation that the screen was actually designed by Nicholas Hawksmoor but there is no actual sound proof to back up this claim. There is an octagonal 15th century font but the pulpit was designed to match the 18th century chancel interior design. | | The Screen |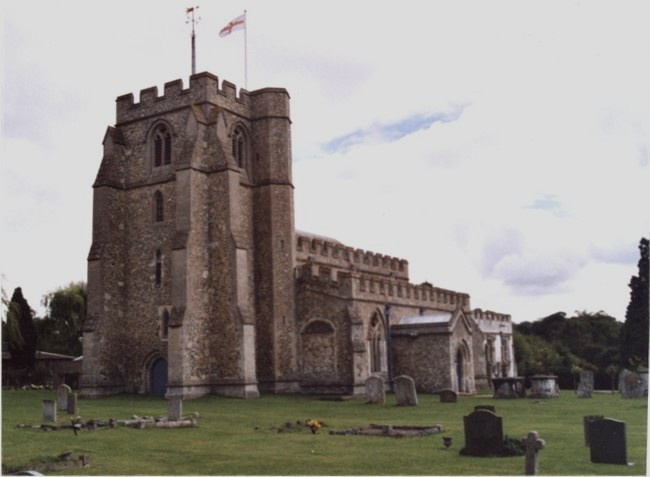 I visited the church in September 2004 and while some older tombstones remain there can be little doubt that many of the older stones have been cleared away at some stage.
This church was the parish church for the Bowes-Lyon family, and the well-produced booklet starts with an introductory letter, and photograph of Queen Elizabeth, the Queen Mother. A single page walk round the church guide was also available.
| | | |
| --- | --- | --- |
| | | While really off-topic, I was interested to see that an original Victorian Post Box is still in use. It is in the churchyard wall near the entrance. |
The memorials have been indexed by the Hertfordshire Family History Society
Original Photographs © Chris Reynolds
If you know of other books, websites, etc, relating to this place, please tell me.
Last Updated September 2004