The Church of St. Mary is a structure of more than usual interest; it is a large building, much of it in the Decorated style, and it is believed to be in part on Saxon foundations. The lofty tower, embattled and crowned with a typical Hertfordshire spire, is detached, and stands on the south side of chancel; it may therefore be classed as campanile.
Entering the church through the large west porch, it is at once apparent there is an upward slope of the floors of both nave and chancel towards the east (actually, I believe, it is about tin. in 60in). The chancel arch is Early English of very wide span, and the chancel is considerably higher than the nave, access being by eight steps, and to the sanctuary is another rise of five steps; the reason for this remarkable floor level being, there is a crypt underneath. But the chief treasure of this church is the tomb of Sir Ralph Sadleir; this Sir Ralph was born in London in 1507, and was for a time with Thomas Cromwell; later he became a diplomat and Ambassador in the service of Henry VIII. He fought under Lord Hertford at the Battle of Pinkie, and rallied the English horse to victory; the standard pole of the Royal Banner of Scotland was captured by him, and to-day it still stands by his tomb in Standon Church. He died in 1587. The tomb of marble is in the chancel; it represents the doughty knight in armour; on the lower part are effigies of his sons and daughters; over all is a canopy. Two helmets are suspended nearby the standard pole.
Other features of interest in the church are: (a) Norman font, (b) the entrance with door to stairway from south aisle to rood 10ft, (c) the hagioscopes by chancel arch, (d) a tomb niche.
A Pilgrimage in Hertfordshire 1931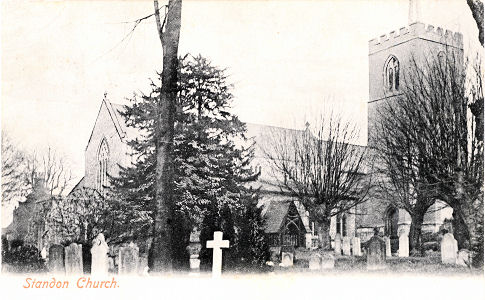 Standon Church - Bedwell Series posted 1905