TRING
Prospect House School

1827-1909

Headmasters: Rev Daniel Clarabut, Mark Young & W. C. Maull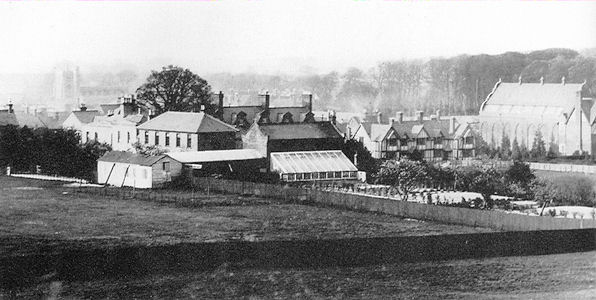 View of Tring taken in 1897 showing Prospect House (with the large kitchen garden) with the newly built Louisa Cottages and the Museum to the right. Prospect House was demolished a few years later and the site restored to farm/park.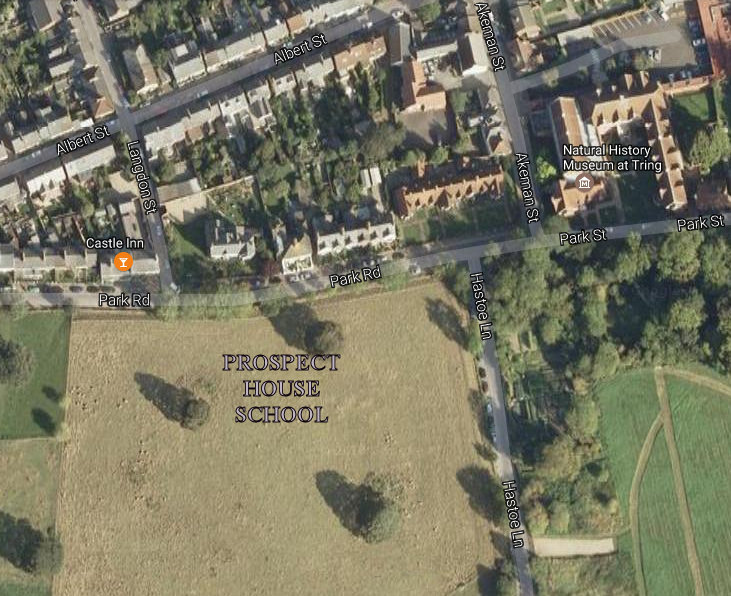 Contents
A Brief Summary of School History
Time Line for Prospect House School
A Brief Summary of the School History
The school faced onto Park Road, Tring, near the start of Hastoe Lane.
A prospectus from 1873 says it was founded in 1827
The first headmaster was Dr Daniel Clarabut, of New Mill Baptists.
Mark Young was the headmaster of a day school at Prospect Place in 1839
By 1846 it was an academy called Prospect House
By 1851 Prospect House School was taking boarders (all boys)
By the mid-1860s the school clearly fielded a strong cricket team.
An advert in 1873 puts the fees at 17 to 20 guineas per year.
In about 1880 Mark Young retired to Bellevue Villa, Park Road, Tring
The new headmaster was William Charles Maull
Mark Young died in 1882
In 1892 the school and its land were purchased by Lord Rothschild
but continued in use as a school.
William Charles Maull was still a schoolmaster in Prospect House in 1901
The contents of the house were sold in 1903 prior to demolition.
Prospect House School continued at Brookfield until 1909
It seems to have closed shortly before the principal Miss Jessie E. Maull married.
Background to the research
In 1998 Derrick Young, of South Africa wrote to me asking for information:
My great great grandfather, Mark Young (1808-1882) was born, lived and died in Tring. His wife was Sarah Ann nee FOSTER but I don't know when she died. His grandson Arthur came to South Africa in about 1890, where I now live, which makes direct access to parish registers, etc., impossible. Mark was a school master living at Prospect House on the south side of Park Road (demolished by the Rothschilds), and later moved Belle Vue Villa, Park Road, where he died.
In 2016 the Music Exercise Book of William Henry Ewer was kindly donated by Beth Atkinson.

In 2017 selected pieces were adapted for hand bells and performer by a local amateur group - The Tringers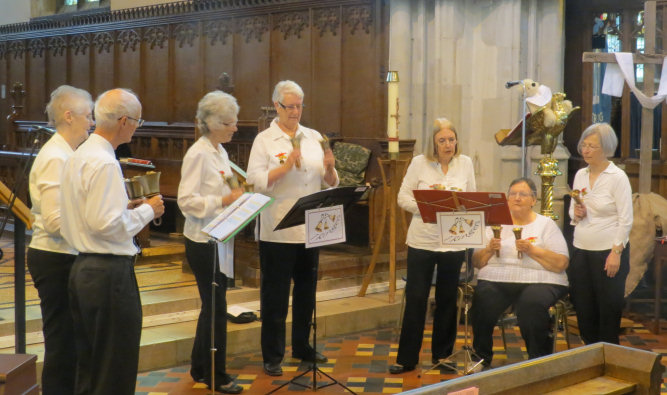 Some of the music, including the "Aylesbury March," has been performed by the Tringers - a group of amateur hand bell ringers, seen here performing in Tring Church.
The following account has been prepared to record the history of the school for a display at the Friends of Tring Church Heritage for their Family Fun Day, May 2017
ATTRIBUTES OF A SOUND HEADMASTER.
A glimpse of life in Tring seventy years ago, with a pen picture of school life in the town in those days and of Mr. Mark Young, the headmaster of the local commercial school, is afforded in an article by "One of the Boys," headed "A Hertfordshire School in I860," in the February 26th issue of "The Citizen," published at Letchworth. Appended are extracts from the article.
So revolutionary has been the rate of progress in many ways that notes of things as they were in the early seventies are interesting and amusing to recall. Amongst these was the condition of schools for the middle and lower middle classes, who did wish, at any rate, to retain their independence.
It was the day of Dickens and the Brontes. In "Nicholas Nickleby" we had a picture of undesirable schools, of which there were many, where under-feeding was a source of profit. I well remember a school mam of North Herts talking to my mother of the desirability of seeking maids with short stomachs, and I know that food was strictly measured out. But the school I am thinking of — we will call it a commercial school — was quite admirable for those days. Three of my brothers went there; we were a large family, and had economy to consider. I think some £25 a year found us in tuition and board. So satisfactory was the progress my brother Tom made that others from farmers or traders in North Herts sent sons to the school at Tring. It was a cross-country ride, but my father was pleased with his capital horse, to undertake the journey, some sixty miles return, through the Knebworth and Wheathampstead road through Harpenden to Boxmoor, where we had a lunch, then on through Berkhamsted to Tring, a pretty and most enjoyable ride, and many limes my father did that sixty miles return journey on the same day, and, I think, looked forward to it.
Mark Young, the headmaster, was man of many parts. He did most of the building of his own school - a brick foundation and boarded sides about forty by eighteen feet. Later a side piece was built on. He surveyed land, and he cut the epitaphs on gravestones, but never seemed flurried. He was a beautiful writer, an excellent grammarian, and never missed an opportunity of rubbing it in. I remember a boy in class making some rude noise, and Mark's eye looked round. A boy said: "It warn't me!" "Parse that," he said, and then rubbed in the fact that the verb "to be" must have the same case after it that it has before it. "You should say, "It was not I."
The system of rewards was rather good. We all had what was called a "minute book," and according to the quality our daily work so many minutes were put to our credit in that book. A good worker would have, in fortnight, some three or four hours to his credit; and if he wished for an afternoon's holiday he simply took the book up and asked for the amount of time he required. Also, the best workers would be rewarded with gravy with their dinner.
Of course, the fare was not sumptuous; it generally consisted of a big joint with vegetables, the joint mostly beef, sometimes a leg of fresh pork. Bread and butter or dripping for breakfast, with tea. The same at 5 o'clock, and bread and cheese at 8.30. Sometimes a hamper with eggs, cake and other things came from home. These were shared with one or two friends. On the whole we were satisfied and healthy.
We had English history and Greek and Roman in some degree; also enough Latin to furnish pharmacist with the knowledge required.
On Sunday afternoon we would gather round a table and each boy read a verse from the Scriptures, followed by the next boy. Mr. Young, with his head in his hands, would appear to be nodding, when he would pop up and ask a careless boy to go on where the other left off.
NO SNOBBERY.
There was a surprising lack of snobbery in the parents of the boys who were brought up to church and did not complain that Mr. Young took his boys to chapel, and in our top hats as we marched on Sundays to chapel we might have been young Etonians. In those days, of course, some of the Nonconformist ministers were very ignorant, although in this chapel it was not bad. I remember hearing one chapel father speaking on the gross darkness that covered the people as twelve dozen darkness.
We had a good playing field with room for cricket, and we made a decent eleven. Mr. Young was proud of his cricket team, and as enthusiastic as the youngest in accompanying us to matches. We played the youths of Tring in Tring Park. We played Berkhamsted School on the ground by the Ashridge monument. We played Leighton Buzzard at Leighton, and other matches. As good catches were made and smart fielding also, our schoolmaster smiled his delight and our cricket was a joy to us. I do not remember football. It is strange now in these days to see that game fill a third of the daily papers; but the games of youth hold, and whilst cricket is of great interest and delight, the winter game makes no appeal to me.
The American Civil War was in those days, but its echo hardly reached Tring. The novels of Fennimore Cooper. "The Last of the Mohicans'' and others, gave us good reading, as did other books adventure.
We enjoyed bathing in the canal in the summer, and walks to the reservoirs, where pike could be caught. Lovely walks through Stubbins, a wood fairly close to our school, led on through lovely lanes to a well-known spot called Daniel's Hole, down which it was rather difficult to trot without breaking into a dangerous gallop.
So far the description seems to speak of a good time. One left that school deficient in scientific knowledge, but as things went then we knew the practical things. We had been taught to carry out the art of writing with care and delicacy. The pen and our fingers worked together with great adaptability. We had an affection and respect for Mark Young, and when it came my time to leave Tring to make place for a younger brother, the fourth, I left it with many pleasant memories of events which I have striven to recall.
We might have been the middle or lower middle classes represented in that school, but it was from such these that the soundest of integrity and industry came to keep up the greatness of England.
Bucks Herald, 11th March 1932
A LOCAL SCHOOL IN 1860.
To the Editor of the Bucks Herald
Dear Sir,
Before me I have the stylographic handwriting of the late Mr. Mark Young, who held, among other appointments, the office of Registrar of Births and Deaths for the district Tring, in Herts and Bucks. The character the writing certainly corroborates all that "One the Boys" says. It might be a problem now for many to point out where Prospect House School stood in Park-road. I was a pupil there in the early part of the 'eighties, and my faint recollection is a commodious, comfortable house of promiscuous design; lawn planted with shrubs and conifers and playing field of several acres adjoining; the whole now forming part of the Tring Park Estate. The buildings were demolished about a quarter a century ago. The late Mr. W. C. Maull succeeded Mr. Mark Young, whom I m confident posterity has put on the pedestal as one the foremost of the "great" local men of his generation. His spirit was in the school, which was no means a "Do the boys (H) all" in the literary portrayed Charles Dickens in " Nicolas Nickleby." The purchasing power five-and-twenty pounds in the educational arena in Mr. Young's day compared with now makes one pause and think. No tariffs! How was it done? Were these really the "good old days" ?
Yours faithfully, P. SOUTHERNWOOD.
Bucks Herald, 18th March, 1932
It has not yet been determined who the author of the first piece was but it appears he had at least 4 brothers, one of which was called Tom. Tom was possibly the oldest and first to attend the school. The journey to school must have started East of Knebworth, and one pupil, William Lawrence, in the 1861 census was born at Datchworth

The following letter was almost certainly written by Peter Southernwood (1874-1960) who was born at Long Marston, the son of Peter Southernwood (1828-1892) and his wife Elizabeth Atkin (1836-1925), His father was a builder and thatcher and was a churchwarden at Long Marston when the "new" church was consecrated in 1883. In 1911 Peter jnr. was living in Tottenham with wife Annie Mary (33, born London) and daughter Gladys (2).
Time Line for Prospect House School
Mark Young, son of Mark Young and Lydia. was baptised on 25th December. 1807, at Cholesbury, Bucks. If this is the right Mark Young his father, also Mark Young, could have been the first headmaster.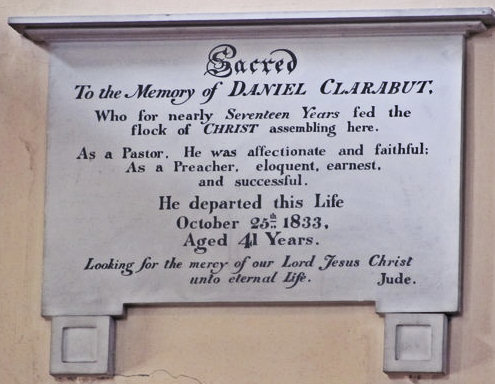 An advert from 1873 claims the school was opened in 1827. As Mark Young was born circa 1808 he is unlikely to have been the first school master.
Daniel Clarabut, the schoolmaster at the New Mill Baptist Church, became New Mill Pastor in January 1817, and was responsible for building the current church. By 1827 the church membership had risen to about 212, and as he is said to be an early headmaster at Prospect House may well have been responsible for building the school for the children living in the town of Tring
Memorial in New Mill Baptist Church à
On 25th instant, at Tring, aged 41 years, the Rev. Daniel Clarabut, minister of the Baptist Chapel, New Mill, Tring. He was a firm friend and powerful advocate of Civil and Religious Liberty. Hiss loss will be sincerely felt by a numerous circle of friends and deeply lamented by a widow and nine children.
Bucks Gazette, 2 November, 1833
On 26 September 1831 Mark Young married Sarah Ann Foster at Tring.
Family from Ancestry Family Trees - not checked
1833 - Henry Blaine Young (1833-1905)
1834 - Edward Foster Young (1834-1873)
1838 - George Young (1834-1914)
1841 - Eliza Young (1841-died young?)
1848 - Ann Foster Young (1848-?)
1852 - Edwin Herbert Young (1852-?)
In 1839 Mark Young is listed as running a day school at Prospect Place.
The 1841 census shows Mark Young (schoolmaster), Sarah Ann Young and children Henry (8), Edward (7), George (4) and Eliza (5 weeks) at Prospect House, with no staff or pupils.
In 1849 Mark Young, schoolmaster of Tring, was listed in adverts as agent for various insurance companies
The 1851 census gives Mark Young (42, schoolmaster of Prospect House), his wife (Sarah Ann, 41) and three children Edward F, 17; George, 13; and Ann F, 3, all being born at Tring. There were three boarders, Matthew Fulks (15, born Wigginton); John B Taylor (13, London) and Edward Harrington (11, London).
In October 1853 his wife Sarah Ann died. [Unconfirmed from Ancestry family tree.]
In July 1854 married Ann Page (1819-1892) [Unconfirmed from Ancestry family tree.]
The 1861 census showed a significant increase in the number of boarders:
Henry BURGE, 14, Luton, Beds
Thomas FARRIN, 12, Islington, Middlesex
John HAWKINS, 12, Hemel Hempstead, Herts
William GRAHAM, 12, Bishop's Stortford, Herts
Alexander GRIFFIN, 7, Beddington, Surrey
William GRIFFIN, 11, Tring, Herts
Edwin GUTTERIDGE, 12, Lilley, Herts

Charles HANDFORD, 9, Kirkcudbright, Scotland
William LAWRENCE, 12, Datchworth, Herts
Harry PADLEY, 12, Portland Place, London
Tom SPICER, 12, Studham, Herts
John B WELCH, 9, Bermondsey, Surrey
John WRIGHT, 8, St John's Wood, London.
The following two news items from 1863 show that the school had a good cricket team. and a pitch adjacent to the school. A number of the pupils are also listed by name.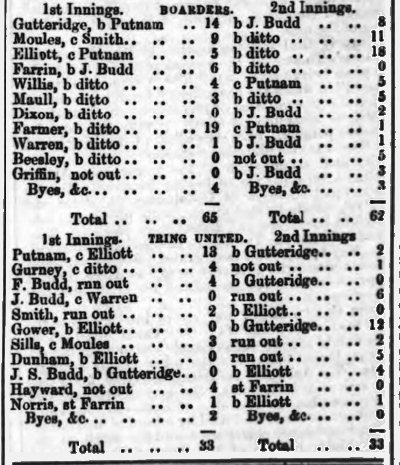 TRING. Cricket. The Boarders of Prospect House School v. Tring United Cricket Club. — On Wednesday, 5th inst., interesting match was played between eleven of the boarders of Prospect House school, and the United, in Mr. Dawes's park, kindly lent for the occasion. The juniors went first to the wickets, and after some very interesting play were disposed of for 61 runs. The united then went in, and were somewhat discouraged when the last wicket fell for 43 : this was awing, in a great measure, to the excellent bowling of Elliot and Willis, especially the former, who is a graceful and expert bowler. The juniors again went in, and when the last wicket fell had scored 24, making total of 85 ; the bowling of Putman and Budd being much commended. The united then went for their second innings, and appeared to be somewhat elated at the small score obtained by their opponents, but their exultation soon gave way to disappointment, as they had to succumb quick succession to the superior bowling of the other side, their last wicket falling for the score of 38, making a total of 81; thus losing the match by runs. [Pupils: Gutteridge, Moules, Elliott, Farrin, Willis, Maull, Dixon, Farmer, Warren, Beesley, Griffin. "Tring United" team Putnam, Gurney, F. Budd, J. Budd, Smith, Gower, Sills, Dunham, J. S. Budd, Hayward, Norris]
Herts Mercury, 8 August 1863
TRlNG. Cricket. The return match between the Tring United Cricket Club and the Boarders of Prospect-house School was played in the school cricket-ground Wednesday last, and notwithstanding the very unfavourable state of the weather, it will be seen from the annexed score that the Boarders again proved the victors by 61 runs; and when we consider that they have come off victorious in every match that they have played, and in some cases against players much their seniors, we think they are justly entitled to great praise for the skilful manner in which they acquitted themselves. It is due, however, to the Tring United say that they have not the same facilities for practising as the Boarders, who have a cricket-ground in front of the house, containing upwards of three acres.
SCORE á Herts Express, 29 August 1863
The following year the school team played the Leighton Pulsford School Clubs at the Recreation Ground, Leighton, winning by 59 and 119 to 68 and 24. The school team consisted of C. Bishop, Claridge, Smith, Griffin, S. Bishop, Gutteridge, Maull, Warren, Moules, Harding and Waby.
Leighton Buzzard Observer 6 September, 1864.
In 1866 Mark Young is listed as having an Academy at Park Street, Tring.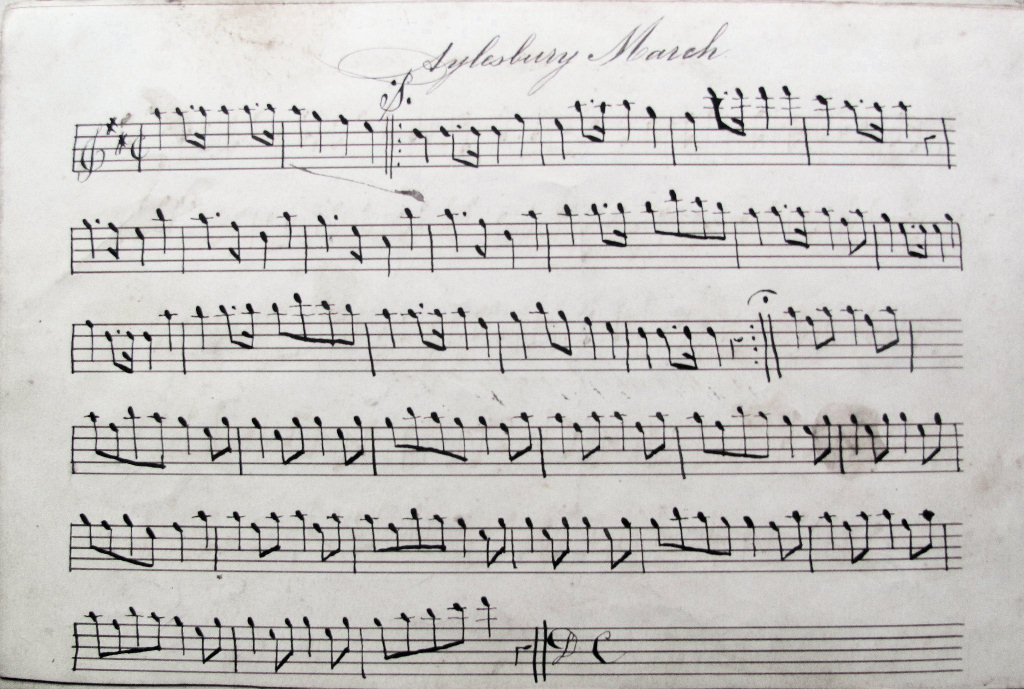 Click on picture to see the book and all the music
In 1866 one of the pupils was William Henry Ewer, of Lilley - whose music work book has survived.
In 1867 a cricket match was played between Tring Park Juniors and Prospect House Academy, which Tring Park won by an innings and 70 runs. The Prospect House players were A. Hunt, A. Amesden, G. Grace, W. Smith, E. Mills, W. Woodman, R. Warren, J. Cook, W. Dixon, W. Elliott and F. Moules. The following year Marlowes House School, Hemel Hempstead played Prospect House School at Boxmoor. Prospect House scored 76 in one innings, while Marlowes House School only scored 32 and 17 in two innings. The Prospect House players were: Smith, Wellbeloved, Cook, Hunt, Warren, Holyoak, Liddington, Markham, Stockbridge, W. Clarke and C. Clarke. Later in the year Mr Young's school beat Dunstable Youths' Club, the team being T. Wellbeloved, J. Elliott, A Mardell, J. Cook, R. Warren, C. Cox, D. Hunt, W. Holyoak, F. Amesden, H. Lawrence and S. Hadden.
Bucks Herald, 15 June 1867 & 30 May & August 29 1868
.
TRING. Entertainment.—On Wednesday last, the pupils of the Commercial School, Prospect House, gave an entertainment to the boarders and a large party of friends, in the dining hall adjoining the house. The programme was as follows
Overture, the band;
recitation, Horatius and the Bridge," W. Barnes;
song, "Wait for the turn of the tide," T. Moss;
recitation, The Saxon and the Gael, G. Veitch and C. Clark ;
song, Pulling hard against the stream," W. Holyoak;
recitation, "Mr. Gregsbury and Nicholas Nickleby," J. Bennett and J. Clark ;
song, I knew I must dreaming," H. Prior;
recitation, "Irish Schoolmaster," W. Holyoak and others ;
song, Jenny Jinks," T. Moss;
recitation, "The | doctor and his pupil," H. Prior;
song, "I saw Esau kissing Kate,* W. Holyoak ;
trial scene from i the Merchant of Venice, Holyoak, Starling, A. Mardell, T. Moss, E. Amsden, J Bennett ;
Christy's i Minstrels' entertainment, Makeaface (H. Prior), Paleface (W Holyoak), Deface (T. Moss) ;
recitation, ' "The Quaker's meeting," J. Bennett,
after which the minstrels re-appeared ; the whole concluded with the "National Anthem" Mr. Maull acted as ' manager. Some appropriate scenery had been painted ' for the occasion by Mr. Maull. The youthful performers acquitted themselves very creditably.
Leighton Buzzard Observer, 12 April, 1870
At the time of the 1871 census he had three assistant teachers, William Charles Maull, Joseph Braim, and John E Bennett, together with three domestic servants and 45 pupils.

| | | |
| --- | --- | --- |
| Edwin L Newman | 17 | Tring, Herts |
| Thos Vane Melliss | 16 | East Indies |
| Harry Prior | 16 | Islington, Mddx |
| John Brashier | 15 | Evesham, Beds |
| William T Bonmot | 16 | Cheddington, Bucks |
| George Adkins | 15 | Apsley,Beds |
| Frederick Farren | 14 | Tottenham, Mddx |
| Arthur Bonest | 14 | Cheddington, Bucks |
| Arthur C Plumbley | 14 | Essendon, Herts |
| Edwin T Tutt | 14 | Woburn, Beds |
| William C Wright | 14 | Chelsea, Mddx |
| Alfred Guess | 14 | Harpenden, Herts |
| Chas I Newman | 14 | Chichester, Sussex |
| Frederick W Mellis | 13 | East Indies |
| Walter W Savidge | 13 | Walkern, Herts |
| Frederick Kingsley Cocks? | 13 | Little Munden, Herts |
| John H Clinton | 13 | Bennington, Herts |
| Henry Pratt | 13 | Little Munden, Herts |
| Richard T Foster | 13 | Walton, Herts |
| Thomas H Holyoake | 13 | Luton, Beds |
| Harry Roads | 13 | Luton, Beds |
| William Lidgate | 13 | Pimlico, Mddx |

| | | |
| --- | --- | --- |
| William H Grace | 12 | Ealing, Middx |
| William J Foster | 12 | Walton, Herts |
| Albert E Smith | 12 | Sandy, Beds |
| Sydney Gray | 12 | Luton, Beds |
| Sextus S Kimbley | 12 | Essendon, Herts |
| Sydney Simpson | 12 | Luton, Beds |
| William J Beasley | 12 | Rickmansworth, Herts |
| Thos H Mitchinson | 10 | Strand, London |
| Francis Farren | 9 | Tottenham, Mddx |
| James A Whitechurch | 10 | Rotherhithe, Surrey |
| James E Grace | 9 | Ealing, Mddx |
| William H Swinnerton | 9 | Clerkenwell, Mddx |
| William M Whitechurch | 9 | Rotherhithe, Surrey |
| William Weldon | 9 | London |
| John W Collins | 8 | Essendon, Herts |
| Edward H Young | 8 | Stamford, Lincoln |
| James Weedon | 8 | Fore Street, London |
| Richard Weedon | 7 | Fore Street, London |
| Harry Gray | 7 | Luton, Beds |
| Henry F Young | 6 | Stamford, Lincoln |
| Sydney Proctor | 6 | Pitstone, Beds |
Other cricket matches where scores with pupils names are recorded were against:
Perth House School, Linslade, with F. Farrin, H. Prior, G. Adkins, T. Meliss. J Brasheir, W. Savage, S. Simpson, F, Meliss, H. Roads and E. Tutt. (Leighton Buzzard Observer, 19 September 1871)

Tring Eleven, at Tring, with S. Simpsin, J. Procter, E. Batchelor, H. Roads, T. Melis, F. Meliss, F. Starling, A Guess, E. Tutt, T. Holyoak and J. Miller. (Leighton Buzzard Observer, 109 September 1872)
Bucks Herald, 12 August, 1873 à
TRING. The Pharmaceutical Society.—On the 7th ult., Alfred Guess, of Leighton Buzzard, pupil at Prospect House School, Tring, passed the preliminary examination of the Pharmaceutical Society of Great Britain. 361 candidates in England and Wales presented themselves for examination, of whom 187 were successful, and failed.
Bucks Herald, 10 May 1873
Maull-Grange - At the parish church, Wigginton, on the 15th inst, by the Rev. H. W. Mason, Mr William Charles Maull of Prospect House, Tring, to Eusebia Jane, eldest daughter of Mr. William Hitchcock Grange, of Park Farm, Wigginton.
Bucks Herald, 22 May, 1975
In 1877 Prospect House School played Aylesbury Grammar School. In two innings they scored 78 and 180, while the Grammar school only scored 22. Prospect House pupils were S. Fane, H. F. Young, N. Benning, W. Tongue, E. H. Young, R. Weedon, R. Griffin, A. Dodwell, C. Disbrey, J. Lawrence and A. Farrin.
Bucks Herald, 2 June, 1877
The 1878 Hertfordshire Directory shows Mark Young at Bellevue Villa, Park Road and William Charles Maull, academy, Prospect House, Park Road. - so possibly the headmastership changed in about 1877.
The following year Prospect House School (playing at the school) scored 49 and 39 against Aylesbury Endowed School (34 and 35). The team was H. Self, T. H. Gwillam, J. Murdock, A. Sack, S. Clark, A. Farrin, F. Butler, G. Hawkins, P. Narroway, H. Tompkins and J. Hawkins. (Bucks Herald, 21 August, 1878) In the return match, played on the Vale ground, Prospect House scored 56 while the Aylesbury school only managed only 16 and 11.
Bucks Herald, 7 September, 1878
By the time of the 1881 census Mark Young had moved to Bellevue Villa, Park Road, and Charles William Maull was the school master at 42 Park Road.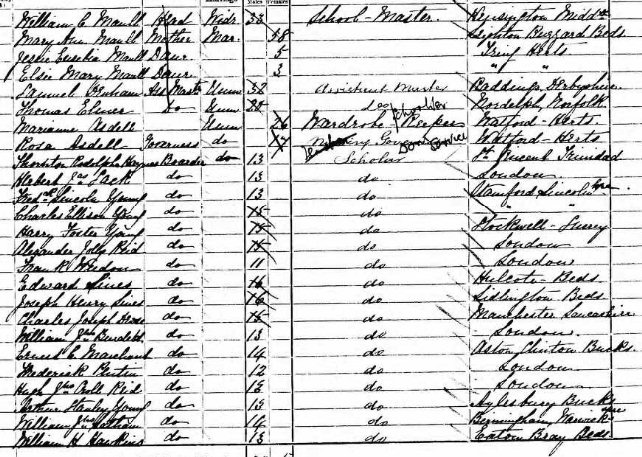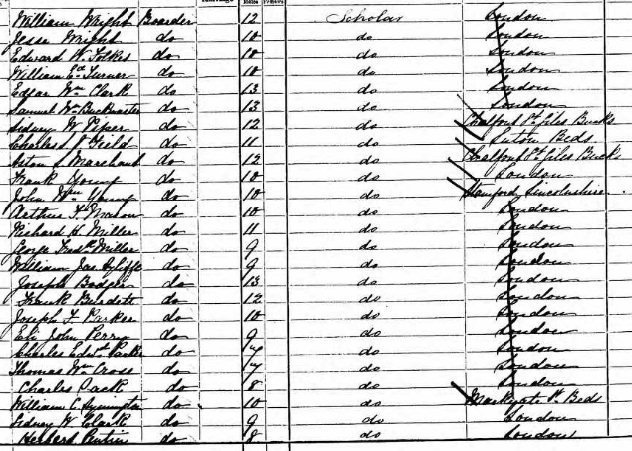 TRING: The Registrarship.—Mr. Mark Young, registrar for this sub-district from its formation, has retired and Mr. J. C. Maule, Prospect House School, succeeds him.
Bucks Herald, 11 March, 1882
TRING. The late Mr. M. Young.—The funeral of the late Mr. Mark Young took place on Tuesday last, at Akeman-street Chapel. The mourners included two sons of the deceased, Mr. H. B. Young, of Clapham, and Mr. G. Young, of Aylesbury, Messrs. T. Glover and J. T. Clement, surviving executors of the late Mrs. Kingham, Messrs. H. Dawe and Mr. C. Maull, old pupils and near neighbours, and twelve pupils of Prospect House School, amongst whom were four grandsons of deceased. A few friends also assembled at the chapel, to pay last tribute of respect to the departed, chief amongst whom were Mr. T. Grace, Rev. W. V. Young, Messrs. Amsden, Humphrey, &c. The deceased was interred in the family vault. The funeral was conducted by Mr. J. Honour. The late Mr. Young was a native of Tring, and spent the whole of his 71 years in the town and its neighbourhood. In addition to having kept school for nearly half century, he was registrar of the district from within a few months of the passing of the Act, the duties of which he discharged until within a few weeks of his death. He was of a quiet and retiring disposition, and his life was marked by simplicity and integrity.
Bucks Herald, 11 March, 1882
[The fact that Mark Young was buried in the "Family Vault" suggests that others may be buried there, possibly including his parents. = Akeman Baptists not checked out about this]
8th May, 1882: The Will of Mark Young, late of Belle Vue Villa, Park-road, Tring in the County of Hertford who died 18 March 1882 at Belle Vue Villa was proved at the Principal Registry by Henry Blaine Young of 19 Lambourne-road, Clapham in the County of Surrey Commercial Traveller and George Young of Market-square Aylesbury in the County of Buckinghamshire Stationer the Sons the Executors. Personal Estate £539 8s. 5d.
School cricket continued, and in 1883 there was another match against the Aylesbury Endowed School - but Prospect House School lost this time by 29 and 13 to 42 and 15. Pupils were Pratt, Tiddington, Birch, Weedon, Sandon, Young, Marchant, Duale, Smith, Dawe and Johnson.
Bucks Herald, 30 June, 1883
CRICKET. AYLESBURY STAR C.C. v. PROSPECT HOUSE SCHOOL (TRING). A match between the above teams was played on the ground of the former on the 23rd inst., and won by the home team. The Aylesburians first handled the willow, but with the exception of G. Bartlett, who played firstrate cricket, and Fisher, who made 9 by a few lucky hits, no one could do anything with the excellent bowling of Honor and Pratt, and the whole team collapsed for 40 runs. With such a low score against them it was thought the boys would have no difficulty in passing their opponents' total, but they were utterly a loss with the bowling of J. Neale, who took five wickets in six balls. School pupils were A. Birch, Honor, Young, Field, Pratt, G. Smith, W. Johnson, Khan, W. Rose, Locke, and Jefferay.
(Bucks Herald, 26 July 1884)
In 1891 William C Maull was still at the school but there were only 12 boarders.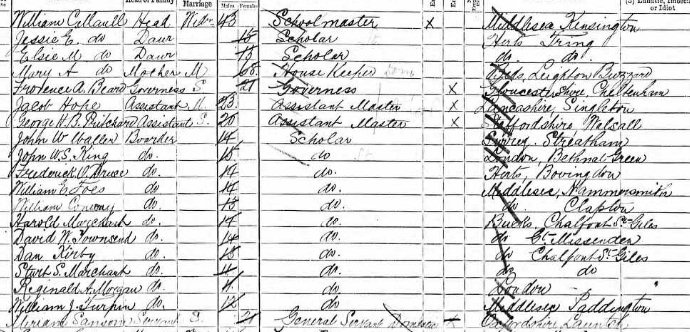 It is reported that Prospect House School, Tring, with the grounds belonging, has been purchased by Lord Rothschild for the sum of .£5,000. The Tring Park property surrounds the school, so long associated with the name of Mr. Mark Young, the founder, and now carried on by his able successor, Mr. Maull.
Leighton Buzzard Gazette 6 December 1892
AYLESBURY COUNTY COURT. William Charles Maull, Prospect House, Tring, v. Alexander Conway, Medina-road, Holloway, N.— Claim for £10 :17 :1, due for schooling and board of defendant's son. Defendant had agreed to pay £1: 10 a month, but the case was adjourned for two months in order to get a proper affidavit signed.
Bucks Herald, 5 August, 1893
On Friday, the 8th, Mrs Maull, the mother of W. C. Maull, of the Prospect House School, passed away at a great age at the residence of her son.
Bucks Herald, 16th February, 1901.

William Charles Maull was still there in 1901, and is listed as a school master with his daughters as teachers - but there are no borders listed. He is listed as running a boarding school in Park Road in the 1899 Kelly's Directory - but is absent from the 1902 directory.
Prospect House School

circa 1900

from

by Jill Fowler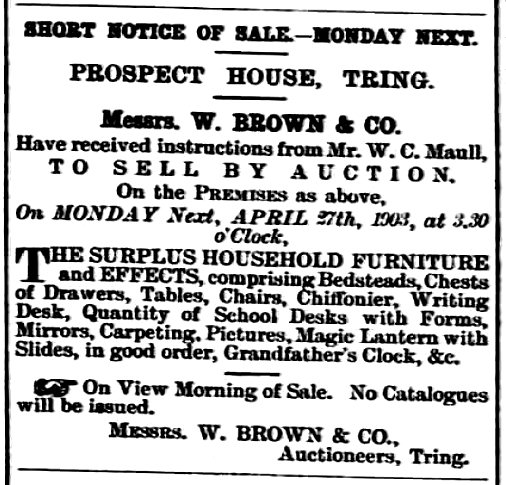 Prospect House is known to have been demolished about 1900 and this advert for a furniture sale by William Brown, from the Bucks Herald of 25th April, 1903, would suggest the house was vacated in 1903. It relocated in Brook Street and closed in 1909.
TRING. Musical Successes— the recent school examination of the Associated Board of the Royal Academy and Royal College of Music, held at Prospect House School, Brookfield, Tring. the following pupils of Miss E. M. Maull, L.R.A.M., A. Mus. T.C.L.. were successful: — Higher Division, Kathleen Chuter, Mary F. Colls, and Doris S. Thomas. Lower Division, Dorothy Colls, Mabel Davies. and Constance R. Fulks. Elementary Division, Evelyn Ida Fulks, Margaret E. Grange.
Bucks Herald, 16 December, 1905.
DISTRICT NEWS. TRING. Musical Successes. — At the recent school examination of the Associated Board of the R.A.M. and R.C.M., held at Prospect House School, Tring, the following pupils of Miss Elsie Maull, L.R.A.M., A. Mus. T.C.L., were successful in passing:—Harmony. lower division, Kathleen E. Chuter and Mary F. Colls. Rudiments of music, Evelyn Winifred Dawe, Dorothy R. Colls, and Constance B. Fulks Elementary pianoforte, Mannington, pupil of Miss Hobson, A.R.C.M.
Bucks Herald, 24 April 1909.
Elsie Maull continued teaching music at Brookfield after the school was closed, as later news reports show.
MARRIAGE OF MISS MAULL. Miss Jessie E. Maull, Principal of Prospect House School, was quietly married to Mr. Harry Foster Young, at Akeman Street Baptist Church, on Tuesday morning. The bridegroom is a grandson of the late Mr. Mark Young, who is still remembered as an instructor of past generations of Tring boys. The ceremony was performed the Rev. L. H. Colls. During the service, which was short and appropriate, hymn chosen the contracting parties was sung, and Miss E. Rawlins, A.E.C.O., L.R.A.M.. who presided at the organ, played Mendelssohn's "Wedding March '' at the close. The bride was married in travelling costume of blue cloth, with pale blue silk hat trimmed with black moire, and was accompanied her sister (Miss Elsie M. Maull) as bridesmaid. After the ceremony Mr. and Mrs. Young left for Havant. Hampshire, their future home. Miss Maull has been actively associated with the work at Akeman Street, taking an especial interest in the choir. She was a popular member of the committee of the Tring Choral Society, and connected with local Societies. [Very long present list follows]
Bucks Herald, 1st January, 1910.

At the time of the 1901 census William Charles Maull (63, widower, retired school master, born Kensington) was living at Brookfield, Tring, with his daughter, Elsie Mary Maull (33, teacher of music, born Tring) and one domestic servant, Ada Eliza Goode (25, born Newbury, Berks).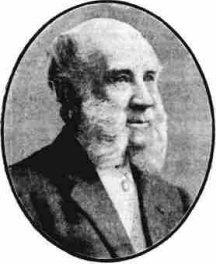 Local Obituary: Mr. George Young - The funeral of Mr George Young, of 10 Market Square, Aylesbury ...took place on Tuesday afternoon. ... ... He was a native of Tring, being the son of the late Mr. Mark Young, of Prospect House, in that town ... ...
Bucks Herald, 14 February, 1914. ß See Portrait
W. Brown: Sale by Auction: On Monday, March 20th, 1922, at |"Brookfield," Brook Street, Tring, at 2.30 o'clock, the household furniture, silver and other effects, including 21 head of poultry and wagonette, by the direction of Mr. W. C. Maull.
Bucks Herald, 11 March 1922.
Death of Herbert George Sallery ... He was educated at Mr. Maull's school in Park Road, now defunct. ...
Bucks Herald, 22 January, 1927
TRING - Death of Mr. W. C. Maull. — It is with regret that we record the death of Mr. William Charles Maull. which occurred at his residence, "Westholme." in Western-road. on Sunday. His health had been failing for nine or ten months. An attack of lumbago was followed by asthma, but congestion of a lung was the immediate cause of death. His age was 78 years. Mr. Maull had spent the greater part of his life in Tring, He commenced his career in the school teaching profession at Leighton Buzzard, and after going to London and elsewhere he came to Tring. He took up an appointment on the teaching staff of the late Mr. Mark Young's private school for boys, then being conducted on considerable scale in the Park-road, and which maintained a large number of boarders. Mr. Maull succeeded Mr. Young in its its management and carried it on with marked ability and success until his retirement about 20 years ago. For many years he has taken very active part in the work of the Akeman-street Baptist Church. He joined it in 1871 and was elected a deacon in 1913. continuing in that office up to the time of his death. His deeply religious and devotional nature was one of his outstanding characteristics, in which respect he will be greatly missed by his co-deacons and the members of the church in general. Always an extensive reader, he had an especial liking for theological subjects, and had an excellent knowledge of hymnology. Mrs. Maull predeceased her husband many years ago. He is survived by two daughters. Mrs. Young, of Havant, and Miss Maull. who has resided with her father and has been the comfort of his declining years. The funeral took place on Wednesday afternoon, the interment taking place in the Akeman-street Baptist graveyard, in the same grave as that in which the late Mrs. Maull had previously been laid to rest. There was a large attendance of the general public, principally officers of the church and members of church and congregation. The Rev. L. H. Colls, of Chesham. a former pastor of the church, was the officiating: minister, and the present Pastor (the Rev. S. F,. Garrard) and deacons were present in the table pew. Several of the deceased's favourite hymns were sung. Mrs. Garrard accompanying at the organ.
Bucks Herald 10 September, 1927
Tring Firemen decorated - ... In presenting Chief Officer G. Putman with his medal [for 43 years service] Councillor [John] Bly recalled that they were fellow schoolboys at Mr. Maull's Prospect House School in the Park Road ...
Bucks Herald 2 September, 1932.
A Reminder of Old Tring - In a long nostalgic letter H N Hedges wrote The boys of Prospect House School worshiped at Akeman Street, where Mr. Clement "raised the tune" with his pitchpipe, before the days of organs.
Bucks Herald, 23 October, 1936
Death of former resident. —There recently died in Aylesbury an old lady who was native of Tring and whose obituary notice should prove of interest to Tring's older generation. She was Miss Anne Young, the only daughter of the late Mr. Mark Young (headmaster of Prospect House School, Tring. from 1822 to 1875, who educated the majority of Tring's grandfathers!). After the death her father in she resided successively at Berkhamsted, Southampton and lastly. Aylesbury, where she passed away in her 90th year on September 2nd. and was interred in Aylesbury Cemetery on Monday week. She had been devotedly cared for by Miss Rose Porter, of Cambridge Street, for many years, and having outlived her own generation, left only nephews and nieces mourn her passing.
Bucks Herald, 17 September, 1937.
DEATH OF MR. JOHN BLY
Tring Loses a Prominent Townsman
A LIFE-TIME OF PUBLIC WORK
Urban Councillor for 21 Years
Tring lost one of its ablest and most prominent townsmen the death of Mr. John Bly, J.P., at his address High Street, Tring, in the early hours Sunday morning, at the age - Mr. Bly contracted a chill November 11th, 1935, and number serious complications set in, which made the last two years of his life period of practically continuous pain and suffering. leaves widow and a son. His only daughter, Miss Doris Rose Bly, died from pneumonia on March 26th, 1916, eleven days prior to her 20th birthday. ... ...
Born on February 21st, 1865, and the son of the late Mr. John Bly, furniture dealer and fellmonger, of Frogmore Street, Tring. Mr. Bly received his education at the Prospect House School, which formerly stood in Park Road. Tring. during the head mastership of the late Mr. Maull. After leaving school was employed for a number of years in the com and wool market at Aylesbury Messrs. by W. Brown and Co. ... ...
Bucks Herald. 26 November, 1937
Death of Mr Frank R. Hedges; Well-known Aylesbury Builder and Decorator - Mr. Frank Russell Hedges, a partner in the well-known building and decorating firm of Messrs Mayne & Son, died at his home, 9 Station St., Aylesbury, on Monday, at the age of 69. ... ... He was the son of the late Mr. Roberts Hedges, the well-known Tring builder and decorator, and the brother of a fine cricketer, the late Arthur W. Hedges, who succeeded to the Tring Business.
Mr Frank Hedges was educated at Prospect House School, Tring, which, before it was pulled down, stood in Park Road. ... ...
Bucks Herald 9 November 1945 [with portrait]
DEATH AND. FUNERAL OF MISS E. M. MAULL Miss Elsie Mary Maull. a music teacher who had lived all her life in Tring and who .was held in great esteem and affection for her work at the Akeman Street Baptist Church, died peacefully at her home, "Westholme," Western Road, Tuesday week. Aged 69, she had been a semi-invalid for very long time.
Miss Maull was one of the few surviving links with the old Prospect House School — the once flourishing scholastic establishment of Victorian and Edwardian times, originally in Park Road and later in Brook Street, which catered for the children of local trade-people and the more affluent residents of the town. Miss Maull was born in Prospect House at time when her father was principal there, and later joined the school's teaching staff as music mistress, with L.R.A.M. and A Mus. T C L. after her name. When the school closed in 1909. after having been in existence since 1822. Miss Maull taught private pupils for the piano
Her one big outside interest — and it was a magnet to her — was in the affairs of Akeman Street Baptist Church, where her whole-hearted work for the Sunday School and Bible Class, and the charm of manner which went with it. endeared her to large circle of church members.
The funeral was on Friday at Akeman Street Baptist Church with the Pastor, the Rev. C. J. Welsford. officiating. The close mourners were: Mrs H. F. Young, sister; Mrs. R. Fairbairn, aunt; Mr. and Mrs. D. G Fairbairn, cousins; Miss K Hillyard, companion; Miss P. Cunningham, cousin; Mrs. Grange and Mrs. Rudkin. Many of Miss Maull's friends were present, and there were several lovely floral tributes.
Bucks Herald, 1st November, 1946