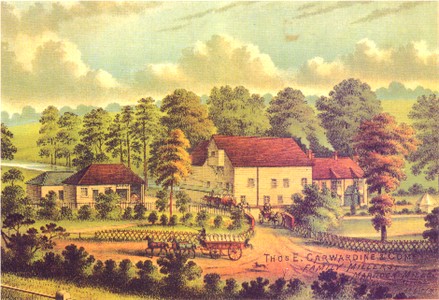 Mardock Mill, 19th century (from Wareside: A Miscellany of Histories)
Book: Wareside - A Miscellany of Histories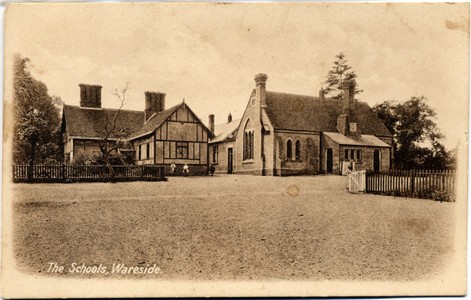 The Schools, Wareside - no publisher - circa 1920?
Book: Wareside 1911-1919
Education: Ware Schools, circa 1840 & Wareside Grammar School
CASTLEBURY near Baker's End was known as Kereswellbury or Cresswell Bury in 1342 - cress well meaning a cress spring and the suffix bury suggesting a high place or a fortified dwelling - and is thought to stand on the site of a Saxon homestead. A mill is also recorded at Cresswellbury by the end of the 15th century, but as a field near Nobland Green also shared the same name one cannot be certain of the mill's exact location.
The present timber-framed house dates from 1450 and soon became one of the area's principal residences. Many London merchants bought local properties, and in the late 17th century the house was owned by Humphrey Taylor, a 'citizen and mercer' of London.
In the early 19th century, the thatched roof was replaced with tiles and the house was completely faced with Hitch bricks. These were large interlocking bricks, patented by Caleb Hitch of Ware, but they failed to become the standard house brick because of their complexity.
Wareside Church

Published Durrant, Hertford

Posted 1905
If you know of other books, websites, etc, relating to this place, please tell me.
Page updated July 2007