| | | | | |
| --- | --- | --- | --- | --- |
| | | The Postcards of R. W. Harradence of Ware | | |
Two different card designs are known carrying the name "R. W. Harradence, Ware". The earliest examples are coloured with a message strip at the bottom. The reverse is divided for inland messages only with examples posted in 1905. The later examples are sepia with the well-known grained wood frames and the stamp box reading "INLAND ½d STAMP FOREIGN 1d", suggesting a date circa 1910.
Ware - Parish Church

Published by R. W. Harradence

Back circa 1910

Ware - Parish Church

Published by Munnings, Hertford

Posted 1910 but earlier back

[identical earlier phototograph]

Ware Parish Church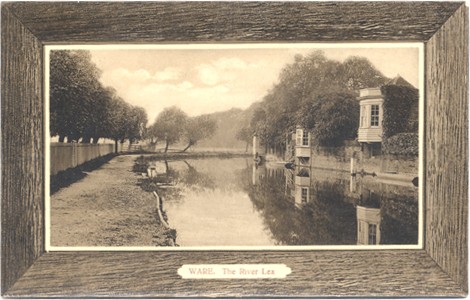 Ware - The River Lea

Ware Park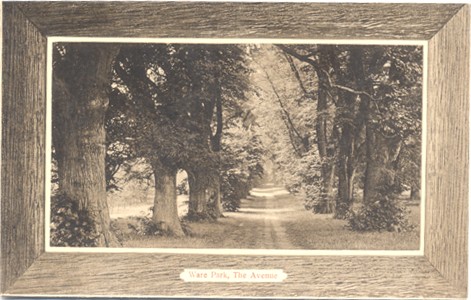 Ware Park, The Avenue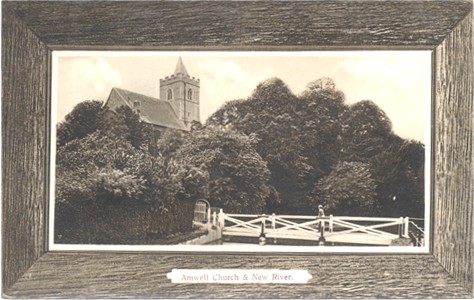 Amwell Church and New River
The same frame was used, on two different views of St James, Stanstead Abbots. One was dated 1909. and reproduced a view which also appears on a card by E. Munnings, of Hertford. I have no publisher information on the other view. (seen on ebay)
The following entries come from Kelly's Directories for Hertfordshire:
1902: Harradence Robert William, silk mercer, costumier, draper, hosier, outfitter, china & glass dealer & general house furnisher, High Street.
1912: Harradence Rt. Wm. draper & outfitter, 65 to 73 High Street
1922: Harradence Robert William, draper, 65 to 73 High Street
Photo: J. Bishop

Posted 1907

The figures may be Mr and Mrs Harradence, and the shop windows show chinaware and drapes.

Scan provided by Reg Hounsell.
There is no evidence here that Robert William Harradence was more than a large store, with postcards being produced by a postcard supplier, with the shop's name on the cards.
Please tell me if you have any further information on R W Harradence's Postcards in Hertfordshire.
| | | |
| --- | --- | --- |
| May 2010 | | PC of Harradence shop added |
| | | |