Adjacent Parishes: Broxbourne, Great Amwell, Hunsdon, Roydon (Essex), Stanstead St Margarets, Ware
Stanstead Abbots is in the Braughing Hundred and the Ware Union
Stanstead Abbots is a village, parish and railway station on the Great Eastern (Hertford) Railway and River Lea navigation, 22 miles from London, 2 south-east from Ware station, and a mile and a half north-east from Hoddesdon, in Braughing hundred and rural deanery, Ware union, Hertford county court district, archdeaconry of St Albans, and diocese of Rochester. The church of St James is situated on a commanding eminence, one mile east from the village; it was built in 1578, and is in the Early English style of architecture, and has a nave, porch, aisles, chancel, and square embattled tower containing 3 bells. The living is a vicarage, annual value £134, including 39 acres of glebe, with residence, in the gift of, and held by, the Rev. John William Thomas, M.A., of Merton College, Oxford.
Here are a Free Grammar and National Schools, the former founded in 1635 by Sir Edward Baesh, who was a native of this village; he left £20 yearly for the support of the master; he also endowed six almshouses for widows and decayed tradesmen, who now receive 4s. 6d. per week each; also the sum of £9 8s. yearly, for placing out poor boys belonging to the parish as apprentices.
There is a literary institute, with a library of 300 volumes. There is an Independent chapel. The population in 1861 was 980, and the parish contains 2,594 acres.
Post Office Directory, 1866
St James Church, Stanstead Abbotts

Note (presumably recording when the card was obtained) dated 1909

No publisher information but the frame is identical to the cards sold by R. W. Harradence, of Ware, at about the same date.

Identical picture on pre-war postcard published by E. Munnings, Hertford.

Version posted 1906 with no publisher name
See Hertfordshire Bellfounders for inscription on one of the bells in St James.
St Andrew's Church
Postcard by Price & Son, Ware,
posted 1904

St Andrew's replaced St James as the parish church in 1882.
Interior
St Andrews Church
Stanstead Abbotts
no publisher or date
High Street, Stanstead Abbotts
Posted 1926
"Vulcan Series" postcard
published by the Post Office, Stanstead Abbotts

The 1926 Kelly's Directory shows that Leonard Groom was a stationer and post office in the High Street. The Public house shown is the Pied Bull - and Mrs Ada Maria O'Neill is listed at the Pied Bull Hotel.
Easneye, Stanstead Abbots

Posted 1906
High Street, Stanstead Abbotts

Charles Martin, 39 Aldermanbury, London - No 1476
posted 1905

The 1902 Kelly's Directory records "Stevens Charles, Rose & Crown hotel, good accommodation for cyclists; parties catered for."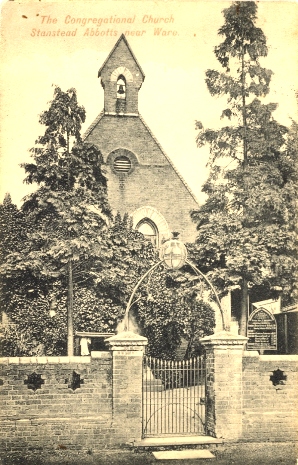 Congregational Church, Stanstead Abbotts
Book: Amwell and Stanstead's Past in Pictures
There is historical information on the village, together with photographs, on the web site Lee Valley Online
-------------------
In July 2003 HALS announced that they have acquired a significant collection of papers from the 13th to 19th century relating to properties owned by the Hankin family, maltsters and businessmen of Stanstead Abbots.
-----------------
See
The Myth of Stanstead Abbey
Web: In and About Stanstead Abbots includes some excellent old and new pictures of the village and neighbouring places.
If you know of other books, websites, etc, relating to this place, please tell me.
| | | |
| --- | --- | --- |
| | | |
| October 2009 | | Book Reference |
| November 2009 | | link to The Myth of Stanstead Abbey |
| May 2010 | | Link to In and About Stanstead Abbots web site |
| June 2011 | | Link re bell added |