The Brickmakers of St Albans
A Talk given to the St Albans & Hertfordshire Architectural & Archaeological Society at St Albans on 7th January 2003
The
Roman Bricks
from
Verulamium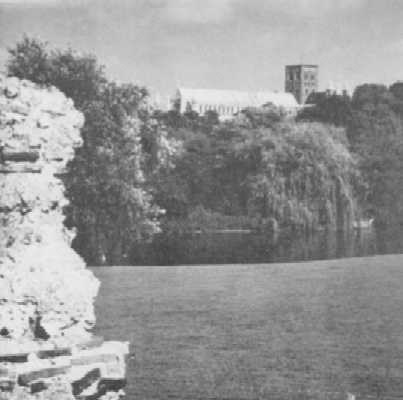 The art of brick-making was lost when the Romans left, and the bricks used to build the tower of St Albans Abbey came from the Roman ruins.

Talk: The photograph shows part of the ruined Roman town wall in the foreground, with the tile-like Roman bricks being laid as courses

in the flint wall to provide stability. The Roman ruins were used as a quarry and the tower of St Albans Abbey, seen in the background, is built of reused Roman bricks. However the art of making bricks was lost, in England, for nearly a thousand years.

Supplementary Information

Picture from Hertfordshire Countryside dated Winter 1958-59

If you can add to the information given above tell me.