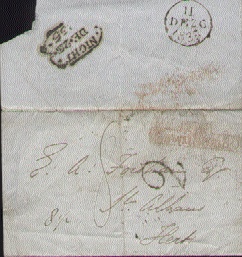 It is important to realise that family history is much more than looking at censuses and parish registers - and it is a good idea to keep your eyes open. I have just spotted the above item being auctioned on ebay as a postal item - but it could also be of interest to descendants of the addressee. (The auction closed on 9th September, 2001.)
The envelope was posted in 1835 and is addressed to E. A. Fordham, Esq., St Albans, Herts, and a check of the 1839 Pigot's Directory shows that Mr. Edward Allen Fordham lived in College Street, St Albans.
My experience looking through old family papers is that there is often a collection of miscellaneous letters which were typically kept for some particular reason - such as the bearer of news of a death - and in many cases they are still in their original envelope. The older envelopes (especially those before the introduction of the penny post in 1840, or with well cut early stamps or rare postal marks) may have a considerable value to stamp collectors, and the contents may well be thrown away!
See also FORDHAM, c. 1826, St Albans
If you can add to the information given above tell me.
Page created September 2001
Updated June 2009 - link added to answer page