Second Hand Books
www.abaa.org www.abebooks.com www.addall.com/used www.alibris.com www.amazon.co.uk www.bibliofind.com www.biblion.com www.bookfinder.com www.bookfinder4u.com www.booklovers.co.uk www.froogle.com www.ibooknet.co.uk www.johntownsend.demon.co.uk www.somucheasier.co.uk/books.html www.ukbookworld.com
There are a number of web sites which search second hand book lists for you and the ones listed above are ones I have used with varying results. In a recent search bookfinder found four copies of the title (but not the edition) I wanted. Addall found two and bibliofind found none. The later is linked to Amazon - so one can also search for books in print - and it will take orders for second hand books it finds for you. The new google-based online shopping facility, froogle, has a large number of Hertfordshire books listed.
There is always a possibility that key "reference" works have been republished on CD - for instance see Archive CD Books.
In theory it is also worth monitoring online auctions, such as www.ebay.co.uk or www.ebay.com depending on where you live. Ebay actually sells almost anything and in addition to books I have noted the sale of old deeds (see What happened to that vital record?) and postal items (see Postal Envelope, FORDHAM, St Albans, 1835).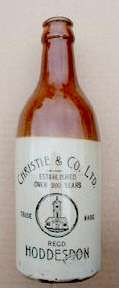 This circa 1930's ginger beer bottle, made for the long established firm of Christie, in Hoddesden, has been sold on ebay. Christie & Cathrow are listed as brewers, maltsters and general merchants of Chapel Hill, Hoddesdon, in the Pigot's 1839 directory.
You may also be able to buy something which was made for or by your ancestor - or at least identical to something he almost certainly used.
In addition I have been selling off "surplus" non-hertfordshire sections of my library to fund the purchase of further books on Hertfordshire - to help run this site. I have a very small number of recent duplicate Hertfordshire books, booklets, postcards and 19th century prints, and copies of Hertfordshire Countryside, which I am selling on ebay. Please do not use Tell Me to ask if I have particular books for sale as the answer is almost certainly no.
See also Locating Books
If you can add to the information given above tell me.
Last updated January 2007