What happened to that vital record?
Parish registers belong to the Church and are protected by law. Other documents find their way into Records Offices and other collections accessible to the public. However many documents are in private hands and may end up almost anywhere (including the rubbish skip).
One class of document which can be invaluable to the family and local historians relate to the ownership of property and in the past every independently owned house would have had deeds which would trace the history of the property back - sometimes over hundreds of years. These could be very bulky parchment documents - and it can be a delight to go through a bundle of such documents which relate to the house you live in, or which your ancestors owned. However in the 20th century the Land Registry was created and once a property has been registered there is no legal reason to keep the dusty pile of crumbling old documents to prove that you owned the property. When a city site is cleared for redevelopment many have ended up with the developer who will have no interest in them, while others lie in the archives of old fashioned solicitors where (from examples I have seen) the parchment has sometimes been gnawed by rats.
Many (if not the majority) have now been destroyed completely - or been made into lampshades - but because of the current interest in things historical the more attractive items now have some value and many can be found for sale. Many bundles are split up and the attractive looking items are sold individually as "genuine old documents with seals and signatures" to people who simply want to own something old to put in a frame on the wall - and have no interest in the contents. (Many of the adverts do not even waste time identifying the names and places involved.) While the document still exits its valuable historical content is no longer accessible to the researcher, and the story told by the bundle is dispersed.
Recently items from a bundle of such documents relating to St Albans has started to appear, one by one, on ebay. Among the ones I noticed was the following: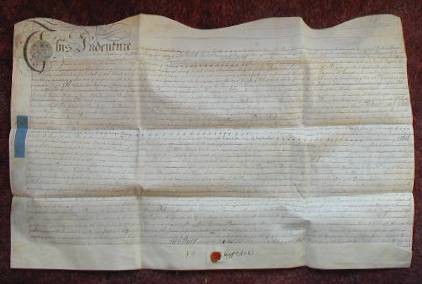 1727 Vellum Indenture. St.Albans. BYGRAVE Item # 1467190391
This handwritten indenture is on a single sheet of vellum and is dated 25th March 1727. It is between Edward Bygrave and Edward Byegrave his son! The document concerns properties within the town of St. Albans. There are 3 sixpenny revenue stamps and 1 red wax seal. On the reverse there are some witness signatures. Size- The document is approx. 80cm wide x 53cm high. In good condition with the usual folding creases.
A whole series appeared one after the other and the sales details of the ones I know about are listed on Bygrave Indentures, St Albans, 18th century.
This is just one example - and at least the adverts contain some of the historical information - which is more than can be said for many of them. Perhaps there is a need for a web site/archive where people could post details of Hertfordshire property documents in private hands so that the historical information is not lost. For the time being I will be happy to post transcripts or abstracts on this site - but possibly a special site should be set up (or does one already exist?). What do you think - why not tell me and I will add your comments here.
Gerard Mc Sweeney (gerard @t mcsweeney1.mail1.co.uk) replied I could not agree more that the situation is bad. I remember the lamp-shades before the War. I am engaged in the Property History of St Peter's Parish and the hunt for deeds is so frustrating (many are in big Insurance etc offices etc and I have found these people very helpful and interested when the reason for the enquiry is given) I respectfully remind solicitors not to throw theirs away but to send them to HALS. I saw an answer in the Telegraph a couple of years ago, saying they were no use 'chuck them'! So any way of saving these, or of giving full details or at least their whereabouts is to be applauded.
PS We have the Iremongers on our Database.
Barbara Chapman (barbara @t bachapman.freeserve.co.uk) wrote I think your idea a brilliant one Chris, and agree that anything and everything which can be done to salvage such documentation should e done. If we can make folks generally more aware of the importance of these old documents, less will end up on the scrap heap.

I was fortunate enough to persuade the executrix of Fred Buglas, President of LGVA, to pass on all the documents she found in his home after he died. I duly catalogued these - which I called the Buglass Archive, and the catalogue is now available in Hemel, & Leverstock Green Libraries as well as at HALS. I then gave all the documents to HALS.
Towards the end of the year a very different item caught my eye and details are given in the posting St Mary's, Aylesbury, Bucks, Visitors Book. This is a document which properly belonged to the Church, and while it is not from Hertfordshire it shows what can be done to rescue documents of historical interest from being lost to researchers by vanishing into private hands.
December 2007
The above undated page was posted in about 2002 and as far as I know there is still no registry of such documents in private hands. However the National Archives and Access to Archives data bases mean that such documents can be traces if they are in a collaborating library or records office, such as HALS.
If you have any comments to make on the above please tell me.
Page updated January 2007