The Exploring Family History Tutorial
Death Certificate
Available for deaths after July 1st 1837
From Thomas Horwood's birth certificate (view) we know his father was called James Horwood and from the 1871 census (view) we know James was dead by the time of the 1871 census, but (presumably) was alive when Maria Horwood (aged 4 in 1871 census) was born.

Task: Find when, where and how James died from his death certificate.
The quickest way to search for the Death Certificate index is by using the FreeBMD web site.
| | |
| --- | --- |
| First Name | James |
| Last Name | Horwood |
| From | Mar 1864 |
| To | Jun 1871 |
The search produces 10 responses, and only one seems to be appropriate:
Deaths Mar 1869

Horwood
James
45
Clerkenwell
1b
508
The information used by FreeBMD comes from the registers kept in the Family Records Centre and images are now available the findmypast web site.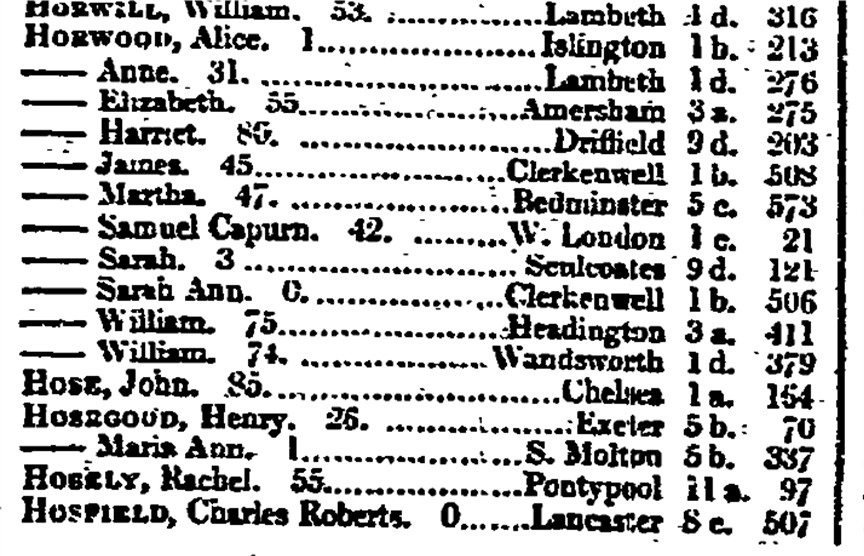 This not only shows the entry for James Horwood, but also shows an entry for the infant Sarah Ann Horwood, whose birth and death are mentioned in the Bible.
Using the above reference a copy of James's death certificate was purchased online from the General Register Office: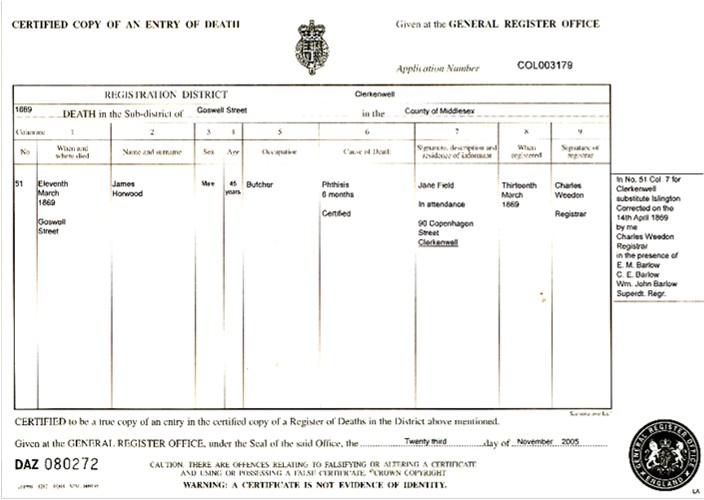 | | |
| --- | --- |
| Registration District | Clerkenwell |
| Sub-district | Goswell Street |
| When and where died | Eleventh March 1869 Goswell Street |
| Name and Surname | James Horwood |
| Sex | Male |
| Age | 45 Years |
| Occupation | Butcher |
| Cause of Death | Phthisis 6 months certified |
| Signature, description and residence of informant | Jane Field; In Attendance; 90 Copenhagen Street, Clerkenwell |
| When Registered | Thirteenth March 1869 |
| Signature of Registrar | Charles Weedon; Registrar |
| Margin comment | A correction as Copenhagen Street is in Islington, not Clerkenwell. This correction is probably why a typewritten copy has been supplied.] |
The Free Dictionary gives the following definition for Phthisis:
1. A disease characterized by the wasting away or atrophy of the body or a part of the body.

2. Tuberculosis of the lungs. No longer in scientific use.
Result of Investigation
Tuberculosis was a common cause of death, particularly in the overcrowded city centres, and James would undoubtedly been unable to work to support his family for many months before he died. The fact that his widow was a washerwoman in the 1871 census (view) would suggest that the family was reduced to comparative poverty. The fact that Thomas William Horwood entered the jewellery trade could be the result of him being apprenticed by the parish. On the other hand the 1881 census (view) suggests there may have been a family connection and possible active support.
Page created November 2005